Classroom Instruction of Skills and Dispositions
CompetencyWorks Blog
---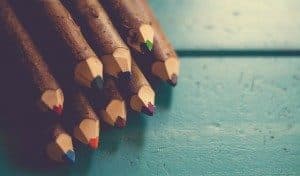 This is the third in a series of articles specific to the developing understanding of skills and dispositions of educators working with students in a competency-based educational system. There has been increased recognition nationally of the importance of skills and dispositions and how these are intertwined within the overall growth and College and Career Readiness of learners. The skills and dispositions are referred to in a number of ways (Non-cognitive skills, Habits of Learners, Work Habits, General Learning Outcomes, "soft skills," etc.) Our school has been delving into skills and dispositions for the past few years, but we have found that there are limited resources to support our work, and, at times, this has caused frustration. We are very excited about the opportunity to work with the recently released Essential Skills and Dispositions Frameworks (Lench, S., Fukuda, E., & Anderson, R. (2015)) this upcoming school year to support our continued learning in this area. For the purposes of this series of articles, we will be using the term the State of New Hampshire recognizes, Work Study Practices, for skills and dispositions. Locally, we have aligned the Responsive Classroom's CARES to our State of New Hampshire's Work Study Practices, which are referenced in this series of articles.
To read the first article in this series, please click on the following link: Our School's Developing Understanding of Skills and Dispositions. The second article may be accessed by clicking here: Collecting a Body of Evidence.
Memorial School is a Pre-K to Grade 5 elementary school in southeastern New Hampshire, part of the Sanborn Regional School District. As we have made our transition to a competency-based educational model, our recognition of the importance of skills and dispositions has evolved significantly. This evolution in understanding has progressed from our very early days in our journey when we realized that academics and academic behaviors MUST be separated. Today, our teachers recognize the importance of providing time for students to reflect on their own strengths as well as areas for growth within these skills and dispositions. And our growth will continue to evolve, as teachers have begun developing lessons and opportunities for learning for students within their classrooms within these important competencies.
Growth in these areas, for our elementary students, will not happen all by itself. It is imperative that teachers willingly and mindfully plan lessons that will help students to make connections and assist them along in their learning journey. It is also imperative to debrief, reflect, and provide meaningful and timely feedback, just as it is within any type of formative assessment that is happening within a classroom.
The insight of two of our teachers below outlines their work with their students specific to the instruction of these invaluable competencies within not only their classrooms but outside of their classrooms and in the greater world itself. Their reflections provide a glimpse into the world of both a first grade classroom and a fifth grade classroom, and describe how students' increased self-awareness and understanding of the CARES (Cooperation, Assertion, Responsibility, Empathy, and Self-regulation) within their own learning are having a tremendous impact on not only the individual learner, but the entire classroom community as a whole.
Jill Lizier, First Grade Teacher
CARES in a first grade classroom starts with significant instruction at the beginning of the year. I kick the school year off with a lesson on what CARES is and what it looks like in the classroom. Students work together to draw pictures of what they think they are doing as a member practicing CARES in a classroom setting (below). For example, students drawing about Assertion may draw pictures of a student raising his/her hand. This kick-off lesson helps produce visuals for the classroom that I can refer to on a daily basis throughout the year.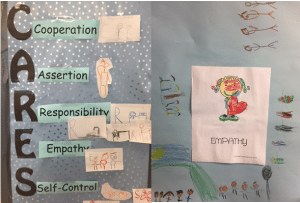 The use of visuals is essential for students to remember what each aspect of CARES is as well as for me to remind myself to incorporate CARES into all of my lessons. This year I have focused on discussing how CARES can help us through any activity. For example, before math centers we discuss which part of CARES each center will need to be successful for all involved. If there is a game center, students may think that self-control and cooperation is needed to make the game successful. These types of authentic conversations help students see the connection between CARES and real life application. As they become more comfortable and familiar with CARES terms, I use them as a reminder to students not aware of how their actions are affecting others. A student could be playing loudly on a math game and disrupting other learners. All I have to say is, "self-control," to help that students get back on track. Self-control at this point in the year has great meaning to the class, as they have taken quite a role in having it be an integral part of their successful classroom.
The next step is involving students to look deeper into each aspect of CARES and identify how it is important in academic and social life. My students helped me create this visual below. The conversation that went along with the visual was when the real learning took place. Every student had something to contribute.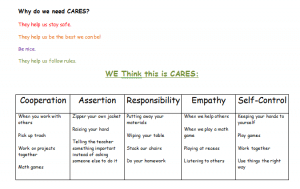 Around mid-year, students have a solid understanding of how CARES helps us on a daily basis. This is when I can really start to individualize it and encourage students to self-assess their role in CARES. I give students the opportunity to assess which part of CARES they think they need to improve on. This conversation promotes a growth mindset. A student once mentioned to me that their growth in CARES is like levels on a video game. By midyear, they have made it to Level 3 with CARES, but they really want to get to level 4 by the end of the year. This is a great way for a younger student to understand that they are always improving. My role is to assist them in this journey.
Terry Bolduc, Fifth Grade Teacher
I did a lot of thinking over the past summer about how I wanted to improve my instruction around CARES for the upcoming school year. Knowing that in our competency-based system I should teach and then reteach skills to help students arrive at mastery, I had to come up with a better plan for how I was helping my students understand CARES, as well. I also knew that I wanted to do more with mentor texts during the first six weeks of school, so I could use these common works repeatedly throughout the year, across the curriculum for lessons. It seemed logical to tie the two wants together and my CARES instruction blossomed from there.
As a practitioner of Responsive Classroom, I follow the suggestions outlined in "The First Six Weeks." It has proven to help build a strong classroom community, and my goal of incorporating both direct CARES instruction along with including more mentor texts fit directly together with the time I would be spending with my students setting up routines and the foundation of our classroom community. I began by simply making a poster for each of the five letters in the CARES acronym, with the bullet points that students are graded on under each one. I remember the first time I gathered my fifth graders and asked them to explain to me what they knew about CARES. I was surprised when I realized they knew they were graded on CARES but could not tell me what the letters stood for, let alone what each one meant. We spent some time looking at each letter then going over the vocabulary of the bullet points. I hung them in a very prominent place near our morning meeting area (below). Every time I read a book aloud, my mentor texts, we would spend time after identifying which CARES trait or traits the characters exhibited in the book and we made a list. The children really enjoyed this and were soon able to connect just about every book to every CARES trait, with examples from the text (a Common Core skill, I might add). These were casual conversations that coincided with all the community building activities we were doing at the beginning of the year anyway.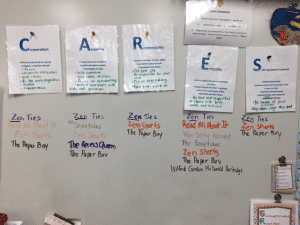 A few weeks into the year, I felt they had a good, basic understanding of the CARES attributes and decided it was time for them to apply it to themselves. I created a simple sheet which had each of the CARES letters on it and I asked them to set a goal for themselves for the week (below). They were to look at our posters and choose something that they would personally work on that week. And we were off!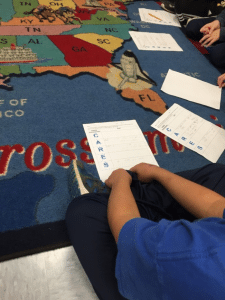 We discussed that is was okay to try and fail and keep working at something because that's what grown-ups do. The children began to set a goal each Monday, thinking back over the previous week to see if they wanted to work toward the same goal or focus on something new. Each Monday our conversations got richer, with children really being able to explain either why they wanted to work on the same goal or why they felt it was time for a change.
Then I began thinking about ways to help them remember the goal they had set for themselves that week. I simply printed out a class supply of each letter of CARES. When the students set their goal for the week, they would affix the letter corresponding to their goal, to their desk. Students have shared that the letter really helped them focus. One student in particular has said that her mind would start to wander and she'd look down at that S (self-regulation/control) on her desk and know that she had to do something to get back on task. They were really beginning to internalize the importance of their responsibility around these behaviors.
It was in about the eighth week of school that I felt they were ready for the next push. I introduced a reflection column to their goal setting sheet. Now the plan was for them to set their goal on Monday then reflect on how they did with that goal on Friday of the same week. I encouraged them to think back and cite examples – either good or bad – that were evidence of their efforts. These honest conversations every Friday, with time, have become easier for the students and have helped us grow together as a classroom community. They feel safe sharing their failures and successes and have such a deep understanding of these important behaviors and how they help us all have better days at school. Don't get me wrong, my students are not angels but they are more easily redirected, they redirect themselves and each other, and are proud of being role models at our school. What more could we ask?
See also:
---
Jonathan Vander Els is the principal of Memorial School in Newton, NH. Jonathan has presented at multiple local, state and national conferences on topics related to competency-based grading, enhancing teacher leaders in schools, maximizing collaboration of staff through highly functioning Professional Learning Communities, and providing tiered instruction for learners of varying abilities. Jonathan may be followed on Twitter: @jvanderels
Jill Lizier is a first grade teacher at Memorial School in Newton, NH. Jill is an active contributor to Professional Learning Communities within the Sanborn Regional School District. Jill has worked as team leader for her grade level and is currently a Quality Performance Assessment trainer within Memorial School. Jill may be followed on Twitter: @jilllizier
Terry Bolduc is a fifth grade teacher at Memorial School, in Newton NH. Terry has worked as a team leader for her grade level, participates in the PACE initiative as a grade level representative for the Sanborn Regional School District, has been member of the school's Training Team and is currently a Quality Performance Assessment coach within Memorial School. Terry may be followed on Twitter: @tabolduc