Meet-Up at iNACOL Symposium
CompetencyWorks Blog
---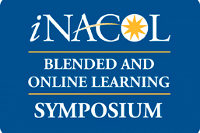 iNACOL is putting the final touches on the iNACOL's Symposium competency education strand of workshops and sessions.  An incredible group of practitioners (some emphasizing online/blended learning and others not) are going to be leading sessions. In addition to the formal sessions there will be a CompetencyWorks lounge area near the exhibitor hall that you can use for informal discussions and meet-ups.  In fact, we'll be meeting there Sunday evening during the opening reception just so we can introduce ourselves (thanks to Tom Willis Cornerstone Charter Schools who called me and said we needed this to happen.) The iNACOL Symposium is a big, exciting meeting,  so knowing each other's faces early on will make a huge difference.
Although we know things always change, here is how the competency education strand looks now:
Sunday Pre-Conference
Design Choices for Competency Education will be for experienced innovators and newbies alike. We'll walk through all the different choices districts and schools make, sharing what worked, what you learned, and what you might do differently.
Session 1
Overview of Competency Education – What is it, what are the models, and who is doing it? – Susan Patrick, iNACOL and Chris Sturgis, MetisNet
Session 2
The Building Blocks of Competency–Based Learning: Competencies, Assessment, Learning, and Grading – Rose Colby, Education Consultant
Session 1 and 2 (Workshop)
Transparency = Ownership: A Model for Student-Centered Learning – Alison Hramiec, Boston Day and Evening Academy
Session 3
How to Communicate Competency-Based Education to Your Constituencies – TBD
Re-Engineering Information Technology: Design Considerations for Competency Education – Liz Glowa and Susan Patrick
Session 4
Coast-to-Coast Pathways to Competency-Based Education: Three Different Approaches from New Hampshire, Iowa, and Oregon – Diane Smith, Business Education Compact, Sandra Dop, Iowa Department of Education, and Rose Colby, New Hampshire
Blending Learning Science, Learning Standards, Process Optimization, and Data Standards in the Design of Competency-Based Learning – Jim Goodell, QIP
Session 5

New Whole School Designs for Student Success: Lessons from Districts – Elina Alayeva and JoEllen Lynch, Springpoint: Partners in School Design
What Can Competency-Based Learning Do for Your Students: An Exploration into Personalizing Education – Stephanie Suber, Granville County Schools
Session 6 and 7 (Workshops)
Shaping Policy to Advance Competency-Based Pathways that Support All Studens to College and Career Readiness – Cory Curl, Achieve
Personalizing for Proficiency: Pedagogy and Practices for Student Centered Learning – Kim Carter, QED Foundation
Session 8
Moving from Performance Assessment to a Competency-Based System: Learning from Schools – Alexis Menten, Asia Society and Kim Carter, QED Foundation
Designing Project Based Learning Projects Aligned to Common Core State Standards (CCSS) Competencies – Rose Colby  and Andrew Miller
Proficiency-Based Teaching: How It Can Help At-Risk Students Succeed in An Online Learning Environment – Tonia Gebhart, Gresham Barlow Web Academy
Session 9 and 10 (Workshop)
Grading in A Competency-Based System – Nancy Cruse, Diploma Plus, Inc.
Blending Learning Science, Learning Standards, Process Optimization, and Data Standards in the Design of Competency-Based learning (Workshop Format) – Jim Goodell, QIP
Data-Driven Decision Making in Blended Learning & Competency-Based Envionments – Dr. Sharnell Jackson, Data-Driven Innovations Consulting
Authentic Assessment Within Competency-Based Learning – Katie Gallagher, M.S., Indiana Online Academy
Session 10
The Educurious Expert Network — Connecting Classrooms with Disciplinary Experts – Michael Golden, Educurious