Creating a Peer Coaching Program to Grow Student-Centered Learning (Part 1)
CompetencyWorks Blog
---
This post originally appeared at Students at the Center on December 15, 2017.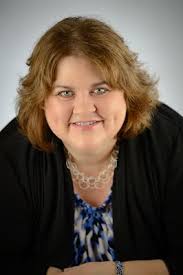 In southern Maine, the little corner of the world where I teach, coach and learn, we are in the midst of transitioning to a student-centered learning (SCL) model. The Biddeford School Department is a public, K-12 system serving 2,425 students. I am an instructional coach at the middle school and am in my second year serving as the coordinator of the K-12 peer coaching program, a program that we created as a way to support our staff in building and sustaining a student-centered learning system.
Since our journey began, district leadership has encouraged collaboration among all stakeholders. School leaders engaged staff, students and parents in conversations about what our students need to be college- and career-ready in the 21st century. With the support of our school board, Superintendent Jeremy Ray made sure the message was clear: we were engaging in this transformative work because it's what is best for children.
Part of our student-centered approach is that it is proficiency-based (also called competency-based). Maine passed a law in 2012 requiring that every school district determine standards for proficiency in eight areas and award diplomas, beginning in 2021, based on those standards being met.
Our SCL Road Map
The state has left it up to educators in each district to collaborate, plan and implement their version of proficiency-based education. The district must provide students with timely, differentiated support based on their individual learning needs. It became apparent that supports would be as necessary for the educators —who are also new to student-centered, proficiency-based learning—  as they are for the students. For help conceptualizing an SCL implementation plan, we reached out to Reinventing Schools, and they provided training and coaching. Reinventing Schools is a division of Marzano Research — one of the most well-known proponents of proficiency-based education.
The Launch Training
Teachers were invited—not mandated—to participate in a training session with an educational consultant from Reinventing Schools. The first group of enthusiastic staff members, about 25 in all, learned how to transform their classrooms to more learner-centered environments, including how to use the Affinity Diagram process with students to create a shared vision and code of cooperation—critical to the infrastructure of the new approach. They also spent time considering how they would build collegiality in their schools to pave the way for the acquisition of new skills among colleagues who did not attend the training session. These early activities were necessary to lay the foundation for our continued work with essential standards and to build a transparent, rigorous curriculum for our learners.
Using the skills acquired at the training, teachers worked with their students to develop shared visions, codes of cooperation and standard operating procedures for their classrooms.  These exercises provided the opportunity for students to take ownership of their learning, one of the four research-based tenets of Jobs for the Future's (JFF) Student-Centered Learning Model.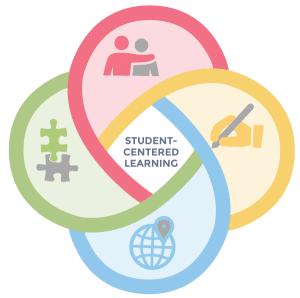 The teachers who first implemented SCL in their classrooms —most had attended that first training— were known to their colleagues as "Pathfinders." They served as a resource to other teachers and answered questions. Pathfinders completed the next level of training around instructional design in the spring of 2015—training based on Robert Marzano's research and his ten design questions (eg. What will I do to establish and communicate learning goals, track student progress and celebrate success? What will I do to help students effectively interact with new knowledge?)
These teachers then brought their new knowledge into the classroom, involving students in activities such as unpacking essential standards and determining learning targets for units of study. Students were encouraged to set learning goals and keep track of their progress throughout a unit of study. This transparency of learning seemed to be a motivator for many of our students.
We knew that in order to spread these profound changes across the entire district and into every classroom, we had to create some kind of a "train the trainer" program. There would be lots of learning ahead and teachers would need ongoing support in order to fully implement a personalized, proficiency-based learning system that was transparent and accessible to the entire staff and all learners.
The Pathfinders Go to Work
Given that we already had an established group of teachers — the Pathfinders— who were invested in the transition to student-centered learning, it seemed like a natural next step to position these teachers as leaders in this work. The trick for us was how to formalize the Pathfinder role in a way that was both catalytic and sustainable. I was tasked with developing a peer coaching program, based in part on my experience with instructional coaching. About 25 of the 40 Pathfinders signed on to become peer coaches. They would receive a stipend for their work, two days of training in coaching and mentoring with me and our Reinventing Schools consultant as well as ongoing support during regular meetings with the entire group, and in smaller gatherings organized by grade level or school.
At the two-day training in the summer of 2016, we developed observation and discussion protocols which laid out how peer coaches and teachers would work together. For example, before coaches observe a teacher in the classroom, the two meet to discuss precisely what the focus of the observation will be. We also spent time identifying and discussing the different ways coaches and teachers could work together: Collaborative work takes place outside of the classroom when the coach, for example, might help a group of elementary school teachers create a learning progression for writing or develop formative and summative assessments. Formal peer coaching typically involves a pre-conference, classroom observation and a follow-up meeting. The training was grounded in the learning goals from our Reinventing Schools trainings. Pam Robbins' Peer Coaching to Enrich Professional Practice, School Culture, and Student Learning was also an excellent resource. Monthly discussions about this text helped us gain a deeper understanding of what peer coaching could look like in Biddeford.
The building principals agreed to find time during the school day for peer coaches to meet weekly. They also committed to protecting time for the peer coaches to work with colleagues during the day. We created a one-page flyer to provide staff and the school community with information about our new initiative.
A Framework that Organizes Our Approach
JFF's Students at the Center Framework has been an invaluable lens through which to view our SCL approach and our peer coaches have spent time discussing how our coaching work fits within one or more of the tenets of the framework. Through these conversations, we are deepening our commitment to and knowledge of a student-centered learning model in our school district.
Here are examples of how peer coaches have helped their colleagues and students understand and enact student-centered learning, which I've organized according to JFF's four tenets of student-centered learning:
STUDENT-OWNED LEARNING:
Peer coaches conferenced with colleagues around the topic of student engagement and during classroom visits solicited feedback from students about their Habits of Work rubrics.
COMPETENCY-BASED LEARNING:
Peer coaches offered informal opportunities for conversations about competency/proficiency-based teaching and learning, supported staff with the online data management system and helped staff design curriculum documents aligned to the essential standards.
PERSONALIZED LEARNING:
Peer coaches have been involved in developing learning progressions, capacity matrices and rubrics for students to track their learning progress. They have also provided professional learning sessions for staff.
ANYTIME, ANYWHERE LEARNING:
Peer coaches have facilitated conversations related to the use of technology tools and project-based learning to support anytime, anywhere learning.
Part II of this series will share some of the lessons learned from creating our peer coaching program.
See also:
---
Mary Bellavance is Co-President of Maine ASCD. She is an Instructional Coach for the Biddeford School Department, Biddeford, Maine; a Students at the Center Distinguished Fellow; and a teacher-consultant for the Southern Maine Writing Project and National Writing Project. She enjoys connecting with educators via Twitter @MaryBellavance.