Defining Financial BOLDNESS in Innovative School Plans
CompetencyWorks Blog
---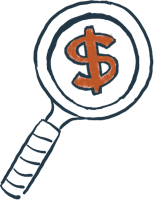 This post originally appeared on the Afton Partners blog on March 5, 2019.
School teams around the country are creating and implementing innovative academic models, bringing a personalized approach to student learning. Afton has engaged with hundreds of schools as they build these plans, encouraging innovative financial thinking alongside. In many competitive public and philanthropic grant programs, one of the rubric components that Afton has used is for "financial boldness". Grantees are expected to demonstrate some form of bold thinking around resourcing and expenditures. But what does "financial boldness" mean?
To us, "financial boldness" means thinking outside of the traditional funding and expenditure box. Bold financial plans may:
Contemplate innovative or unique sources of sustainable funding, such as partnerships, in-kind community supports, or even identifying flexibilities associated with existing funding streams, such as Title funds or instructional materials funding.
Create a new approach to sustain operations by incorporating innovative uses of resources, such as unique staffing structures or uses of space. This includes changes to roles and responsibilities, including for in-classroom staff, and for new approaches to professional development.
Identify opportunities to increase the stretch of limited resources, including recommending policy changes to improve the value of resources. This may include formalizing additional principal autonomies over financial resources or personnel at the district level (see our blog post on autonomy here), or identifying opportunities to improve state policies preventing better use of funds.
Why is it important to think bold when it comes to financial planning? Just as innovative schools are identifying new ways to address persistent academic problems, they are also best positioned to identify and bring attention to challenges with our current financial policies, systems, and structures. By including financial boldness as a rubric criteria, we encourage these innovators to find and pilot creative ways to address these challenges – some of which may potentially be scalable solutions.
________________
Afton Partners is a team of financial and analytical professionals dedicated to improving America's public schools. Their services enhance financial acumen within public school districts and charter schools and create an alignment between academic priorities and finance that is needed in public education.