Flexible Scheduling, Supports, and Monitoring at Pioneer Ridge Middle School
CompetencyWorks Blog
---
This is the fourth post in a series about the Eastern Carver County Public Schools in Minnesota. Links to the other posts are provided at the end of this article.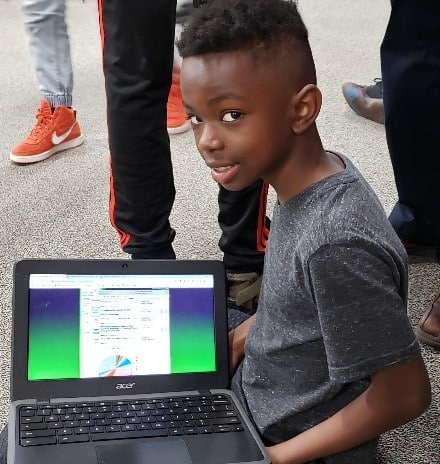 Pioneer Ridge Middle School demonstrates that it's possible to start shifting to competency-based education with a small program and limited resources. In 2012, near the beginning of Eastern Carver's district-wide efforts to increase personalized learning, Pioneer Ridge began researching ways to let students be primary drivers of their own learning.
The district gave permission for a small program with three teachers and 60 students. Students were in the program for four hours per day—one hour each for science and social studies, and two hours for English language arts, per state requirements and to operate within the rest of the school's bell schedule. (Math has been added since then.) They started with 6th grade and added a grade each year, so the first cohort will be seniors this fall.
The initial cohort had been in a traditional, accelerated track in 5th grade, but the school quickly realized that the personalized approach was appropriate for all students. Subsequent cohorts were open to all students, and the school offered presentations and school visits to help parents understand what personalized learning looked like. In the second year, about half of the 200 students opted into the personalized track. The eventual goal was for all teachers and students to shift to the personalized track, which has now been achieved.
The three teachers who started the program—Carly Bailey, Jen Larson, and Dan Thompson—are still there, thrilled with the results, and continuing to innovate. They recounted their original personalized scheduling system, a white board with 240 magnets, to schedule 60 students for four periods each. Too often the magnets fell, got lost, or were moved by the wrong students. Now they use scheduling software created for them by a local programmer, as well as the Empower learning management system to organize student work. After students learn how to use Empower, they make a presentation about it at home and bring any questions from their parents or guardians back to the school.
Scheduling takes place during a daily morning meeting when teachers describe the seminars and small-group instruction sessions that they will offer throughout the day. Students can schedule themselves for these activities or other types of individual or student group sessions. The figure below shows part of a daily signup that illustrates some of the available session types—focus flex, group flex, fishbowl discussion, coaching workshop, and review/summative assessment.

Teachers also have the ability to assign students to specific activities in a way that's either locked in or just suggested. There are ways for teachers to automate aspects of the scheduling, such as locking all students who haven't taken a particular summative assessment into a block where that material is being addressed. The process of creating these types of efficiencies has been ongoing for seven years, in collaboration with the programmer who developed the scheduling software.
To keep class sizes manageable, teachers often offer the same seminar more than once. One teacher described asking a student why she showed up to the same seminar two days in a row. The student said, "Yesterday I came to take notes. Today I came to listen—to make sure I understand the notes I took yesterday." Clearly this student is gaining the essential skill of reflecting on her own learning and recognizing when she needed some additional exposure to challenging material.
Students don't have to sign up for all four academic subjects each day, and they love being able to choose. The teachers noted that the choices are not unlimited—students are still selecting from what's being offered—but the scheduling structures help students build self-direction abilities. The Empower platform helps students track the learning targets they still need to demonstrate competency on, which guides their selection of daily activities. One student said, "I like signing up for classes because then I know what to do when I get there and can just get started."
Flexible scheduling also enables important opportunities for providing student supports. Pioneer Ridge provides school-wide daily "WIN times" (What I Need), when all students can sign up for coaching, retaking an assessment, accessing a school resource, or anything else they need. Some teachers use WIN times to talk with students who are struggling with a particular concept. Others use the time to pre-teach a topic to some students before it's discussed with the whole class. Sometimes the students who were pre-taught lead part of an activity when the topic is introduced to the whole class.
Graphics from Empower like the one below help students see their progress on different standards. Many students find it motivating to watch the pie charts go from red to green as they demonstrate mastery of specific learning targets within a standard.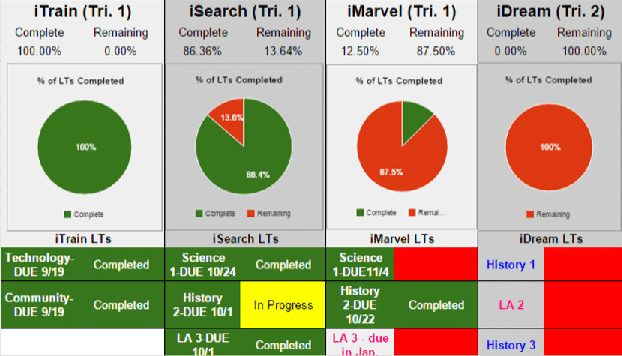 Each Friday during advisory, students reflect on how they have used their time for the week and whether it was "best for their learning"—a mantra at Pioneer Ridge. Empower provides a pie chart for each student, such as the one shown below, which shows how much time the student spent in different activities. Clicking on each pie slice yields more detailed information, such as what standards and learning targets the student was signed up to work on. This can provide important information for student support and reflection by students, parents, and the learning team. For example, it can show that a student has been spending too much time working alone and not enough time attending teacher-led sessions. One teacher said that having this data can reduce conflict and emotion in support conversations by permitting an objective look at how students have been spending their time.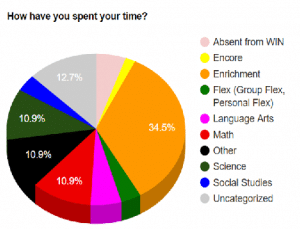 The ability to track student activities can also help students achieve greater depth of knowledge. I asked a student if she had ever been told that she was going too fast. She said that a teacher (who was present during this conversation) had questioned her request to take a quiz before attending both parts of the corresponding seminar. The teacher added that not everything of value from a seminar is assessed in a typical quiz, and she wants ambitious students to understand that they might miss out on valuable learning by moving too quickly to take summative assessments. Note how this student-teacher discussion is structured to encourage student decision-making and ownership—which is the topic of the next post on Eastern Carver.
Other Posts in This Series
Learn More
Eliot Levine is the Aurora Institute's Research Director and leads CompetencyWorks.