Gifted and Struggling Alike
CompetencyWorks Blog
---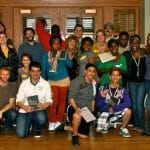 The following is the testimony from Andrea Stewart, Gifted and Talented Coordinator for Muscatine Community Schools and member of the State's Competency-based Education Task Force at the Iowa State Legislature last month.  It is a powerful statement as it demonstrates that competency education can be valuable for students in  gifted/talented programs as well as those who are struggling to catch up.
————–
We are here, not because we have perfected a system of learning for our students, but because we have with us student voices to share how their learning is changing in our pilot CBE classrooms this year. Muscatine is an innovative district supported by bold leaders who recognize that our students' needs can no longer be met by our antiquated system and that the time for an educational paradigm shift is now. Through deliberate and ongoing engineering, our district is piloting competency-based education in 14 classrooms because it removes the barriers of time and place from our students' educational experiences—two of the most intractable elements in our schools today. By focusing on the core competencies of each course instead of on the Carnegie unit, our educators have combined fidelity to the Iowa Core with enduring concepts and depths of knowledge that allow students to demonstrate their learning in refreshing, personalized ways. CBE benefits struggling learners who need additional time to master concepts, content, or skills, learners who have graduation requirement deficits, students who are ready to learn anytime, anywhere, gifted and talented learners who progress at ages younger or rates faster than their chronological peers, teachers who are looking for ways to more effectively differentiate the learning taking place both in and out of their classrooms, and administrators who are looking for real-time data and school-wide patterns.
Muscatine is one school district willing to allow students and teachers to explore a flexible use of time, place, method, and pace in our classrooms, but we will need courageous leadership from the State to support this work. We are willing to challenge the status quo for our students and with our students in order to ensure that learning is the constant in our schools and that time is the variable. To that end, the five charges put forth by this group and fleshed out by the CBE Task Force are key to building a cohesive CBE framework in Iowa, but will need continued legislative backing as well as leadership from the State Department of Education. The voices you will hear today will demonstrate only a fraction of the possibilities on Iowa's horizon if we can effectively take this methodology to scale.