Help Students Hold Themselves Accountable
CompetencyWorks Blog
---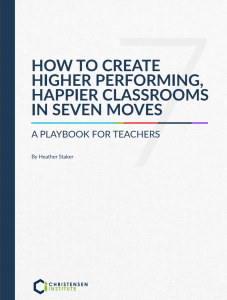 This post originally appeared at the Christensen Institute on August 3, 2017.
The new report "How to create higher performing, happier classrooms in seven moves: A playbook for teachers" tells stories of teachers who improved student engagement and academic results by introducing seven specific, practical moves into their classrooms that replicate the successes of top managers in cutting-edge workplaces. For the next three months, I'll be doing deep dives into each of these important moves.
The sixth move for creating a dynamic classroom is to help students hold themselves accountable.
Cutting-edge organizations that give employees ownership—as well as hire for and nurture the skill of agency—balance that trust with a thoughtful accountability system. Ownership and accountability, out of necessity, go hand in hand. Companies such as Google, Facebook, Airbnb, and Medallia rely on Objectives and Key Results (OKRs) to help their employees cycle through a system of setting transparent goals, learning, tracking their progress, taking stock of where they are, and pausing to reflect on how to improve before beginning the cycle anew.
The term accountability can stir negative associations in the education sector, as it conjures images of top-down oversight. That's not the type of accountability that we have in mind. Rather, Move #6 is talking about any structures and systems that teachers can put in place to help their students learn to set goals, track their progress, and follow through.
Kelly Kosuga, a 9th-grade Algebra I teacher at Cindy Avitia High School, part of the Alpha Public Schools network in the San Francisco Bay Area, knew that her students would make better choices if they felt informed and accountable. She decided to make this move in two ways: (1) making the grading system and student progress transparent and (2) using tools to help students stay organized.
Making the grading system and student progress transparent
First, Kelly needed to make sure that her students clearly understood what they needed to do to succeed in her class and where they currently stood academically. She didn't have a tool that allowed her to do this easily, so she created one.
Kelly built a spreadsheet that listed all of her students' names in the far-left column. Next to each name, she entered the student's grade as a percentage and then all of the items that contributed to that grade—including quizzes, interim assessments, challenge projects, and class participation. The spreadsheet allowed students to see how their day-to-day progress (or lack thereof) impacted their final grade for the year. Kelly projected this spreadsheet onto a wall in the classroom, as shown below.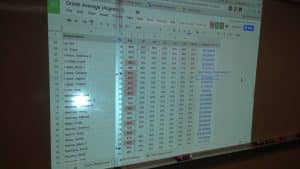 Updating this table each day was labor intensive. Kelly had to export each student's IXL Math scores, combine them with data from the Illuminate platform, and enter it all in a Google Sheet. Despite the burden, Kelly was convinced that increasing transparency made a huge difference in helping students feel accountable.
Using tools to help students stay organized
Kelly's second method for playing up student accountability was with scaffolds to help students stay organized. Her primary innovation was an IXL Tracker, included below. The IXL Tracker is a paper-based document that students kept in their binders and referred to during work sprints—short spurts of time during which students work independently through the online curriculum and get help from their peers on a "need help/give help" basis. The IXL Tracker lists all of the IXL lessons that cover skills required to pass Algebra I on a grid. When students completed a lesson, Kelly or a peer marked it off using a rubber stamp. That simple action felt satisfying; it helped students experience their incremental progress and it was concrete. The IXL Tracker gave students a way to make sure they were keeping up with the assignments they needed to finish to prepare for the quizzes.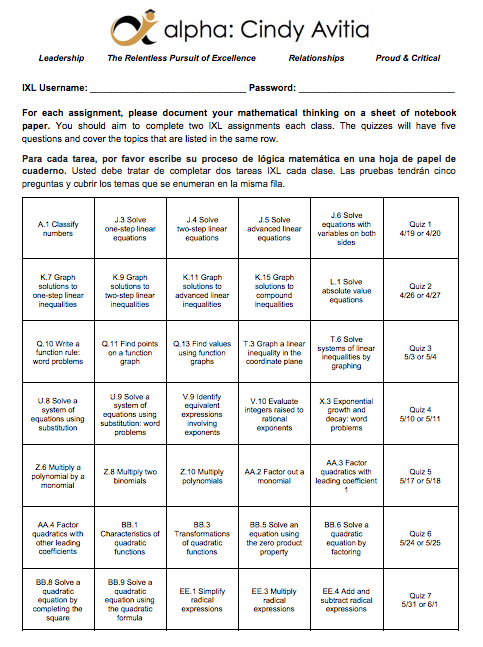 Teachers participating in the Redwood Heights Elementary School and Khan Lab School pilots made similar moves to Kelly's to help students hold themselves accountable. At Redwood, the teachers mirrored Kelly's strategy of posting visual displays that allowed the students to see their real-time progress clearly. At Khan, the teachers went beyond helping students track their progress by providing personal assistance with their goal-setting skills. Taken together, these strategies helped students in all the pilots become proficient in setting their own goals and then following through.
To learn more about how the teachers helped students hold themselves accountable, check out the rest of the playbook here: "How to create higher performing, happier classrooms in seven moves: A playbook for teachers."
See also:
---
Heather is an adjunct researcher for the Christensen Institute and president of Ready to Blend. She is the co-author of Blended: Using Disruptive Innovation to Improve Schools and co-founder of Brain Chase Productions, which produces online-learning challenges disguised as worldwide treasure hunts for students in grades 1-8.