Iteration in Action: PACT Academy
CompetencyWorks Blog
---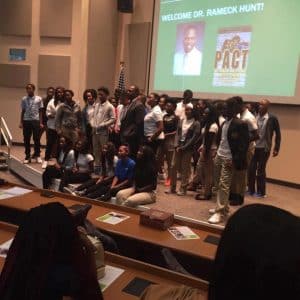 This post and all pictures first appeared at Springpoint on January 30, 2017. This is the third in a series on iteration in school design. 
If you ask one of the 200 students at PACT High School about grades, one of the first things you'll hear is "we can't fail here." That's because this high school is designed to foster positive youth development through strong relationships between students and adults.
It's also because PACT does not give failing grades. Instead of an "F," students receive the designation "not approaching proficiency." This remains on a student's transcript until they master the content in their course, which they can continue to work towards throughout their high school experience. This mastery-based approach means some students can be working to master standards from their first year after they've already moved onto their second year coursework. Others are able to skip ahead—in courses like Health, math, and science—using one of several available tech tools and with teacher supports. In the words of one student, "if you don't get something, you work on it until you master it."
Positive relationships to support mastery-based learning.
PACT opened in fall 2014 as part of the Cleveland Metropolitan School District's participation in Carnegie Corporation of New York's Opportunity by Design Initiative, and has since nurtured a strong culture of mastery-based learning supported by positive relationships between students and adults. This approach permeates the school, from everyday interactions to instructional policy. At PACT, students have an active voice in shaping both their learning path and the school's design. For example, at the end of its first year, students expressed a desire to reorganize the instructional day to achieve a better balance between hands-on projects and online learning. Principal Reynolds and his team listened to students' concerns and, beginning in the school's second year, retrained teachers to give students more voice and choice in choosing and participating in projects.
In addition to giving students a voice in their education, PACT has a laser focus on ensuring students are college and career ready. On any given day, students can be seen working on a variety of projects: running cars down ramps to measure velocity and friction, or creating a multimedia presentation about a "turning point" in their life for their English class. In each project, students are measured based on how well they have mastered problem-solving, communications, and presentation skills that will truly prepare them for college.
The PACT team is committed to helping each and every student succeed, despite challenges they face academically and personally. For example, the majority of PACT families make less than $20,000 a year, and many students care for younger siblings and extended family members. Principal Reynolds says that the pressure of street affiliation and gang violence is ever-present, particularly for young men in the community.
Knowing this, the PACT team works hard to create an environment where students can open up about their concerns and responsibilities. In the words of one student, "I have a voice here. I joked my way through sixth and eighth grade, but this school and its teachers changed my view of things." PACT hosts several after-school activities geared toward giving students choice and agency, including theater, astrophysics, and a girls' empowerment club called "Cover Girl." The school's staff has cultivated an awareness and responsiveness to challenges students face. Teachers like Mr. Hurt, an English teacher for first-year students, realize that, "for many kids, their day starts after they leave school. My goal is to give them something positive to think about when they leave us, and hopefully to help them make good decisions."
Principal Reynolds, a seasoned educator, takes nothing for granted. He has intentionally created a culture where students feel comfortable working through courses at their own pace and communicating openly with adults. Reynolds makes developing relationships with students, families, and the community a top priority for his staff.
As he says, "What we're doing is more than strictly academics. We have to build kids." Reynolds oriented his teachers to his relationship-centered approach by having them read The Dreamkeepers: Successful Teachers of African American Children. The book focuses on recognizing and developing each child's unique strengths. "Once kids realize that it's more than just a job for you—that I'm really concerned about you, I really want to know who you are, they'll knock down walls for you," says Reynolds.
Aligning teachers around a shared purpose.
Unsurprisingly, hiring staff members who are enthusiastic about this approach is a top priority. During the interview process, Reynolds looks for an understanding of young people and an excitement about working with them. "You can ask them all about data and their teaching practice, but if you ask them a kid question and their eyes don't light up, that tells you something," he says.
In a school like PACT, where students are shouldering many responsibilities outside of school, it's important that teachers see themselves as relationship-builders in addition to being content experts. On hiring, Reynolds advises, "if you ask a teacher about a challenge they've had, and they mention something discipline-related, like a student chewing gum in their class, you know they're not seeing the bigger picture. Our challenges are more about students' safety and wellbeing outside of school. We try to convey to students that 'what you're doing after school is as important as what you're doing in school, because we need you back here.'"
Reynolds' culture-building efforts have laid a strong foundation at his school in not only student agency and relationship cultivation, but foundational academics as well. Students are aware of the positive relationships they have with teachers and adults, particularly with non-teaching adults in the building like the school's ROTCdirector, security guards, and cafeteria staff. In the words of one student, "Mrs. Watson [PACT's College and Career Readiness instructor] is a mother figure." Students described their teachers as "older best friends" and "safety blankets"—they feel comfortable asking for help with problems they face outside of school.
They also appreciate Principal Reynolds' efforts to support them in more than just mastering course content. He has been known to visit chronically late students' homes early in the morning to drive them to school. And, in the words of one student, "He's the first principal I've ever met that walks the kids down to the bus stop to make sure they get on the bus."
Supporting student-centered instruction.
Building on its strong culture, PACT is beginning to hone its instructional model, which has gone through several iterations since launch—from online learning to teacher-designed projects to a more balanced approach. Next year, the school will partner with Project Foundry—an online learning management and student portfolio system—to give teachers a stronger framework for designing student-centered projects. The web-based platform can support new ways of organizing learning goals and content for students and teachers. It also lets teachers grade student work based on competencies.
As PACT grows, members of its founding class have started to become role models to incoming peers. As Principal Reynold's says, "I use my 11th graders like crazy. I use them to encourage and check my 9th and 10th graders." Their behavior will model success for younger students, and strong relationships between students and adults will continue to flourish as students become college and career ready. But this cannot happen without the continued hard work of the whole PACT family. As Reynolds says of PACT's future, "our work is not even close to being done."
Read the entire series:
Post #1 – Iteration in Action: Denver School of Innovation and Sustainable Design
Post #2 – Iteration in Action: Eagle Academy