How Data Notebooks Can Support Goal-Setting and Student Agency in Elementary School
CompetencyWorks Blog
---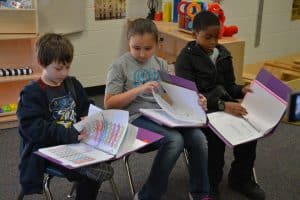 This is the final article in a nine-part "In Real Life" series based on the complex, fundamental questions that practitioners in competency-based systems grapple with "in real life." Links to the other posts can be found at the end of this article.
Goal-setting plays a big role in a personalized, competency-based learning environment: cultivating an awareness of why you're working on what you're working on, what's next and instilling a sense of ownership over your learning and in your classroom community.
Even when you're six.
At Batesburg-Leesville Primary School in Batesburg-Leesville, South Carolina, students in first and second grade keep data notebooks to help them record their behavior, reading goals and progress. They track their growth each day and reference their data notebooks not only when they're working, but also as a means of reflecting on their week. The data notebooks make students' learning tangible to them.
Cultivating an awareness of learning is critical for all students – especially those students who struggle. According to Michelle Maroney, a second-grade teacher, "that visible record changes a student's thinking. Before when we gave assessments, it was just taking a test. Now when they take an assessment they can see what it looks like from the last time to what it looks like today. They have that   visual," says Maroney. "For kids way behind grade level, they feel defeated a lot. But when they can see their growth, they move at a much higher rate."
Making Smart Choices at Any Age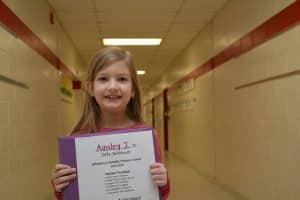 Having greater awareness of their progress can also help students make good choices that lead to character growth.
Tyrese Holmes, a second grader, explains what it means to earn his 'Panther Paws' each day, which is the school's behavior initiative built around keeping their 'Panther Promises.' Students strive to earn five Panther Paws each day, and 25 each week.
"If you get five, you're good. Four, you're fine. Three, you have to reflect. Two, your parents will have to know that I had a hard time keeping my Panther Promises today. One, I didn't make smart choices today and have to go to the office," says Holmes. "I think about staying on five or four, making smart choices, being nice to people, not playing rough. I feel happy that my mom and dad can know how much I got."
Tracking behaviors seemed like a logical place to start with young children, according to Samantha Kennedy, who taught in the district for two years before moving into her current role as instructional coordinator.
"The Panther Promises are character traits we want to instill in our students. We want to encourage them to be leaders," says Kennedy. "We recognize students at a Cub Ceremony every nine weeks. We call them up by name and they get a certificate, a sticker for their notebook and a bracelet they can wear to show they're keeping their Panther Promises."
Reading from the cover of her data notebook – though the Panther Promises can be found in every classroom, as well – second grader Kaylee Riendeau recites her Panther Promises:
Make smart choices.
Think, plan and don't give up.
Respect and prioritize.
Be nice to be happy.
Be sensitive and be patient.
Cooperate with kindness.
"If you're cooperating with kindness, I would be working with my classmate and being nice to him while I'm cooperating with him," says Riendeau. She smiles when she reflects on earning 100 Panther Paws and being recognized in the Cub Ceremony. "It made me feel great."
And while concepts like cooperation may be familiar to students Riendeau's age, first grade teacher Randi Curry stresses the value of teaching her students things like prioritizing, as well.
"Life is so full of choices, whether you're six years old or you're an adult. By learning how to prioritize at a younger age, it really lays the foundation for later years," says Curry. "They start prioritizing by thinking about what they need to practice. They learn what choices to make, and they figure out as time goes on that there are certain things that might take them a little bit longer and they need to do those things first."
Tracking Growth = Increased Motivation
Maroney appreciates the opportunity data notebooks give her students not only to reflect on their behavior and see where they might've gotten off track, but also to see how they've grown academically. Her students track their word fluency over time, as well as their fluency with addition and subtraction.
"Every two or three weeks, they can see themselves growing," says Maroney. "They get to chart that growth. The smile on their face is priceless because they can look at it and see, 'I'm growing!' It really motivates them to keep going."
Maroney also notes how useful the data notebooks are in conferences with parents, and in helping to make sense of sometimes abstract assessment data with her students. MAP Growth data is recorded in the notebooks and Maroney uses it as a means to help her students understand what they need to practice, what strategies have worked well for them and to set goals as they get closer to testing time.
"Whenever I get to a hard word, first I practice all my reading strategies," says Tristan Baldwin, a first grader who chooses to do word work games and reading or writing when given the opportunity. "I use skipping the word and coming back to it, smashing the words together and looking at every part of the word. My favorite reading strategy is sounding the words out."
At the end of the day for Curry, the data notebooks are a tool helps inspire her students and also develops a sense of ownership over what they're learning and why.
"I've seen the maturity level of my students grow tremendously this year. They're taking ownership of their behavior daily, and they're able to look back at their entire week and reflect and make their own goals for the following week or weeks to come," Curry says. "I've seen so much growth already this year and I think a lot of that has personalized learning to thank for it because my students are able to move on and grow at their own pace."
—
Read the rest of the "In Real Life" series at the following links:
—
As a communications specialist, Jillian Kuhlmann works closely with KnowledgeWorks teaching and learning directors to share best practices, knowledge and opportunities among the schools and communities that we support to ensure every student experiences meaningful, personalized learning.