iNACOL at SXSW EDU
CompetencyWorks Blog
---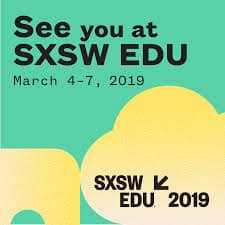 If you're headed to Austin next week, iNACOL is offering two sessions, and it would be great to see you.
Our iNACOL and CompetencyWorks Meet Up will be on Wednesday, March 6, from 11 a.m. – noon at the Hilton Austin Downtown, Room 602. I will join our President and CEO, Susan Patrick, in facilitating an informal gathering to meet each other and discuss everyone's work, plans, resources, challenges, and promising practices for creating powerful, personalized learning experiences for students. Newcomers to this work are strongly encouraged to join us!
The CEO State of Play in Personalized Learning session will be on Wednesday, March 6, from 3:30 – 4:30 p.m. at the Hilton Austin Downtown, Salon H on the 6th floor. Susan Patrick will join the CEOs of three other personalized learning organizations—Dana Borrelli-Murray of the Highlander Institute, Beth Rabbitt of the Learning Accelerator, and Elisabeth Stock of PowerMyLearning. Hear from them to make sense of this moment of opportunity for personalized learning and the future of the field.
Also, in my new role as iNACOL's Research Director, which includes leading CompetencyWorks, I'm eager to get to know more of the people, schools, districts, and organizations who are advancing personalized, competency-based education. If you want to have coffee, walk and talk, or chat some other way in Austin, please email me at [email protected].
We hope to see you in Austin!