How Schools Improve
CompetencyWorks Blog
---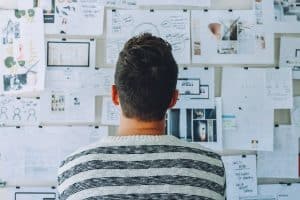 One of the concerns I have about how competency education is developing is that I don't hear many districts or schools talk about continuous improvement that is based on looking at processes, data, and unpacking with the five Ys. (Our low income students aren't progressing as much as upper income students — Why? They are missing pre-requisite skills? Why? They were passed on from eighth grade without them? Why? The middle school principals don't have enough control over their budgets to create adequate summer programming? Why? The district has a policy that they manage summer school? So if we allow schools to organize or coordinate among themselves to determine the amount and type of summer school programming, more students will have all their foundational skills by the time we get to high school!  — nothing is ever this simple of course, but you get the drift.) It may be that there is something about education and the learning process that may make some aspects of schools hard to break into processes, but I'm not sure we have tried enough to know that. I'm sharing this piece by Getting Smart's Tom Vander Ark (February 9, 2017) to open this conversation. If you do use some type of school improvement process to fine tune your competency-based district or school, we'd like to hear about it.
Frustrated by the lack of widely used improvement frameworks in schools, a colleague emailed some questions. Following is a quick attempt to outline approaches to improvement and innovation.
I see teachers sitting around the table with reports and then deciding to do a program or do more PD. How can we develop a more formal improvement framework that would drive effectiveness and efficiency?
There are five important steps to developing or adapting an improvement framework.
1. Prioritize outcomes. Hold community conversations about what graduates should know and be able to do–like those in El Paso, Houston, and Marion, Ohio. An updated graduate profile can help create role and goal clarity by identifying priority student learning outcomes and ways of measuring (or estimating) those outcomes.
2. Do the research. Create a shared vision of what good practice looks. Unless you're inventing a new set of practices, that picture should be research-based. BrightBytes is a decision support tool used by almost 1500 districts that allows teams to compare their outcomes with research recommendations.
3. Build a learning model. A common approach to supporting powerful learner experiences may include shared
Content, tasks and assessments (i.e., curriculum);
Teacher practices (e.g., Teach Like a Champ);
Values and behavioral norms;
Guidance and youth and family support services; and
Structures, schedules and staffing strategies that support learning.
Voluntary and managed school networks (and districts that act like networks) are disciplined about defining and supporting a learning model including some or all of these factors.
Some districts and networks go a step further and identify core processes and support systems for each (listen to an interview with Colorado's District 51).
4. Identify metrics and source the data. In the 90s, best practice was a war room of handwritten data that allowed teachers and leaders to visually spot problems. By 2000, Excel spreadsheets were common. Data shops like Schoolzilla, spun out from Aspire Public Schools in 2013, help organize district data. Unfortunately, it's still challenging to combine all the data schools are receiving.
5. Adopt a shared improvement framework. "School leaders need to focus their attention on creating the conditions where teachers have the resources, courage and support to experiment with improving their practice, and then the space to share what they are learning with other educators," said Justin Reich, executive director of the MIT Teaching Systems Lab.
An improvement framework identifies core processes (e.g., reading instruction), shared practices (e.g., guided reading), quality metrics (e.g., observations, running record), improvement tools, and review cycles.
The improvement framework for the New Tech Network (below) incorporates shared values, process tools and common structures.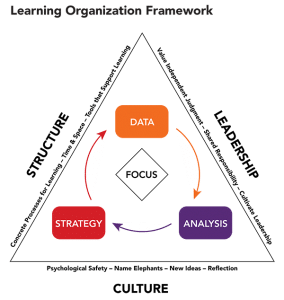 Who is doing this well?
Total quality management (TQM) tools and strategies have been used by some schools for 30 years. Church, Alaska, was an early adopter and first to win Baldrige Award. Former superintendent Rich DeLorenzo describes the journey and toolset in Delivering on the Promise.
APQC has been advancing similar process tools for more than 20 years.
Process tools are important, but continuous improvement starts with what Rob Waldron, Curriculum Associates, calls a "Tell it like it is" culture—a shared commitment to honesty, transparency, and accountability.
So where does innovation fit in?
Improvement is doing things better. Innovation is doing things differently hoping for breakthrough results. School districts and networks must constantly negotiate the balance between improvement efforts and phases of innovation.
Take competency-based learning for example. It implies new learning and assessment strategies, requires new structures and supports, and it demands a new way of thinking about success—it's a big innovation. You won't get there with cycles of continuous improvement. It requires a design process that reconsiders every aspect of education. It may be implemented in a few phases but once the new system is in place, you can go back to continuous improvement to make it work better for teachers and students.
Improvement can be undertaken with internal faculty agreements. Results are reported to stakeholders, but you don't need permission to do better. An innovation, like the shift to competency-based learning, requires a broader community agreement because it involves investment, risk and new desired outcomes.
What about Design Thinking?
Design Thinking starts with an investigation of customer needs and imagining possible futures. It's more about inventing than improving. Below is the design thinking process at One Stone, a new Boise high school: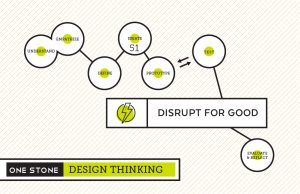 A growing number of schools help students and faculty use design thinking to attack problems (see posts on Olin College, d.Tech and DSISD). It's often used in the inquiry phase (i.e., problem finding) preceding project-based learning (a sprint to a defined deliverable).
Based on the book Designing Your Life, One Stone students spent a time in January applying design thinking to their lives by imagining possible futures (i.e., what problem would I like to solve) and designing quick prototypes (e.g., a job shadow).
Sometimes a problem spotted in a continuous improvement cycle is tough enough to warrant a quick design thinking exercise that may lead to a full process redesign (akin to business process reengineering).
How about Lean Startup?
Coined by Eric Ries, lean startup is an approach to organizational development that (like design thinking) values hypothesis development, prototyping, and rapid iteration.
It's usually applied at an early stage than continuous improvement—often well before shared and documented processes are adopted. The lean mindset and practices are similar to and useful in continuous improvement.
See also:
---
Sydney Schaef, M.BA., M.Ed., is an educator, entrepreneur, and school design consultant. She currently works as a Mastery Learning Designer at reDesign and a design consultant for Building 21. She served at the School District of Philadelphia from 2013-2015 in the Office of New School Models, and prior to that, served as Founder and Executive Director of a 501c3 nonprofit organization that led innovative education and youth development programs in East Africa. Follow Sydney on Twitter at @sydneyschaef.