iNACOL Symposium Competency Education Strand Keeps Getting Better and Better
CompetencyWorks Blog
---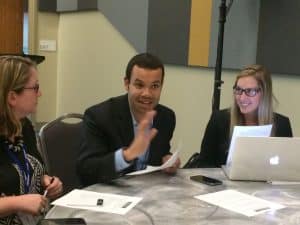 I just received the list of the #inacol17 sessions and workshops within the Competency Education track and it looks outrageously good. (There are also a number of really great pre-conference sessions as well.)
Here are the highlights:
Equity and Competency Education
Performance Assessments
Are Performance Tasks Really For Everyone? Designing Rigorous Tasks for Equity and Engagement, Ensuring Every Student Crosses the Finish Line with Antonia Rudenstine, Dixie Bacallao and Sydney Schaef.
Performance Assessment as a Vehicle for Transformation with Christine Landwehrle and Bethany Bernasconi.
District and School Conversion
Getting Started
Future Directions
Engaging Educators in Personalized, Competency-Based Learning: Are You Walking the Talk? Learn How Micro-Credentials and Other Strategies Pave the Way with Patricia Deklotz and Theresa Ewald of Kettle-Moraine School District in Wisconsin.
The Rise, Risks and Rewards of Competency Education and New Credentials Across the Education Pipeline with Stephanie Krauss of Jobs for the Future.
Where Do We Go From Here: Reflections on Future Directions of Competency Education with Chris Sturgis and Susan Patrick.
Leadership
New Models
Deeper Learning
Policy
Culture and Practices
And there is more….
How Districts Innovate: New Small Schools in Cleveland Metropolitan School District
Hear from a panel of district and school leaders from the Cleveland Metropolitan School District (CMSD). Panel members will reflect on the district's portfolio strategy, which includes the design and launch of new high schools through the Opportunity by Design initiative. Moderated by Springpoint, panelists will discuss how the process of creating new small schools drives innovation in the district and leads to approaches like mastery-based learning and community-driven school model design.
Kristen Kelly, Cleveland Metropolitan School District 
Christine Fowler-Mack, Cleveland Metropolitan School District
Irene Javier, Cleveland Metropolitan School District 
Tara Drouhard, Cleveland Metropolitan School District 
Darcel Williams, Cleveland Metropolitan School District
Matthew Pilarski, Springpoint
Unleashing the Most Underutilized Resource in Education: The Learner
It's easy to get caught up in the hard work of shifting a century-old system out of its traditional ways of operating. Our focus can get lost in the new structures and technology needed to support this transformation. Join Kelly Young, Executive Director of Education Reimagined, and four inspiring learners from across the country who have experienced both traditional and learner-centered learning models to hear their insights into creating environments that unleash their full potential.
Kelly Young, Education Reimagined
Jemar Lee, Iowa BIG 
Patricia Coleman, McComb School District 
Keyonna Griffin, McComb School District 
Vanella Tadjuidje, Pike Road Schools 
Designing the School of the Future, Today
This session will focus on how to implement a "best practice" approach to teaching through "next practice" systems. Highlights include how to use technology to drive personalized learning, student engagement, blended classrooms, prescribed learning, student collaboration, critical thinking and much more. Buddy will be assisted by his 14-year-old daughter in driving home what it looks like through the first-hand perspective of a student. Bring your tough questions and be ready to dream together.
Buddy Berry, Eminence Independent Schools
Brooke Berry, Eminence Independent Schools
School (Re)Design: Equitable Outcomes through Personalization
Everyone's talking about personalization and equity, but what does that actually mean for school (re)design? NewSchools will lead a discussion with district and charter school leaders, who are designing for equity through personalization and innovation. Join us to hear practices and lessons learned from practitioners who are achieving equitable outcomes or are designing their schools to get there. Speakers will also share tools and resources they have leveraged to advance their efforts.
Frances Messano, NewSchools Venture Fund 
Arielle Rittvo Kinder, NewSchools Venture Fund 
Below are helpful links to learn more about the Symposium: