Incredible Opportunities for Learning and Networking at the iNACOL2017 Pre-Conference
CompetencyWorks Blog
---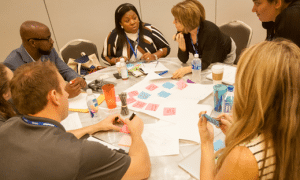 Each year the competency education strand expands at the iNACOL Symposium, and the sessions for iNACOL2017 are really incredible. I want to go to all of them. Here are the sessions scheduled for Monday October 23rd at the pre-conference. Remember, we'll have a meet up on Monday evening at the opening reception so you all can meet each other and we can welcome newbies into our amazing network.
Building a Personalized Learning System: Transparency, Culture, and Courage
Rebecca Midles, Mesa County School District 51
Ken Haptonstall, Mesa County School District 51
Leigh Grasso, Mesa County School District 51
Join this interactive workshop to learn how to get started in building a personalized, competency-based education system. This session is designed for leaders of schools and districts in the planning or early implementation phases of personalized, competency-based education. Gain insights into how to build a transparent learning system designed for student success, develop and nurture a culture aimed at continuous improvement, and have the courage to lead systemic transformation of teaching and learning in your school. Access tools from Colorado's District 51, such as their teaching and learning framework, personalized adult learning hubs, and their social and emotional learning framework, and learn how to modify and incorporate these resources as you begin transition to competency education in your own program.
Using Student Data to Drive Unit Design and Scheduling in a Personalized, Competency-Based System
Doug Finn III, Marzano Research
Bill Zima, Kennebec Intra-District Schools, RSU 2 (ME)
A primary design element of personalized, competency-based education is to get students more engaged in the learning process by challenging them at their appropriate academic level and pace. To effectively manage this outcome, we need to rethink how we use student data. This session will focus on how to better utilize student data in designing instructional units and creating competency-based systems. Participants will have opportunities to engage in discussions dealing with the many facets of unit design and scheduling and explore examples of units and school schedules based on student data.
Building Understanding of Competency Education and Changing Grading Practices
Thomas Gaffey, Building 21
Sandra Moumoutjis, Building 21
Sydney Schaef, reDesign
Are competencies and standards the same? How do you assess competencies? Why do we create rubrics and convert them to points? Should measurement of learning be punitive? In this session, we will dive deep into these questions by providing an alternative approach to traditional grading. Through a series of activities, participants will engage with the Learning What Matters competency model and leave the session with a fresh perspective on how three Pennsylvania urban district schools assess students.
Participants will engage in a series of activities to define and illustrate competency-based learning.
Participants will use rating tools called continua to rate student work.
Participants will be exposed to an alternative grading and assessment mindset that will push their school design efforts forward.
After a series of knowledge-building activities, participants will be exposed to a powerful new approach of using the learning progression as a rating and grading tool. These activities include: basketball dribbling activity, small group continua building, and continua norming. Each of these activities requires participants to engage with each other to understand, create and build consensus. This approach mirrors our on-boarding for new teachers.
Leadership for Learning: Bringing Key Dimensions of Leadership to Life to Enable a Learning Community (Capacity: 30)
Linda Pittenger, Center for Innovation in Education
Gene Wilhoit, Center for Innovation in Education
Jim Rickabaugh, The Institute for Personalized Learning
"What does effective leadership mean in a system that has taken up complex change to meet the community's goals for its children?" Participants will grapple with this question and others as they dig into big ideas about key dimensions of leadership that support high expectations for all learners. A new paper, Leadership for Learning: What Is Leadership's Role in Supporting Success for Every Student?, will anchor the workshop to spark inquiry and actionable understanding about what leadership means in new learning environments. The presenters propose that leadership is "the art of enabling a learning community to transform from its current to future state by dramatically and continuously improving its capacity to deliver on the goal of readiness for every child through influence on the organization itself, its stakeholders, and the systems within which it operates."
Participants will investigate the big ideas through related lines of inquiry and perspective. The goal is for all to experience a rich exchange of ideas, through individual and group reflections, and leave with new thinking about leadership in their own local contexts. Individual participants are welcome; the session may be especially valuable for small teams from the same school, network, or district.
Personalized Learning: Helping Your Key Stakeholders (Including Parents!) Along the Journey
Laurie Forcier, Global Thought Leadership
Kristen DiCerbo, Education Research
Dr. Els DeGeest, Pedagogical Models Research
Dr. Tom Rooney, Lindsay Unified School District
Robert Eichorn, New Directions Alternative School
During this workshop, pedagogy experts and leading educators that inspire them will be on hand to work with you on developing strategies for personalized learning in two areas:
Building expertise among colleagues to support teaching for personalized learning in traditional, blended, and online classrooms for a panoply of different learners; and
Building a plan for engaging key stakeholders (that is, parents and the community) on what personalized learning really is, and why it is both possible and necessary as we prepare students for the future of work — and to help stakeholders make the cognitive leap from their own education experiences.
Competency Education Leadership Forum (Invitation-Only: This is for people who are deeply involved in transitioning to competency education in schools, districts, and state departments of education)
Chris Sturgis, CompetencyWorks
Have you been actively creating or converting a school, district or state policy to competency education for at least one year? Join your colleagues at the Competency Education Leadership Forum to dive deep into a problem of practice that is challenging you.
The Leadership Forum will be structured around several problems of practice. We'll ask you beforehand for suggestions of problems of practice or policy that you would like to focus on so that we can use our time together efficiently. The goal of the afternoon will be to expand and strengthen our networks, exchange ideas and seek to further develop our understanding and strategies to address the challenging issues facing us.