Introductory Webinar on Competency-Based Education, April 20th
CompetencyWorks Blog
---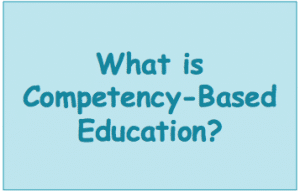 Given that there is growing interest in competency-based education, we thought it would be a good idea to do an introductory webinar. We'll go over what the working definition means (and doesn't mean). We will then explore how it is being developed in a medium-sized district and in a very innovative start-up so you can have a sense of how educators are designing around the core concepts. The webinar will also be archived so you can listen to it later if you can't join us. You can register here. And all the information is below.
Competency education, an educator-led reform, is taking root in schools and districts across the country. The concept behind competency education is simple: learning is best measured by students demonstrating mastery of learning targets, rather than the number of hours spent in a classroom. By redesigning the education system around actual student learning, we will effectively prepare each student for college and a career in an increasingly global and competitive economy.
In this webinar, attendees will learn the foundational tenets of competency education, explore school models that meet students where they are, and glean promising practices from leaders and practitioners pushing the next generation of teaching and learning.
The co-founders of CompetencyWorks, Susan Patrick, iNACOL President and CEO, and Chris Sturgis, MetisNet, will share competency education's structural elements. To understand how these elements are implemented in districts and schools, this webinar will highlight two different, emerging competency-based models. Dr. Kristen Brittingham, Director of Personalized Learning, will introduce the model in development at Charleston County School District, South Carolina. Then we will explore the innovative model being designed at Building 21 in Pennsylvania with Sydney Schaef from Building 21(currently at reDesign). Virgel Hammonds will then discuss why educators and communities want to convert to a competency-based structure, and he will share his experiences from Lindsay Unified, RSU2 and as Chief Learning Officer at KnowledgeWorks.
Speakers:
During the webinar, extend the conversation to your personal networks using #CBLearning.