Lake County Schools: Lost Lake Elementary is Putting the Fun Back into Teaching
CompetencyWorks Blog
---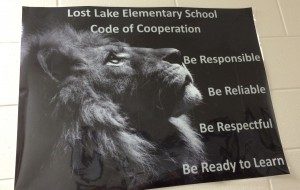 This post is the third in a five-part series on Lake County Schools in Florida. Begin with the district overview and follow along at these schools: South Lake High, Lost Lake Elementary, Sawgrass Bay Elementary, and Lake Windy Hill Middle. 
When I visited Miss Green's classroom at Lost Lake Elementary School, classical music was playing as students grabbed snacks and began to reflect on their day. Students explained to me their standards and, of course, the Dojo. Miss Green noted that PL has been particularly helpful, as she is an ELL teacher with four students with a variety of English skills in her class. She said that students are speaking more in class as part of the PL environment and she can provide more direct instruction to the student who is at the very beginning of his journey to learn English.
Michelle Mabry, Lost Lake's PL facilitator, explained that at the Reinventing Schools Coalition training, they asked about how the ESE (Exceptional Student Education) students and the English Language Learners were doing. The conversation turned to the challenge of engaging students who were really struggling with the curriculum and the different strategies students develop, including learned helplessness. Lost Lake has turned to Mary Cay Ricci's Mindsets in the Classroom to help integrate the growth mindset throughout the school. Assistant Principal Karen Hart noted that in the classrooms where teachers are embracing personalized learning, it's difficult to tell which students are ESE.
Lost Lake Elementary School serves more than 1,000 students, and has continually been recognized as a high performing school. However, like most other high performing schools, there is a group of students who are not succeeding at the same high levels.
Building School and Classroom Cultures: Lost Lake started down the path to personalized learning with a two-part strategy. While the external strategy was to engage parents, community partners, and business leaders in creating a schoolwide vision statement, the internal strategy was to build the culture within the school and classrooms.
With the tools offered through the RISC training, teachers began to engage students in creating vision statements for their classrooms and an accompanying code of cooperation. Hart explained, "We always had a school song that emphasized the four Rs: respect, reliability, responsibility, and ready to learn. These now became our school code of cooperation. However, it's important for each classroom to have one as well, especially if there are issues that need to be addressed within the classroom. Teachers and students unpack the school code of cooperation and put it in their own words."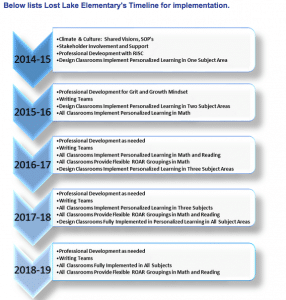 Standard Practices and Operating Procedures: Lost Lake is also learning to use standard operating procedures (SOP) to help create smoothly run classrooms where students can help each other rather than turn to the teacher for guidance. Hart explained, "The SOPs are creating a common language. Teachers can use them as general guidance or develop them if problems or confusion emerge." Another standard practice is unpacking the standards. You can see this in videos of first and fourth graders unpacking the standards. Just scroll down this page.
Teacher Collaboration: During this school year, teachers work together to implement PL in math. Mabry explained that it looks different in each classroom, with a monthly "genius bar" at which teachers share their experience with different instructional strategies and techniques. In addition, teachers meet within their grade levels to discuss personalized learning and the issues that are emerging for them as they implement new practices. Lost Lake has had common assessments in place for a while, so the conversation often turns to growth mindset, instructional strategies, and formative assessment. Flexible pacing has been a challenge, as teachers are so used to pacing guidelines for curriculum. Mabry pointed out that voice and choice have been considerably easier to take root than students moving at different paces through the curriculum.
Overcoming Resistance: Most teachers are beginning to try out the new practices of personalization, although as is the case in any school, there are a few who want to wait a while longer before they give it a try. In general, the strategy is for teachers to operate within their comfort zone, trying new things as they build skills and confidence. Mabry explained that, "In higher performing schools, there can be more resistance to changing instruction. Why change something that appears to be working? We ask teachers to identify one thing they can't let go of and encourage them not to change that. Then we encourage them to try one new practice to give students more voice and choice to see how it goes. When teachers see the engagement increase, they are more willing to make more changes. Personalized learning is putting the fun back into teaching."
See also: