Lake County Schools: Sawgrass Bay Elementary Increases Engagement with Personalized Learning
CompetencyWorks Blog
---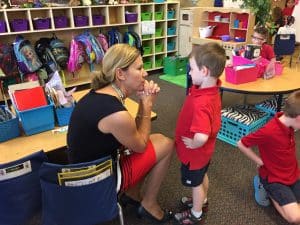 This post is the fourth in a five-part series on Lake County Schools in Florida. Begin with the district overview and follow along at these schools: South Lake High, Lost Lake Elementary, Sawgrass Bay Elementary, and Lake Windy Hill Middle. 
Sawgrass Bay Elementary (SBE) has fully embraced personalized learning. In the first year, eight teachers started piloting the new practices in math in grades 3-5. A year later, they have full implementation in math and ELA throughout the school. As we wandered through classrooms, the conversation with Principal Heather Gelb; PL Facilitator Amy Billings; and Instructional Dean Michelle Work was full of insights and observations. Gelb enthusiastically explained, "We are seeing a big culture shift. It's only been a year, and the teachers are noticing that the kids are highly engaged. Personalized Learning is a more intentional implementation of best practices as they pertain to student autonomy. This will be a shift for everyone." Below are a few of the highlights from our conversation:
Background: Sawgrass Bay is situated in the corner of Lake County and is relatively close to Orlando. Many families have jobs in the tourist industry, which has led to high mobility as they move to obtain higher paying jobs. SBE is the largest elementary school in Lake County Schools, serving 1,300+ students in grades K-5. Nearly half are ELL.
The Power of Student as Leaders: Work explained that SBE is infusing Covey's seven habits of the Leader in Me program into the overall personalized learning approach as a means to increase students' sense of responsibility and the skills they will need. She explained, "When students feel empowered, there is no reason to act out. Instead of feeling that things are being done to them, they feel more in control of their own actions." Assistant Principal Maurice Simmons expanded on this point with, "The Leader in Me program is helping our kids see themselves as leaders. Before, they were kids or children or students. Now they see themselves through the lens of learners and leaders. They feel more responsible for their own actions and for helping their classmates." I saw the strong emphasis on the "habits" in Mrs. Miller's classroom, where there were celebrations of students demonstrating the different qualities and a strong culture of "I can" and "We can." [Red Bank Elementary in Lexington, SC is also using this program.]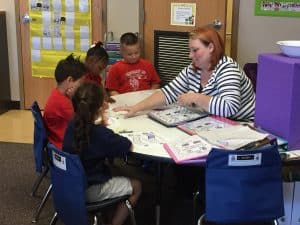 Bringing the Philosophy of Personalized Learning to Life: The leadership team at SBE described the importance of bringing PL to life for teachers. For example, they talked about what it means if students don't know what they are learning or why it is important. "Children can't find relevance if they don't know what they are learning. They can't make connections. This was a major revelation to us – we suddenly saw ourselves through a mirror. We were teaching in the way that we had been taught and in ways that were easier for us. We needed to let go of the old ways and open ourselves. Suddenly we were seeing our jobs in a totally different light."
They shared other examples of insights once they had the new perspective of PL:
"Why do kids have to be sitting down all the time? We could never sit that long. Kids can learn just fine standing up. Why wouldn't we take into account the physicality of kids and the fact that their bodies are growing?"
"What does it mean when a teacher says 'PL isn't working for this kid?' That's like saying a tailored suit isn't working for me. If you are squishing the kid into the instruction, then you aren't doing PL."
Structuring Student Voice and Choice: Student voice and choice doesn't just happen because we say it's a value. It develops through a combination of structures, opportunities, and skill-building. In Mrs. Miller's classroom, students have choice about where they work. Students are becoming smart about their choices among tables, bean bags, balls, chairs, and pillows. The balls are considered choice seating, so when problems erupted about who got to sit there, the class solved the problem by creating an SOP.
Work explained to me about how choice boards (see examples here) can support students to make choices between how they learn and how they demonstrate their learning. With clear attention to the depth of knowledge, teachers create a "board" that outlines options for students for how they can work on a standard.
Standard operating procedures, which I saw in every classroom, provide step-by-step instructions so students can take action without instruction from the teacher (and allow the teacher to keep working with students who need help or are ready for feedback). A member of the leadership explained to me, "You have to let the SOPs be alive. If they are not working anymore, then you need to re-do it by engaging kids. SOPs are the most powerful when they have been created with students." In a second grade classroom, I saw an SOP for editing (Do all the sentences have capitals? Did you read it out loud?). It was one of the few examples I've seen of SOPs directly related to instruction.
Frontloading: Billings raised an important change in how teachers do their work. "Given that kids are learning using different modalities and are in different units because they either started at a different place or have a different pace, teachers have to do a lot of frontloading. They need to have organized thoughtful units and activities ahead of time." At SBE, the grade level professional learning communities are where the majority of the work is done to create the front-loaded units. "There is a lot of work that has to be done during the transition," Billings said. "After that, teachers can tweak the units if needed or design new ones without the pressure." This is an important issue to take into consideration when planning the process of transitioning to personalized learning.
Making Time for Teachers: Related to the issue of frontloading is the importance of finding time for teachers to work together. SBE created Wacky Wednesday, in which the staff from the enrichment classes take a grade level for an entire day. They can design activities to integrate STEM or character building or whatever their specialty is into the classroom. And the grade level teachers get a full day to collaborate, calibrate, and plan. Teachers also have time every day for planning.
Personalized Learning beyond the School Day: Sawgrass Bay sees the value of the shared vision, code of cooperation, and standard operating procedures as much more than classroom tools. They also consider them tools that students can use in other settings – in fact, they have even taught parents how to write SOPs before school so they can reinforce the habits of learning in their own homes. Reflection: The more I think about this practice, the more I think it could be invaluable for helping low-income families where parents are working two or more jobs to make ends meet. They can't be there to supervise homework or reading each evening. With SOPs, students might have a better chance to following through.
Principal as Empowering Coach: Gelb explained, "Teachers are masters of their craft. For too long they've been told what, when, and how to teach from people who have never stepped foot in their classrooms. I knew that if they were given their empowerment back within the realm of Personalized Learning, they would run with it. The main component they needed was time. They needed time to try out the new practices, time to reflect with colleagues, and time to adjust. At the beginning, there were many questions of, 'Am I doing this right?' My standard reply is usually, 'Do the students know what their learning goal is? Can they place themselves on the continuum of mastering the learning goal? And finally, can they prove their mastery? If teachers can answer these questions with a 'yes,' then they are well on their way to doing Personalized Learning right."
Principal as Bridge: Gelb also talked about the role of the principal to act as a bridge between teachers and district mandates that might be part of other initiatives or come from state policy. "If we believe it is important to have kids and their needs drive the instruction, then we have to be careful about mandates. I have to act as a bridge of support to make sense of the mandate while still ensuring that students are getting what they need to learn."
Resolving the Challenge of Level 4: As I've written about before, one of the things that districts need to clarify in competency-based education is how to think about the concept of "beyond proficiency." (In reflecting on their journey, the RSU2 leadership team wished they had resolved this earlier.) If we want every student to become proficient, then we also need to have some way for those who are motivated to excel. However, we also want to make sure all students have a chance to apply their skills at level four – to go deeper, to apply skills using interdisciplinary skills, and to use their skills in new contexts. Sawgrass Bay described their approach as "Level 1-3 is based loosely on depth of knowledge, with level 4 as 'prove it in my own way.'"
Blending the Learning: Sawgrass Bay has approximately four computers in each classroom with a Bring Your Own Device strategy for fourth and fifth graders. Gelb explained, "The more we dug into the issue of how to introduce technology into the classroom, the more we realized that the device didn't make any difference. What was important was for students to own their learning and the tools they needed to learn." They are in early stages of exploring how to blend learning to provide more instructional support and flexibility in learning for students. Teachers are finding that creating videos has been helpful for students and parents. For students who are struggling with the material, they can watch the video several times. For students who are ready to advance, they have a way to move on without having to wait for the teacher. For parents, the videos can help them understand the content to provide more support at home with homework and conversation at the dinner table.
—
With only a year of creating a personalized, competency-based system, the culture of learning and empowering students is very strong at Sawgrasss Bay Elementary. It will be exciting to see how they move forward, especially as they apply their creativity to strategies to improve instruction, including for students who are just learning the English language.
See also: