Learner-Centered Tip of the Week: Learners in the Center
CompetencyWorks Blog
---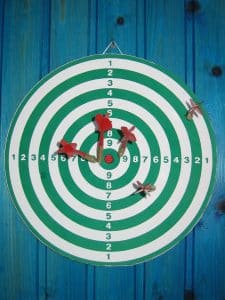 This post originally appeared on Courtney Belolan's website on November 10, 2015. Belolan is the instructional coach for RSU2 in Maine.
The goal of learner-centered education is to create the conditions so that students can be self-motivated to engage in learning. When we rely too heavily on any of the other terms and ideas associated with the idea of putting students at the center of education, the intention behind an incredibly powerful philosophy of education gets watered down. Schools and classrooms can end up in a place where too much responsibility for directing and managing learning is left to the students, and people start wondering if learner-centered education is worth it.
Learner-centered education is challenging for all learning community members, in different ways. Some have to figure out how to take on different responsibilities. Some have to figure out how to let go of some control. Some have to figure out how to fail. Some have to figure out how to rely on others. The key is to focus on setting up a learning environment in which students can't help but get engaged in learning, and in which they learn the skills and habits needed to take meaningful ownership of their learning.
Put learners at the center by making learning engaging. Connect groups of learning targets together with bigger topics, or broad essential questions. Challenge them to wrestle with problems and dilemmas that have no clear answer. Combine disciplines together in realistic ways. Incorporate group projects and challenges.
Put learners at the center by making learning visible. Provide ways for students to track their own progress. Teach them ways to do this on their own. Be honest with students about where they are in their learning, and let them know what they have to do to move forward. Make clear connections between learning experiences and learning targets.
Put learners at the center by making it easy to be prepared. Establish supply stations so students can get what they need without disturbing class. Scaffold students through creating work calendars and planning projects. Always have extras on hand, and copies of completed notes/worksheets, so there are fewer excuses to not engage.
Put learners at the center by making learning about learning important. Rate effort or focus at the end of every class using a rating system, like 5 stars. Set daily or weekly goals for work and learning and check in on them, making adjustments if needed. Expect students to try different strategies and methods, such as when note-taking, and then stick with a strategy that works for them. Make time for students to take a step back and see the big picture of their progress during a year, and across years.
Put learners at the center by making choice possible and appropriate. Give students the choice of several input-resources when learning new content. Generate possible options for products that demonstrate the expected reasoning levels for targets. Give due dates for a set of learning activities and have students plan how and when the work is completed
Put learners at the center by making their voice powerful and authentic. Invite students to committee meetings. Involve the student council in real decision making about the school. Set up a classroom parking lot and make a point of addressing it on a regular basis. Facilitate students to come up with questions or topics that tie learning targets together in meaningful ways. Let students run class and team meetings.
See also:
---
Courtney Belolan works at RSU 2 in Maine where she supports K-12 teachers with performance-based, individualized learning. Courtney works closely with teams and teachers as a coach, and with the school and district leadership teams as an instructional strategist. Courtney has worked as a 6-12 literacy and instructional coach, a middle level ELA teacher, an environmental educator, and a digital literacy coach. Her core beliefs include the idea that the best education is one centered on student passions and rooted in interdisciplinary applications, and that enjoying learning is just as important as the learning itself.