Learner-Centered Tip of the Week: The Perennial Homework Question
CompetencyWorks Blog
---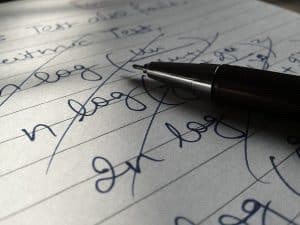 This post originally appeared on Courtney Belolan's website on September 29, 2016. Belolan is the instructional coach for RSU2 in Maine.
Just the other day a colleague sent me a note saying "please post about homework!" I can't say I'm surprised, the homework question is one of the perennial questions in education; I even wrote about it last year. And like a stubborn weed, it spawns and shoots many other questions:
How much homework should students have?
Is homework for practice or learning?
Is it fair to assign homework that relies on internet access?
What is the purpose of homework?
How does homework count, if at all?
Does everyone have to do the same homework?
The truth is that despite all of the research compiling on the effectiveness of homework, the answer is a big thorny "depends." Under the right conditions, homework can be a fantastic support for learners moving ahead and growing with their skills and knowledge. Under the wrong conditions, homework can actually be detrimental to learning. In a learner-centered proficiency-based culture, the homework weed can be even more noxious and thorny. We need to be considering the right conditions for every learner, every day.
If we step back and think about homework through the lens of personalized learning, we can come to some clarity around homework in our schools. Here are some questions to ask yourself about homework, and some resources to help you tame this weed.
Questions related to learner autonomy and access:
Did I give learners any choice in the homework?
Do all learners have to do this homework? If not, how did I support learners in recognizing if they need to do it?
Did I invite learners to have a voice in any aspect of the homework?
What assumptions have I made about the ability of all learners to do this on their own?
What assumptions have I made about the necessary environment needed for learners to be successful with this homework?
Questions related to homework purpose:
How does this homework relate to a learning target, or a foundational skill?
Am I expecting learners to interact with something new for the first time in this homework? If so, what is my plan for supporting can continuing the interaction with the new content rather than relying on the interaction with the new content?
How does this homework encourage learners to take initiative in their learning?
These reads from Edutopia and EdWeek will help you come to conclusions about how homework fits in a learner-centered proficiency-based environment at any grade level.
Boom Bang Homework Assignments
Kitchen Table Conversations
The Truth About Homework
Why Homework Should Be Balanced
Homework vs No Homework Is The Wrong Question
Do You Want To Hack Homework This Year?
See also:
---
Courtney Belolan works at RSU 2 in Maine where she supports K-12 teachers with performance-based, individualized learning. Courtney works closely with teams and teachers as a coach, and with the school and district leadership teams as an instructional strategist. Courtney has worked as a 6-12 literacy and instructional coach, a middle level ELA teacher, an environmental educator, and a digital literacy coach. Her core beliefs include the idea that the best education is one centered on student passions and rooted in interdisciplinary applications, and that enjoying learning is just as important as the learning itself.