Listening to Our Critics: Offering Multiple Assessments on the Path to Proficiency
CompetencyWorks Blog
---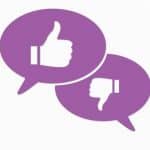 I read an article today about a company that scours through comments and complaints from customers on Amazon to find out what product details consumers are searching for, to then create those products. And it got me to thinking about conversations with students.
During site visits, conversations with students let you know how the school is doing in terms of embracing the spirit of competency education. When students talk about what they are learning, what they need to be successful and want to hear from other, quieter students, you know things are going in the right direction. If students lead off with the grading system and continue on with a string of complaints, you know that some pieces are missing. We need to listen to those concerns because listening to our "consumers" will help us create better schools.
I visited a high school that was experiencing a lot of implementation challenges.  It was the second year of implementation and most students seemed to value competency education. One student's comment seemed to capture the overall value of competency education: "I value competency education because I like having to pass every piece of the course. I feel more prepared and the teachers act as if they care that I pass." Students and teachers, however, also were frustrated, sometimes for the same reasons, but not ready to give up at all. Three issues emerged from their critique that I've put together in three different posts.
1)  "I don't like the reassessment policy.  Too many students, especially the honor students, don't even study any more. They just wing it on the quizzes and then if they don't pass, they ask for a reassessment. It's not fair. "
Other students who struggled with some subjects had a different point of view. "Some of the teachers only know how to teach you one way. They don't seem to really understand the material with any depth. So it's hard to get the help I need. So I end up just taking the reassessments over and over. "
Listening? Teachers complained about reassessments, as well. At this school, competency education had developed a quality of "testing out," and teachers were spending a lot of time on reassessments rather than helping students to be successful in the learning cycle the first time through. In my discussion with teachers, the focus was more on aligning standards and assessments and much less on instruction.
What's Missing? Three questions were raised for me during this discussion. First, the school was only using the habits of work or lifelong learning competencies in a perfunctory way. Students said they were inconsistently used and inconsistently applied.If they had meaning, those honor students would not want to have "inconsistent demonstration of professionalism" or "emerging proficiency in quality of work" at the top of their report card.  Second, the school did not offer flex time for students to get support during the day. Teachers and students were left scrambling to find time after school or during lunch. No wonder there were a lot of students needing reassessments. Save time and resources by helping kids get it right the first time. Third, there was little in the conversation that suggested that the students had a shared vision of a community of learners where they committed to learning and supporting each other. Although the district is a strong partner in the transition to competency education, turnover in school leadership was having an impact.  I know that many of the districts we would consider successfully implementing competency education invested heavily in the beginning to create a shared vision among teachers, parents, community members, and students. Fairness was about making sure everyone has the support they need to learn, not who gets to take a quiz when. Corrective action: I haven't talked to anyone who got to this spot and then corrected it. We would love to hear from you.
Rethinking the System? Something feels off to me about emphasizing reassessment so heavily. Reassessment is often discussed as if it is a product of student behavior, when in fact I think there are three contributing factors for students needing reassessment.
1)    Students may not have a strong understanding of efficacy (how hard do I need to work to succeed).
2)    Adequate school resources haven't been dedicated to ensure that supports and interventions are in place. This may be as much as an organizational issue as a resource issue.
3)    Teachers' may not have adequate knowledge of learning trajectories to allow them to identify where students are likely to trip up. If there isn't a strong PLC, teachers may not be able to draw from the collective knowledge of their colleagues, so are dependent on their own knowledge base. (I'm still learning about learning trajectories and how they are different than learning progressions.  Learning trajectories are how students learn and the most likely places they will stumble because of misconceptions. Learning progressions are our best guess at how students should learn, for example, Common Core State Standards. And individual learning progressions are how students actually learn.)
I know reassessment becomes a real problem at schools that create grading systems where students who have demonstrated proficiency can request reassessment to get higher points. That is different from a grading system that hopes students will demonstrate learning at Level 3 (analysis) and then return later to demonstrate Level 4 (knowledge utilization). In addition, in personalized systems, students and teachers know when it is time for a student to take summative assessments, as they have already demonstrated proficiency. We need to get stronger at articulating the change in emphasis, otherwise schools like this one will continue to have time-based assessments that then require resources for reassessments.