Navigating Personalized, Competency-Based Learning in Utah: The Cruise Ship & The Speedboat
CompetencyWorks Blog
---
This post is one of a two-part series about school transformation in Utah along with Utah's Launchpad to Personalized, Competency-Based Learning (PCBL). It shares the story of two Utah school districts and their collaborative efforts to create a learner-centered culture of learning for their communities. 
In 2016, the Competency-Based Learning Senate Bill 143 allowed interested local education agencies (LEAs) to attend a competency-based workshop where they could work with thought partners from EdElements, ExcelInEd, and KnowledgeWorks to learn more about competency-based learning programs already in place around the United States. As we described in the post, Utah's Launchpad to PCBL, the bill launched a grants program to innovate around competency-based education (CBE) and six LEAs began with planning grants in 2019. Two of the districts developed an interesting collaborative relationship. Davis School District, one of the largest school districts in Utah, with over 73,000 students in 89 schools, found itself relying on information, feedback, and shared strategies from the Juab School District, a much smaller community of five schools serving 2,700 students.
Belinda Kuck, Davis' director of teaching and learning, compares Davis School District to a cruise ship loaded with passengers and a large crew, while Juab is more like a small, but fast speedboat. Working with the Christensen Institute and visiting schools around Utah implementing new models of teaching and learning inspired the Davis team to adjust their course. They were learning from other schools further along in the process of adjusting teaching and learning practices. They recognized that in order to meet the needs of learners in their community, they needed to rethink teaching and learning practices to better prepare them for graduating into a rapidly changing future. Rather than simply "covering" standards, they needed to ensure that learning was happening at a deeper level. 
It was during one of these excursions that Kuck met Krystle Bassett, Director of Innovation and Instructional Support, at the smaller Juab School District. As a more nimble speedboat, Juab had much to share with the larger Davis cruise ship, and Davis was able to provide collaboration opportunities beyond the scale limited by Juab's size. While the Juab team had experience and valuable suggestions for how to implement new educational approaches, the Davis team realized that their large-organization change would need to happen more slowly. Cruise ships, as we all know, can't turn on a dime like a speedboat.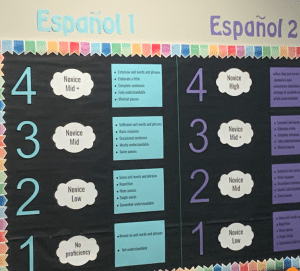 Districts large and small benefit from rethinking standards
Despite their different needs, Kuck, Bassett, and their colleagues agreed that no matter what size your district, school, or class, no educator can cover and no student can master 88 standards for a course in one year. Essential standards must be identified and conditions created for each student to learn at their own pace to reach proficiency. Before any discussions about educational technology, blended learning, and PCBL could be explored, it was clear that this was where they needed to start. 
Davis used Juab's "power standards" as a jumping off point for a standards audit and district-level collaborative conversations. One disadvantage to Juab's small size is the lack of support and collaboration available when you have only one teacher in a subject area for the entire district, such as secondary theater. The collaboration with Davis allowed Juab to have a peer-review process for the power standards they had identified. The feedback process provided an outside lens that then informed Juab's annual review and revision process. 
Juab was further along in the process of collaboratively identifying authentic power standards, yet they benefited from the Davis team's size and the benefits that provided for feedback. While Davis had the larger team, they benefited from the experience and expertise of the smaller team at Juab. Collaboratively examining priority standards was a win-win for both districts and helped them both to move forward in service of learners and learning.
Aligning professional development systems in support of PCBL
Inspired by partners around the country through the Digital Promise League of Innovative Schools, the Juab team initiated even more disruption when the professional learning department replaced traditional learning with Digital Promise micro-credentials. By giving teachers their own personalized, competency-based experiences through micro-credentials, Bassett and her team of coaches could model and provide personalized support for each educator.
Today, just a few years later, Juab teachers are coming up on 700 micro-credentials earned, with 85% of their district's educators having earned at least one micro-credential, and the district has developed PCBL teacher leaders in each of their five schools.
Juab continues to lead the way in Utah as they innovate around professional development (PD) delivery. They are often used as an example of innovative micro-credential policy and practice within Utah and across the Digital Promise community. Davis is considering micro-credentials and other ways of personalizing professional development. Leaders from both Juab and Davis serve on Utah's Micro-credential Advisory Council to help shape the movement at the state level. Juab is further along with implementation and Davis continues to be inspired by Juab's leadership in this space. District and state leaders across Utah are considering solutions for personalizing PD, including micro-credentials. 
Complementing this progress, Kuck describes Juab as "doing a good job of ignoring the critical voices and harnessing what works. They have started a trajectory and kept on that trajectory. Self-doubt doesn't exist in Juab. They have total confidence."
Recognizing the hard work that this entails, Kuck also points out the system wide structure necessary for teachers to do the heavy lifting. "The support has to be equal to the lift. If not, teachers and school teams simply can't do it," said Kuck. And, as Davis rolls out their purpose and vision for PCBL to their massive learning community of 89 schools, they have learned from their experience and the model set by Juab: coaching is the key to exponential growth. Juab has a robust coaching model that extends K-12. Davis has great reading coaches and a fantastic model in their K-6 elementary schools, but secondary digital coaches tend to be busy with hardware and software issues and have room to grow as instructional coaches. Davis continues to look to Juab for effective ways to leverage people and resources, such as PCBL teacher leaders, as they continue to grow opportunities in each school.
"Personalized, competency-based learning is not one more thing for teachers," said Kuck. "It is not the flavor of the month. This is where the world is going. Personalized, competency-based learning is the best 21st century practice of communication, collaboration, critical thinking, and creativity, so let's align everything in our system to that goal. The more we can have these conversations about looking at how education is moving forward, the closer we get to alignment and clarity."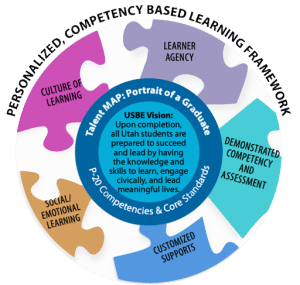 Citing the Utah PCBL Framework, Kuck describes the PCBL initiatives at Davis where "professional learning communities are leveraged to create a culture of learning. Multi-tiered systems of support are used to provide customized supports for students." 
Learner variability is the norm – not the exception
While separated geographically by over 100 miles of alpine desert, the Davis and Juab school districts have come together with a shared mission of doing what is best for students. The Juab school district believes that the learner-centered approach they have harnessed has led to increased graduation rates and CTE pathway completions. Davis has seen an evolution of learner agency and an increase of student resilience reported by teachers and staff throughout the district.
While distinctly different, both the Davis and Juab school districts are honoring learner variability as the norm—rather than the exception—in their implementation of PCBL. Juab is incorporating portfolios, standards-based reporting, and time to support individual learner needs while Davis is offering Davis Connect (a districtwide online school), learner voice and choice within the current system and structures, shifting all schools to standards-based reporting, and competency-based acceleration.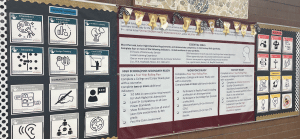 As they continue to navigate forward, they inspire others to examine the purpose of education. For other teachers, administrators, and leaders shifting their educational focus to a PCBL approach, Kuck and Bassett have some great advice.
"Remember that the educator is creating the conditions for the learner to take ownership and responsibility for their learning," said Bassett. "Envision that reality, then ask, 'what if?' and start that journey, one step at a time."
For Kuck, it's important to let some things go. 
"Let go of racing to 'cover' all of the standards in favor of rigorous, relevant, transferable competencies for student knowledge, skills, and dispositions. There are thousands of standards," Kuck says. "Let go of perfection and focus on growth. Let yourself fail forward. Let go of what you may have thought were best practices. Giving your students voice and choice so they can take ownership—that is the best practice. That's what will align with competency."
Bassett agrees. 
"Let go of the idea that every single student has to turn in their language arts essay on Friday," said Bassett "You'll quickly find out that life is easier not only for the students but also for you. You don't get 120 essays on the same day that need to be graded right away! And let go of the idea that students will get 10 points if they turn in a signed disclosure statement or homework assignment. It turns out the concepts of points for participation and hard deadlines weren't great practices for teaching and learning. It's okay to create a new system for the student and adjust as you go."  Both Davis and Juab, as well as the broader learning community across Utah, have come to the conclusion that student learning records should reflect learning. Habits of success should be separate from assessments of academic knowledge.
It is what a student knows and can do, rather than metrics of compliance, that defines instructional practices. 
Quotes from this post are from an interview conducted on July 15, 2022. Listen to the full interview with Belinda Kuck and Krystle Bassett here!
Michael Hakkarinen is an experienced classroom teacher, instructional technology specialist, and professional learning facilitator. As the PCBL Specialist for the Utah State Board of Education, he provides support to Utah LEAs focusing on personalized and competency-based educational strategies. Michael has a Master's degree in education from Mount Saint Mary's University, and has been an ISTE Certified Educator since 2019. When not talking about educational technology and learner-centered philosophies, you can find Michael lost somewhere in the mountains of Utah on either skis or a bicycle depending on the season.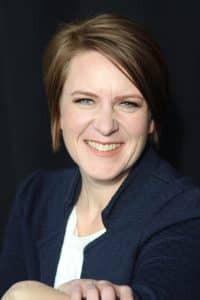 Syd Young is the Director of Teaching and Learning at KnowledgeWorks. Syd believes that every child deserves to have relevant experiences that prepare them for lifelong learning and navigating a rapidly changing future. She is keenly motivated to help educators and administrators envision ways to translate aspirations more effectively into reality as she partners with learning communities across the country. Her fervor for strategizing ideal local conditions, where individuals see themselves as change agents, dates back to her days in conservation biology and previous roles as a science teacher, school administrator, and education specialist at the Utah State Board of Education.