New Release – Implementing Competency Education in K-12 Systems: Insights from Local Leaders
CompetencyWorks Blog
---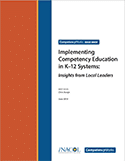 Today, CompetencyWorks released Implementing Competency Education in K-12 Systems: Insights from Local Leaders. It is a comprehensive look at how districts across the country from Alaska to Maine have been transforming their districts from the time-based system to one that puts students and their learning in the center of all decisions.
The paper is based on conversations with educators during the past four years about how they are managing the transformation. Throughout the paper you will hear directly from district leaders as they reflect on the transformational process and their lessons learned.
Each week, additional districts begin to explore competency education and what it would take to design their systems to be more personalized so students get the support they need to be successful. In order to make it easier for you to use the paper as a discussion tool, CompetencyWorks has created excerpts for each of the four stages: 1) Ramping Up for Transformation 2) Designing the Infrastructure for Learning 3) Transitioning to a Competency-Based System and 4) Embracing Continuous Improvement and Innovation.
Please join us on June 25th at 2 pm ET for a webinar on Implementing Competency Education in K-12 Systems. Register here.