No One Graduates Before They Are Ready
CompetencyWorks Blog
---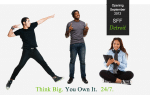 "I'm not going to tell you. I know what a lexile means, but I'm not going to tell you mine." And in the next breath: "I blew the test. I tested at third grade. I'm good at reading. I'm actually supposed to be in 10th grade. But I blew it and I tested at third grade."
This was my first conversation with a student at Schools for the Future in Detroit (SFF is a Next Generation Learning Challenges winner). It was in response to a question about the different tests that the students had been taking during the first two weeks of schools. The students did know what a lexile was and what their individual lexile was. They understood that the set of assessments they had just finished were being used to set their educational path. As we were talking, some students were beaming as they were going to move to Core 2. Others were frustrated that they would be assigned to Core 1 but were very determined to do better. This tension is part of being transparent. It's a step in engaging students that have been lost in our education system. No more lying to them that they are doing okay because they got a C and passed on to the next class. This is a competency-based environment. 
None of the students were alone. As we visited classrooms where students worked on laptops, we saw students getting extra help when they needed it. One teacher was spending part of his planning time working one-to-one with a student in another classroom who wasn't familiar with the different literary genres.
During the site visit to SFF, organized by the Youth Transition Funders Group's Multiple Pathways work group, we met with Ephraim Weisstein, founder of SFF; Roy Harris, SFF's principal; Alice Thompson, Executive Director of Black Family Development (SFF's community partner); and Lou Glazer of Michigan Future, who is sponsoring new school development. Here are some of the highlights of what we learned:
Target Population: SFF is designed for a segment of our students that are left behind even when no child is supposed to be left behind. It's for students that are in-school and falling way off track — students struggling to do high school level work with elementary level skills. The SFF model targets 8th graders that have been retained and with significant skill gaps, accelerating their learning so that they are fully college and career ready.
Goals: Ephraim explained that it is "learning recovery and an accelerator in one". According to SFF documents, the design is to help students achieve an average of 2 years of academic gain for every 1 year in the program, regardless of entering skill level. Students will be expected to graduate in 5 years or less, ready to succeed at the post-secondary level, with no need for remediation. (Note: SFF is very specific about how to measure college and career readiness. Their goal is for SFF students to place at the college level on the SAT and ACCUPLACER and on the ACT determined by score of 21 or higher, and not require post-secondary level remediation. Students will also take at least 2 dual enrollment courses (college/career tech) and complete at least 2 internships.)
From my travels and interviews I know that we can get significant gains the first year a secondary school student enrolls in a high-engagement, family-like ("teachers care about us") environment or year-long intervention. However, sustaining gains has alluded us. (Please tell me if I'm wrong and that there are other models that achieve sustainable gains of 2 years for every 1 year of schooling. I'd love to be wrong!)
School Design: As Weisstein explained, SFF is designed "around the critical intersection of the psychology of learning, social-emotional development, and cognitive development."
Intentional Affective Strategy: SFF is designed around the assumption that support is integral to the learning experience, not a supplemental service if and when a student needs it. SFF students have largely lost faith in their ability to learn and may be trying to make sense of many personal challenges. In response, SFF created PACT Team. The PACT Team works with groups of 12-14 students, which are formed during enrollment in the school and remain together for the duration of their SFF years. The team meets daily, co-facilitated by a trained youth development specialist and an academic teacher (PACT leaders). In PACT, students build learning and study skills, track and discuss academic progress, and focus on the future. According to SFF, "The PACT curriculum emphasizes four psychosocial domains associated with high achievement: a) self-efficacy, b) socio-emotional literacy, c) individual and group problem-solving, and d) postsecondary and career aspiration."
One of the essential goals of PACT is to help students build up the resiliency to work hard. This strategy is based upon the work of the Efficacy Institute. This sense of taking responsibility for one's school and one's education extends to families as well. In each classroom, there are chairs for parents to come in and visit whenever they want.
Performance-based Advancement: Weissten explained that SFF wanted to create a third option from the "travesty of moving students on without the necessary skills" and retention. Competency-based education is the third way. SFF has developed a structure and curriculum that is aligned with Common Core standards and college readiness benchmarks, "scaffolded" at different performance levels, and highly motivating and engaging for students at any level. Traditionally, remediation has been seen as tedious review rather than student-centered.
There are four performance levels to graduation. Core 1 and 2 are designed to help students accelerate their learning with additional time spent on the "language of learning" – numeracy and literacy. As students advance to SFF's upper Transitions and Pathways levels, they gain greater independence and broader options about how, where, and when they learn. Internships, community projects and dual enrollment become available as students enter the more advanced levels.
Curriculum is designed as 30-day modules, shorter mini-courses, and a 30-day progress review cycle. This approach provides students accustomed to failing with the experience of success and progress. Finally, this structure allows for performance tasks, formative assessment method, and assessment data.
Ephraim emphasized, "Students do not graduate before they are ready."
Embedded Support: Courses at the first two SFF levels support acceleration and focus heavily on literacy and math as the "languages of learning." Students spend significant time on them – nearly 200-250% more than is typical. Students use extended class blocks and carefully selected acceleration programs during "Flex Time" periods and at home to accelerate skill development.
Supports might come in other shapes and sizes as well. Black Family Development is also a Promise Neighborhood site with expertise in coordinating and accessing wraparound services.
Blended learning: Digital tools are creating more flexibility for students to work at their own pace, 24/7 access to curriculum, and more options for students and teachers in the delivery of instruction.
Expanded Learning: Expanded learning opportunities are integral to SFF's design with the goal of creating a "limitless campus". It starts with a 24/7 blended curriculum and online courses. Additional academic supports include Saturday academies, workshops, and tutorials. At more advanced levels students participate in internships, Summer of Work and Learning activities, community-based projects, and dual enrollment courses. This is all made possible by an Extended Learning Opportunities Coordinator. By the time students are in Pathways (the final level) students will be off-site as much as 60-70% of the day.
SFF has taken on an extraordinary challenge with a spectacular school design. Hopefully after they are successful in this model, they'll blend it with all the lessons learned from Weisstein's early school design Diploma Plus. Then we'll see a school that can accelerate learning towards college readiness and accept off-track students in the later grades. By that time, perhaps we will also see our accountability systems accommodate the amount of time a student is in a school so that schools get credit for their contribution to learning gains.
This post was originally published on the Youth Transition Funders Group's Connected by 25 blog.