Avoid Hit-or-Miss Professional Development
CompetencyWorks Blog
---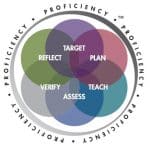 As a former principal and curriculum director, I can easily tell the difference between good and bad professional development. I'm embarrassed to admit that I have had my hand in delivering some poor quality events in my career. Some of my colleagues refer to past trainings as a "spray and pray" approach to learning something. In other words, we offered a one-time event and hoped that teachers would walk away with some great idea to use. Fortunately we have seen the error of our ways and now use embedded professional development options that have teachers collaborating with peers to learn new skills. Implementing proficiency-based learning options for the long term requires purposeful and specific components to ensure that practices can be sustained and result in a new learning culture that improves student achievement.
Approximately 150 Oregon secondary teachers recently completed an 18-month period of professional development that focused on implementing proficiency-based practices. Their activities resulted in the publishing of It's About Time – A Framework for Proficiency-based Teaching & Learning. This teacher self-evaluation workbook highlights the six major areas Oregon teachers recognize as critical elements in any proficiency-based experience. Teachers use these elements, called "constructs" in the book, in any order based on student needs. It's worth looking at each of these constructs through the lens of effective and regularly scheduled professional development.
Construct #1— Target In a standards-based classroom, teachers TARGET the standards as their primary instructional foci. A strong professional development plan has districts scheduling summer collaboration time, as well as regular meetings of content area specialists to identify which standards teachers will address. During these events, teachers practice how to break down a standard into manageable instructional chunks and focus on designing activities around the smaller learning targets.
Construct #2—Plan Implementing proficiency-based practices requires that teachers PLAN their lessons—from formative assessments to summative assessments—around the standards that are their learning targets. Planning can be done through collaborative team work and then shared with others from different schools who address the same standards. When teachers talk with one another about the design of the lessons, they gain valuable feedback on whether their instructional activities truly measure the standards that are their targets. They can share resources, plan on opportunities to confirm judgment about student work, and explore methods to help each student reach proficient levels of knowledge and skills.
Construct #3—Teach Teachers use the language of the standards when they TEACH students. Using the language of the standards with students ensures that they are familiar with the vocabulary specific to that content area and that they recognize the skills they need to reach proficiency. In addition, when students use the language of the standards, they share a common vocabulary to extend their learning into more complex situations. As a result, students learn what they need to know to reach proficiency, and they then increase ownership in their success. Professional development in this construct can best be delivered by identifying teacher leaders who are experiencing success in implementing proficiency. Districts should offer them time to work side-by-side with their fellow teachers, assisting in delivering the activities that help students move through a continuum of standards at their own pace.
Construct #4— Assess Teachers ASSESS student learning to determine if students are proficient in the selected standards. Assessment results are compared to definitions of proficient performance. Students are provided interventions or enrichment and accelerated opportunities that maintain the learning momentum. Professional development in proficiency-based assessment strategies must be connected to the planning and teaching stages. Assessing student knowledge and skill provides the most critical information on whether the teacher and student can move forward with learning or whether there must be loop-backs and tutorials to help students reach expected levels of performance. In providing quality professional development in this area, district and building administrators should create events that reflect the following qualities:
Encourage teachers to focus on developing quality assessments that are standards-based with colleagues
Provide opportunities for professional dialogue about the types of questions that effectively elicit student knowledge and skill at a proficient level or higher
Foster a sharing environment in which teachers post their assessments on a server for others to use
Look for opportunities for teachers and students to engage in discussions about assessment results to help students own their "next steps" in the learning process
Construct #5—Verify Teachers VERIFY instructional practices by confirming that the standards, assessment practices, instructional activities, and interventions are all aligned and consistent with what selected standards require students to know and do. Teacher talents in this area are strengthened by sharing samples of student work with colleagues and asking them to score/grade the work. This lets teachers know if they are on the same page as the rest of their department/team when they evaluate student work. It also helps develop inter-rater reliability. Opportunities to verify instructional practices are infrequent and should be built into the professional development schedule on a regular basis. In addition, principals can encourage teacher teams to check with one another about whether instructional practices and assessment methods actually addressed the standards.
Construct #6—Reflect Teachers REFLECT on the success of their teaching by affirming that the planning, teaching, and assessing steps are all aligned with the selected standards. Unfortunately, too many districts have had to cut instructional time due to revenue shortfalls. As a result, teachers seldom have an opportunity to reflect on their lessons. Some teachers are comfortable with self-reflection; others would rather talk things through with fellow teachers. Regardless of how this happens, reflection requires time and opportunity. Instructional coaches can encourage and model reflection during professional development events. Coaches know what questions to ask and provide reflection prompts that will generate quality lessons in the future.
All professional development of any quality should include embedded practice and ongoing support of new strategies. This model mimics methods we should try and build into our classroom learning and encourages sustainability by both educators and students. Proficiency-based practices cannot be implemented successfully in isolation from fellow colleagues. Without ongoing conversation about how teachers interpret what students are expected to know and do, we will find ourselves with more variations than our professional practice can affirm are accurate.
---
Diane Smith is a life-long teacher. Her 34-year public school experience spans instruction at the elementary, middle, high school and college levels. An expert in the fields of curriculum and instruction, she shared her talents as a teacher, alternative school principal and Director of Curriculum for the Greater Albany Public School District in Albany, Oregon. Diane used proficiency-based teaching and learning as a teacher, while also working as a proficiency training coach for Oregon's Proficiency-based Admissions Standards System (PASS). She is the author of It's About Time: A Proficiency-based Teaching & Learning Framework, currently being used by districts and classroom teachers as a self-reflection workbook. Diane has been providing professional development in proficiency-based teaching and learning for the Business Education Compact since 2007 and has held the position of Director of Teaching & Learning Initiative for the organization since her public school retirement in 2011