Performance-Based Assessments as a Tool for Building Lifelong Learning Competencies
CompetencyWorks Blog
---
I'm sharing this article on Laconia High School that was originally published in the Center for Secondary School Reform Winter 2014 newsletter. Competency-based schools can learn a lot from schools that have used performance-based assessment as their entry point. This article caught my attention because of the strong integration of youth development — young people developing a strong sense of themselves within a context of their communities as well as an understanding of their own motivation.  I realized that this type of performance-based assessment can be a valuable tool in developing lifelong learning competencies (i.e. habits, college readiness skills or 21st century skills).
This article didn't specifically raise the issue of racial or gender identity and how the interplay of motivation, behavior and choice might vary when students encounter institutional racism or sexism. I imagine if these performance-based assessments were implemented in Manchester instead of Laconia, the issue of how opportunity might vary based on race, gender and income would arise quickly in the discussion. Perhaps it did in Laconia as well?
Laconia High School's Performance-Based Assessments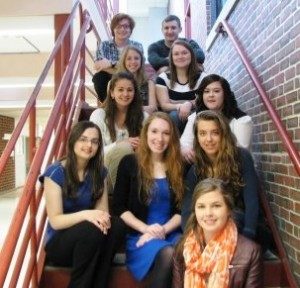 Laconia High School is implementing Performance Based Assessments (PBAs) that tie content learning directly to students' college and career aspirations. This is done using a vertical design that consistently integrates students' voices and choices into the curriculum delivery each year throughout each student's four-year educational career.  In this way, we are working to ensure students graduate from our educational community with the skills needed to move toward their chosen goals.
Laconia High School has been part of the CCSR i3 Network for four years. Our original direction involved the development and implementation of Extended Learning Opportunities. The philosophy behind ELOs seemed to work well for those students who had the discipline to stick with the work they designed and the structured due dates that came with it. In the last two years, we have worked to integrate that philosophy into our overall four-year program so that students developed the desire to "own" their education. This has resulted in greater engagement for our students. Students have an increased awareness of the relevance of what they are learning, they are more aware of how their education can be connected to the future they want to have, and they are regularly asked to assess how their current performance is moving them toward or away from the goals they have set.
In the freshman year, all students participate in essays designed to get them to compare and contrast their perceived behavior and motivations with those of characters in the novels they are reading. The task is specifically designed to help students understand personal choice and the logical consequences that occur when these choices are made. During this year, students also participate in CareerCruising and discuss how motivation and choices determine opportunity.
During the sophomore year, students engage in the "What is Right for Me" PBA in the social studies program. This multi-week effort requires students to review their educational choices and develop their own college and career plan. Through research and discussion, they design their direction in a real world way and formally present their projects in class.
As students enter their junior year, LHS students, their parents and guidance counselors engage in "The Junior Review." This is a comprehensive review of performance and choices the student has made thus far in their high school career. It includes an honest discussion on the direction the students efforts are moving them in relation to the goals they set the previous year. In American Studies, our Junior level humanities program, students develop 12 essays that represent their understanding of what it means to be an American. This PBA requires all Juniors to present a position paper on how they see themselves as a citizen of the United States based on their work in understanding the development of our nation and it's interaction with other nations.
We are currently developing a pilot for all seniors that requires them to complete an independent study that engages students in formally planning their post graduation plans. This PBA, called "Where I am Going Next," ensures seniors have a plan they understand and own for the day after they walk across the stage with their diploma.
It is exciting to see students engage in their own aspirations through real research and formal presentation.