Progress and Proficiency: Redesigning Grading for Competency Education
CompetencyWorks Blog
---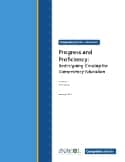 iNACOL and CompetencyWorks are releasing Progress and Proficiency: Redesigning Grading for Competency Education today. Every school at some point will find that they are stumbling over traditional grading systems. This paper is designed to help you as your district or school prepares to create grading practices that reinforce the culture of learning.
If you want to get the big picture – Carve out an hour and dive into the full paper with sections on why today's grading is undermining learning and school performance, the major elements of how districts and schools are designing new grading systems, insights into implementation as well as emerging issues.
If you want to cut to the chase and learn about the major elements of designing grading for competency-based schools read the Executive Summary.
If you want to see examples of how districts and schools are designing their grading policies, check out the wiki.
And, if you want to hear from principals and teachers about their experiences in grading, check out some blog posts and video resources:
We welcome your comments — especially if it differs from the ideas presented in the paper. We need to continue to push each other to find even better ways to support our students. We are also looking for folks who want to help us respond to other questions as they emerge, share their stories and insights of implementing new grading practices, and help us address many of the misconceptions and fears about competency education and its grading practices. This includes students — we'd love to hear about their experiences in moving from A-F grading to practices used in competency-based schools.