Proving Your Learning Through Portfolio Presentations
CompetencyWorks Blog
---
As the school year wrapped up, I had the opportunity to participate in the 10th grade portfolio presentation process at Prospect Hill Academy (PHA), a PreK-12 charter school serving over 1100 students on three campuses in Somerville and Cambridge, MA. While PHA does not have a full-fledged competency-based education system, they have always had a strong student-centered lens and standards-based approach to curriculum, instruction, and assessment. 
The PHA system illustrates two of the elements of the competency-based education definition, 1) assessment as a meaningful, positive, and empowering learning experience for students and 2) rigorous, common expectations for learning that include knowledge, skills, and dispositions.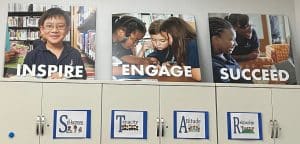 Proving Your Learning to Yourself and the Community
In developing its portfolio system, PHA began with 12th grade graduation portfolios and presentations, which are graduation requirements. Ben Spencer, the secondary Humanities coordinator and one of the designers of the PHA portfolio system shared about the origins and purpose of the Graduate Defense: 
We were interested in students developing portfolios and doing some sort of defense, mainly because we wanted students to have an opportunity to tell the story of their own learning and own their learning. And when they graduated, be able to speak to the biggest skills, understandings – both academic understandings and understandings about themselves that they were taking with them so that it wasn't just 'I have accrued enough credits, I passed my classes, but I forget everything I did and I'm done.' 
In getting started in 2016, they visited other schools and initially designed the graduation portfolio for seniors. A few years after that was established, they added the 8th and 10th grade portfolios, which function as "gateways" to the next level of learning. The 8th and 10th grade presentations are a smaller, less intense iteration of the senior defense. Students present in small groups with a staff member and students from other grades, typically from the grade below the presenters. Exhibition nights where students present a project to the wider community are also an established feature, including in the earlier grades. Students thus have multiple experiences that support their readiness. 
A Defined and Supportive Process
I gathered around a table in the modest middle school library with three 10th grade students – Ana, Marcus, and Luis (note that student names are changed), Spencer, and four 9th grade students. Copies of the 10th Grade Gateway Roundtable Presentation protocol circulated as Spencer reviewed the process. Each round will go through the following steps:  
Student presentation (10-12 minutes)

Deep Thinking Questions (10 minutes)

Feedback (4-6 minutes)
As a resource to participants, the back of the protocol sheet includes sample deep thinking questions with both project-specific and general reflection questions.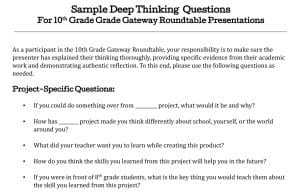 Connecting to Identity
In their openings, each student reflects on who they are as a person and as a student. A theme of growth and lessons learned about motivations and weak spots runs across the three presentations.
Ana starts by reflecting on her relationship to school. She says that she has grown both social-emotionally and as a student. Shares that she experienced anxiety about returning to school in person, and that, "finding someone to talk to about my problems allowed me to reconnect to school and revise the work I needed to do." 
Luis shares that he's proud of his growth as a writer, but still feels he's slacking in math, perhaps because math comes easier to him, and he can coast. Marcus exuberantly opens talking about his passion and drive in education. He shares, "I want to put [what I believe] forward in my life and encourage others to follow what they believe." He credits his friends and teachers at PHA for encouraging him in ways that have solidified the person he's become.
Connecting to Learning
After their openings, each student shares two pieces of project work that showcase their learning, passions, and growth. For each work sample, they identify the academic standards they demonstrated and their strengths and weaknesses on the PHA STAR skills (Self-Awareness, Tenacity, Attitude and Relationships).
Ana shares an American Dream letter she wrote to her mother. She selected this piece because it connects to her family's experience coming to the United States. She identifies specific standards that she demonstrated in her work: 
Write with clear and sustained purpose for an audience

Explain historical and social concepts using evidence 

Annotated portfolio evidence
For this piece, Ana talks about the STAR skill of attitude, which she says started out poorly until she changed it to get past her worries that, "I wasn't getting anything done and wouldn't finish or get a good grade." Self-Awareness is a related skill that she drew on as she worked to change her bad habit of procrastination. The project was done both at school and at home, requiring awareness to make sure she completed the work.
Luis lights up when describing the app that his group in AP computer science created to help Harry Potter fans identify spells to use for different situations. An area of strength for his STAR skills was relationships. He describes how, together with his group, they set goals and roles, and collaborated to create a project that made them proud. He then recalls a moment when he was playing a card game when he could have been cleaning up the code. Though he did get to that eventually, he reflects that it was a moment to improve his self-awareness.
Marcus starts with an art self-portrait project focused on 1) creating, and 2) performing and presenting. He describes how he used the skills and various techniques he had previously learned and applied them. He chose the STAR skills of tenacity—he worked hard to revise, and attitude—he leveraged his naturally positive disposition to the arts to express emotion in more complex, nuanced ways. 
Connecting to the Future
After each student presents, the participants take a moment to write a question or two for the presenter on post-it notes. The presenters each picked several questions to respond to. What will you do to combat complacency? Which project are you most proud of? What motivates you other than grades?
We repeat the post-it note process for warm and constructive feedback. Feedback includes sharing more visuals of their work samples, providing more details about their products and process, and a range of warm feedback to advice related to engaging the audience with eye contact and body language.
Spencer shares that the questioning levels up for the graduation portfolio, where there is more focus on the depth of academic learning and a higher expectation for reflection on their growth. In my 10th grade group, the students all pass, though this is not a given. As we debrief the process, Spencer offers advice to the group, reminding them that, "There are some students who have done really well on the academic projects and skills, but have had to re-present their senior portfolio because their STAR reflections were really superficial….We are looking to tell the story about how you grew. Try to remember those big moments of ups or downs because those are often when we learn the most about ourselves."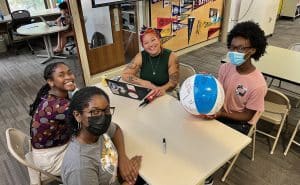 Meaningful Assessment and Rigorous Expectations for Learning
The students explain that they had a month to prepare and that, "we were informed well ahead of time about what was due. We were given a lot of exemplars and templates for what our project should look like." They also admit that motivation at the end of the year was hard to muster at first as they thought things like, "Why is this important? Why is this required? I've already passed my classes." However, in the end they appreciated that writing the story of their learning made it clearer to them what and how they learned. Ana shares:   
"As I did it, I reflected a lot. And, especially now—presenting and getting these comments and criticisms to build up on what I've done—it's made me reflect more and want to grow. … It's nice to see what I've enjoyed so I can explore further in the future."
The inclusion of both academic standards and the STAR skills of self-awareness, tenacity, attitude and relationships illustrates rigorous, common expectations for learning that include knowledge, skills, and dispositions. This past year the high school also implemented a standards-based reporting system and Luis shared how this made the learning goals clearer to him. 
"Whenever I go to start a project, I look at the rubric, and the standards are always there. Especially for revisions, every time you go to revise, you need to know the standards you are revising, so when you are doing the work, you know what you have to work on… And when you are done and are revising, you can understand better what you did wrong and how you can improve."
The PHA assessment system has evolved over time, and in the process, opportunities to design towards additional elements of competency-based education continue to emerge. Reflection is a key for growth, for both the students and the system. 
Laurie Gagnon is the Aurora Institute's CompetencyWorks Program Director.