Readiness for College, Career and Life: The Purpose of K-12 Public Education Today
CompetencyWorks Blog
---
This is the second post in the blog series on the report, Quality and Equity by Design: Charting the Course for the Next Phase of Competency-Based Education. See the first blog here.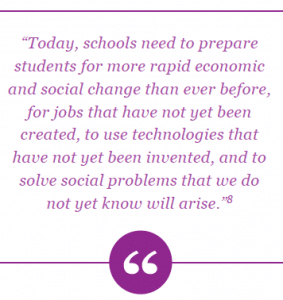 Effective system design starts with a clarity of purpose, or said another way, what are the results we want to get from our system of public education? The current design of our K-12 public education system delivers the following results: After decades of policy reforms and targeted improvement strategies, the on-time graduation rate has inched up to 82%, with states ranging from 61% to 91%. Yet, Alaska Natives, students with disabilities, Native American, African-American, and Latino students continue to graduate at much lower rates: 55, 64, 70, 73 and 76%, respectively. Among those students who do graduate high school, nearly 25% of them, from all socioeconomic groups, require remedial courses in college, costing them and their families $1.5 billion a year. Graduates who enter the world of work directly after high school fare no better, with 62% of employers by one account indicating that "high schools aren't doing enough to prepare their graduates to meet the expectations of the workplace." Students are not fully prepared for civic engagement to ensure a functioning democracy (only 30% of today's young people believe it is "essential" to live in a country that is governed democratically). These results are evidence that students are not getting what they need, and the implications ripple through their lives, their families, communities and our economy. In subsequent blogs in this series, we will explore why the traditional system is designed to produce these results. First, let's consider what results we want instead.

So, what is the purpose of public education today and what are the results we want it to deliver? The purpose of public education has evolved significantly since the first public school, Boston Latin School, was established in the 17th century to educate white males in, among other things, "religion, Latin and classical literature." Today, states and districts define the purpose of education in variety of different ways. Increasingly that purpose is stated as "college and career readiness," or a variation thereof. But what does it really mean to be college and career ready? Although the terminology and details may vary, almost all states and districts continue to use a combination of time-based academic credits, state graduation exams and state accountability exams to measure learning. For the majority of states, these elements prioritize content knowledge rather than skills, with a focus upon a narrow set of areas — math and English language arts.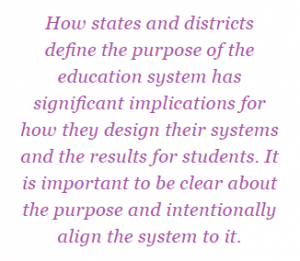 High-quality systems of competency-based education start with a community's aspirations for students. Completing twelve years of school is an insufficient outcome for students. Students who are able to articulate a vision for their futures, exercise agency in pursuing that vision and effectively navigate their own paths is commonly expressed as the goal for students in competency-based districts and schools. That vision is one that is made available to all students, not simply those on a particular path or from a limited set of backgrounds. While college and career readiness are absolutely central to any educational system, the definition used in most states today is more limited than the vision of educational equity that competency-based education makes possible. For this reason, it is important that we begin with a statement of the intended purpose for competency-based education.
Unlike traditional systems of K-12 education, competency-based structures place an equal emphasis upon lifelong skills such as growth mindset, metacognition, learning how to learn, problem-solving, advocacy, collaboration, creativity and the habits of success as they do upon academic content knowledge and skills. Districts that are pursuing competency-based systems share a belief that the current purpose of K-12 education is to facilitate a process through which all students graduate high school with the academic and lifelong learning skills to be leaders in their communities, and agents of their own success — whether in college, career, or navigating the opportunities and challenges they will encounter in their lives. While each community expresses its own values and goals in the choices it makes around curriculum, pedagogy and school rituals, this core purpose is shared by districts leading the way in competency-based education.
We believe competency-based education offers the most effective structure for achieving this educational purpose. However, realizing this purpose for all students requires attention to issues of equity and quality, meeting students where they are, and policies that create the conditions for success. This clear articulation and understanding of purpose sets us up now to turn to how and why to best achieve that purpose.

Follow this blog series for more articles charting the course for the next phase of competency-based education, or download the full report.
For more information: