Red Bank Elementary: What Students Have to Say about Personalized Learning
CompetencyWorks Blog
---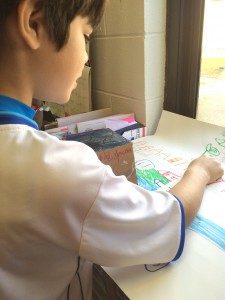 This series is part of my Competency Education Takes Root in South Carolina tour. This is the fourth in the series on Red Bank Elementary. Begin with the first on five big takeaways and follow along with: #2 teaching students instead of standards, #3 teacher perspectives, #4 student perspectives, and #5 parent perspectives.
During my visit to Red Bank Elementary School, Reilly, Audrey, Gustavo, Chandler, Zaria, Alysia, Kayla, and Riley all piled into Principal Marie Watson's office ready to talk about their experience in a personalized, competency-based school. Here are a few of the highlights:
How does Red Bank compare to other schools you've gone to?
One student described going to a different school for three months. "I did not like it because they were sticking together and learning the same thing. It was upsetting me because a lot of kids were falling behind. They don't know it and no one helps them. The teacher just keeps moving. Or everyone had to stop for the teacher to help them. If they had extra tutoring like we have at Red Bank, they could keep working on the topic until they got it."
What is personalized learning?
It makes school fun. It's fun to get smarter.
Learning is something we want to do.
You can learn things when you want to learn it. It's at your own pace.
If you learn something and get a 3, then you can work on something else that is interesting to you.
We are working differently – we learn different things at different times.
The iPad and Compass Odyssey help with personalized learning.
How does the school make sure you are learning?
We work in groups. Sometimes you work in a different group. Then the next day you might be moved over to another group. It's based on what you are learning.
We explain things to our friends in Spanish if they didn't understand the teacher (in the Spanish immersion classes).
Sometimes we are the smarter than the teacher. Sometimes I just know the answers.
You can go to the learning lab to get tutoring if you have a problem.
We help each other. If you already learned something, then you help others if they ask.
Sometimes students help others so they can be at the same level. It's fun when you are working on the same thing with your friends.
How does it feel if you are on one standard and your friends are on a standard ahead of you?
It is fine. It doesn't feel weird because others are on your standard. Others can see who needs help or who to ask.
If kids get behind and get upset then others want to help them.
Sometimes I get behind. It can be bad. If I don't do my work I can get very far behind. My teacher or my mom helps me to organize my work. Then I catch up. (I asked what the teacher does to help him catch up.) We go over what I need to do to learn or to show my learning. Sometimes she gives me mini-lessons if I don't understand something.
What advice would you give a new student who has never been in a personalized school before?
People will help him along the way.
There are different levels – people will help if they are not on pace.
You will start to work on your own pace. And if you are behind someone will help you. The iPad will help you learn more things.
You don't need to rush to where everyone else is. It is fine to be behind if you need more time.
If you are behind, you don't have to wait. You just keep working on things. I'd tell him about First in Math because it gets you fluent and ready for testing.
You don't have to worry that you'll fall behind. You work at your own pace. You don't have to do sloppy work and go as fast as you can. You just do your best work. There are different skill levels and if you are good at one thing, you can go on to harder levels.
See also: