Shifting the Culture in Learner-Centered Environments
CompetencyWorks Blog
---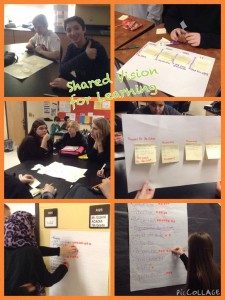 In 2012, the Maine Legislature passed into law LD1422, An Act to Prepare Maine People for the Future Economy. The key element of this legislation is the transition to a standards-based educational system in which graduation from a Maine high school is based on students demonstrating proficiency.
The policy was set, but what does it mean to a district and school to ensure their students are proficient? What had to change? I've worked in one district that has undergone the transformation and I'm currently working in another that has started their transition to a proficiency-based system. Each one began by transforming the culture to a learner-centered approach. In both districts, consultants from the Re-Inventing Schools Coalition, a division of Marzano Research, provided us with training and resources to aid in our implementation of this challenging work.
It starts with fully embracing the fact that students learn differently. As we put our beliefs that learners learn in different ways and in different time frames into practice, we began taking bold steps toward creating a meaningful, personalized learning experience for each child. Early on, we gleaned the importance of including all stakeholders, including community groups, students, staff, and parents, in thinking and talking about a culture of learning.
We hosted many conversations about our current cultural reality and reflected on needed changes moving forward. Our essential question, "What does a successful learner in the twenty-first century look like?" guided us through a lengthy process of discussions, gathering, and then analyzing the data from our various stakeholder groups. Once our district shared vision of "Preparing respectful, responsible, and creative thinkers for success in the global community" was established, teachers found innovative ways to make this statement have meaning and relevance for our learners at both the school and classroom levels. I have seen teachers incorporate our vision in creative ways, such as student-created posters, songs, and chants.
These conversations and collaborative processes around culture became the roots that grounded us. Once these cultural roots took hold, we could add other essential nutrients to start growing our personalized, proficiency-based system of learning. I believe that taking the time to fully develop our shared vision in the beginning has been a significant factor in the progress students have made with their academic learning goals. This shift in culture allowed us to establish positive learner-centered environments, where our students became more engaged and had increased ownership of their learning pathways.
At the middle school in which I currently work, we are following a similar process, where our students have been asked to think about the conditions needed for learning and how they envision a successful learner. Since our school has six academic teams, each team of 80-100 students has recently come together to brainstorm and collaborate in an effort to create a shared vision for learning. By giving each learner a voice in the process, the shared vision becomes a meaningful, living document that all team members, including students and staff, can support.
In the first phase of the process, we utilized a tool called the affinity diagram. Students individually brainstormed the characteristics of a successful learner. Then, in small groups, they organized their ideas into similar threads of information. Once the ideas were categorized and shared with the large group, students voted for their most valued qualities. The top three to four qualities became the components of the team's shared vision for learning. One team of eighth graders—who agreed to responsible, being open-minded, having a great attitude, and being respectful as the elements of their shared vision—took it one step further and created the acronym "ROAR." This was a great idea given our mascot is a tiger, and even more powerful since it was all student-driven.
In the second phase, students were asked to break down their shared vision into measurable action steps they all agreed to follow. These statements then became the team's code of cooperation, which helps students as they work toward their shared vision for learning. Our students have been very receptive to this entire process and have enjoyed coming together as a team to delve into this important work. I think the process and implementation have proven to be a change for them to think about their learning on a personal level, as well as the shared responsibility of supporting team members with their learning.
The time and effort involved in shifting the culture is essential and well worth it for our learners' success. We still have a lot to accomplish as we grow our learner-centered environment, but I believe the foundational steps we've taken around culture will have a positive impact on our learners' pathways to proficiency. Since this work began in Maine, I have observed firsthand the dedication of teachers and administrators to dig into the many layers of learning involved in growing a proficiency-based educational system. We'll continue with this important work in an effort to support engaged learners who are invested in their learning.
---
Mary Bellavance is Co-President of Maine ASCD. She is an Instructional Coach for the Biddeford School Department, Biddeford, Maine; a Students at the Center Distinguished Fellow; and a teacher-consultant for the Southern Maine Writing Project and National Writing Project. She enjoys connecting with educators via Twitter @MaryBellavance.