Strategic Reflection on the Field of Competency Education: Future Action
CompetencyWorks Blog
---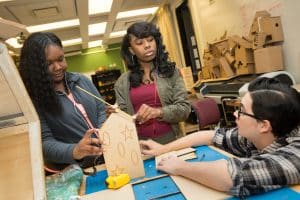 In this fifth post on our annual strategic reflection. Click here for the discussion on our progress, the growing number of organizations and literature in the field, and our lessons learned. You can hear the entire webinar on this topic here.
We use the term charting the course to discuss what needs to happen to develop the most effective competency-based systems possible, support its expansion, and shape the context that will make it sustainable. It's pretty easy to list all the problems and issues that need to be worked through, but it's a lot harder to think about how to do that in a way that is consistent with the values of competency education, builds the capacity and leadership of the field, leverages current organizations and infrastructure so that more than one piece of the puzzle is put into place at a time – and does all of this with limited resources.
Below are a number of the things we think are high priority to tackle – and hope it will catalyze conversation about how we do that so that several can be addressed or reinforced by initiatives.
1. Strengthen diversity in the field.
2. Strengthen the working definition and create logic model.
3. Improve communication strategies targeted to different stakeholders
4. Build shared understanding of quality. Tools to support learning across schools and communities of practice.
5. Engaging higher education and colleges of education to:
Prepare leaders and educators for personalized, competency-based systems.
Build bridges across K-12 and higher education to address college admissions issues including ranking by GPA.
Build aligned understanding of credentialing learning with proficiency-based diplomas and multiple pathways.
6. Shift district top-down policies to more bottom-up or co-design in order to support greater school autonomy.
7. Generate demand for the information management systems for CBE models and student-centered learning.
There are also a number of things we need to pay attention to in order to improve teaching and learning within CBE schools:
Balance academic knowledge (content), academic skills (in math, reading/writing, science and social studies) with learning how to learn. It's not just one of these but all three that prepare students for lifelong learning, success in college, and ability to navigate career paths.
Build capacity on pedagogical methods, student-centered instruction, and assessment literacy. With teachers moving from focusing on delivering curriculum, they need the chance to build their own skills and knowledge. Districts and states need to always take into consideration adult learning in everything they set forth as policy.
Align higher order skills with performance-based assessments. If we take it seriously that students need to know how to apply academic content and skills, then we need to have the system of assessment to provide the necessary feedback.
Opportunity for applied learning. Again, if students are going to have the chance to practice using the content and skills they are learning in class, they need the chance to apply it. Districts and schools are organizing different ways to offer opportunity for application. We need to understand the implications of each to make it easier for districts and schools to think through which one is right for them.
Student agency, voice, and choice. Students having ownership of their education is a game-changer. It requires new practices in the school and it requires us to understand the research so that we don't get caught in traps such as more choice means more agency.
We'd like to know your priorities if they aren't on this list – because we want to make sure we are attending to what is important to those folks who are leading this effort in the classroom, in schools, in districts, and in state leadership.
Read the entire series:
Part 1 – Reflecting on The Field of Competency Education: Where We Started and Where We Are Now
Part 2 – Reflecting on The Field of Competency Education: Organizations and Literature
Part 3 – Strategic Reflection on the Field of Competency Education: Lessons Learned
Part 4 – Strategic Reflection on the Field of Competency Education: Emerging Issues
Part 5 – Strategic Reflection on the Field of Competency Education: Future Action