The Competency-Based School Librarian
CompetencyWorks Blog
---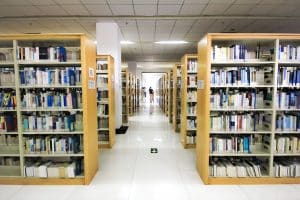 This post originally appeared at Pam Harland's blog on November 26, 2015.
I've been the school librarian at Sanborn Regional High School in New Hampshire for five years. The Sanborn School District is a leader in competency-based education (CBE). The goal of CBE is to allow students to progress as they demonstrate mastery of academic content, regardless of time, place, or pace of learning. This type of teaching and learning leads to better student engagement because the content is relevant and more tailored to their unique needs. (Read more about CBE at Sanborn via Brian Stack's blog posts on www.competencyworks.org.)
I learned quickly what the faculty and administration needed from me. They needed an information curator, a flexible collaborator, and a nonjudgemental colleague.
The following tips will help you to better identify and serve your school's needs under the competency-based framework:
Learn the Competencies
Not that you have to memorize each course competency, but take a look at them. Be familiar with the language, expectations, and grade-by-grade changes in English, Science, and Social Studies. Work with the other teachers, too, but especially focus on the academic areas where you can help the most!
Know the Standards
Read, re-read, and understand the Common Core ELA Standards, Next Generation Science Standards, and C3 Social Studies Framework.  It may seem like a lot, but read through the standards on the Let the Librarians Lead website (where the similarities and differences from grade-to-grade are highlighted) and notice the common language in the standards. Making claims as well as finding and evaluating the validity and reliability of evidence are all common skills woven throughout the standards.
Provide Leadership
As your school begins the process of moving to CBE, offer to lead the way. Serve as a facilitator of meetings where competencies are first developed. An engaged but objective point-of-view is the only requirement for a good facilitator in these meetings. Offer this objectivity and engagement in rubric and assessment development, too. Your teachers will appreciate the honest and thoughtful feedback.
​
Offer Resources
Offer to search for different reading levels for new assessments. While teachers are revamping their curriculum they may need assistance in differentiating for all of their students. Finding articles at three different reading levels helps with personalization of the assessments as well as differentiating instruction. Look for tools that provide an audio version of readings. Ebooks? A database with a read-aloud feature? Playaways? Any of these resources will help to engage and assist students at your school. Plus, your teachers will love you!
Listen to the Teachers
Moving to competency-based education is a difficult process for the entire school. Your teachers will need help, but sometimes, they may just need to talk about their challenges and frustrations. We do not need to offer solutions to every situation: just a friendly ear to help them process some of the more complicated differences in rubrics and changes to assessments.
See also:
---
Pam Harland has been a librarian for over 20 years working in public libraries, academic libraries, and at the Federal Reserve Bank of Boston as a research librarian. Currently she is the librarian at Sanborn Regional High School, Graduate Teaching Lecturer in the Educational Leadership Department at Plymouth State University, and serves on the Board of Directors of the American Association of School Librarians.