The MTC Network: Reinventing How Students Prepare for College, Career, and Life
CompetencyWorks Blog
---
How do we prepare students for future careers we can't even begin to imagine? This is a question we hear a lot in education today. Teachers most commonly tell us that they are seeking to educate students who think creatively and critically, take agency in their own learning, and solve problems by often challenging assumptions. They want to prepare them for our world of accelerating change. But, too often, they are confronted with the reality that the traditional transcript, established during the Industrial Age, limits their ability to best serve and represent the students in their care. Although educators serve diverse student populations—from rural to urban communities, from private to public schools—they find more similarities than differences in what effective teaching and learning look like.
Schools who join the Mastery Transcript Consortium (MTC) network are thinking about how they can move their instructional model toward competency or mastery. The MTC network is co-designing a tool, a digital transcript, to better reflect the unique skills, strengths, and interests of all students. We believe that, by changing the transcript, we can ultimately reinvent how students prepare for college, career, and life.
Supporting Change
Through the collective strength and wisdom of the MTC network, we are well-poised to support the change our member schools are eager to bring to their students. Our network is now 225 member schools strong—a diverse mix of independent, public, and international schools—and we continue to receive inquiries and add new members each week. Generous support from the E.E. Ford Foundation, our founding schools, and membership growth continue to provide us with a solid foundation to build upon for the future. As we remain focused on strengthening our network, we are also at work designing the Mastery Transcript and bringing it to life. Recently we provided a preview of our first concept model of the Mastery Transcript prototype at the Big Picture Learning Conference and received both positive and constructive feedback from several of our member schools and others in attendance. With a plan to have our new transcript ready for summer 2019, we are excited to see early adopters in action during the 2019–2020 academic year. If we do our work well, the Mastery Transcript will support the innovation teachers and students bring to classrooms, helping to cultivate the creativity already happening in schools and opening up new opportunities. Read on for more about how our network is collaborating, across four priority areas, to support change.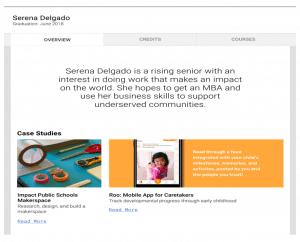 The MTC Network: Four Priorities
1. Designing and Building the Transcript
Version 1.0 of the new Mastery Transcript will be in testing with member schools by the end of this school year. In August 2018 we held our first Prototype Working Group (PWG) meeting, bringing together a small group public and independent school educators to provide feedback on our efforts to date. Representing the diversity of MTC's member network, the PWG includes public charter, private, and public high schools from across the country and world. Moving forward, we will continue to work with interested school communities and a range of stakeholders, especially in colleges and universities and the business community, as we iterate through design models and an initial technology build.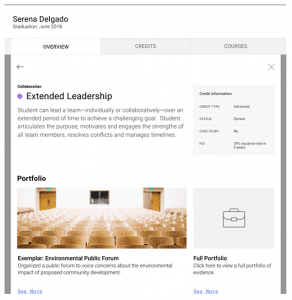 2. Growing Our Network, Expanding Member Engagement
We remain focused on strengthening our network. Last July we opened up membership to public schools and have seen steady growth in that area. MTC is committed to expanding membership and, in doing so, paving the way for increased access to the mastery-based learning and Mastery Transcript that our network believes will better serve and represent all students. At the same time, we are working to strengthen our existing network by creating more opportunities for member schools to connect, share, and learn from each other. Site Director meetings are at the core of our member engagement efforts and are complemented by an online Mastery Learning Series, curated research and resources, open MTC office hours, topic-based webinars, and a suite of communications tools for schools.
3. Building Higher-Ed & Business Networks
Growing an effective higher-ed working group comprised of admissions professionals, educators, and leaders from a wide range of colleges and universities throughout the country is a major priority for MTC. The working group will be tasked with interacting with and providing feedback on key features in the Mastery Transcript prototype, taking part in planning toward a rollout strategy, and helping to advocate broadly for the need for change within the high-school transcript and college admissions processes. We are also working to understand the trends seen by employers and the challenges they are facing in hiring a skilled workforce across different sectors in a shifting economy. Future efforts will include a working group comprised of professional organizations and employers who have also expressed interest in the Mastery Transcript.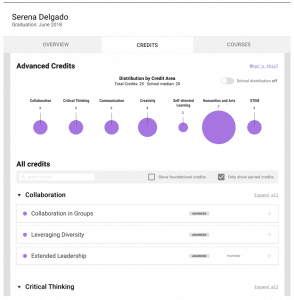 4. Building an Organization to Support Our Members
As our network of member schools continues to grow, our organization is growing in strategic areas. Our MTC team is made up of education professionals located in various locations throughout the country who bring extensive experience working with diverse school systems. We are pleased to have Susan Patrick and Chris Sturgis among the experienced and dedicated members of the Board of Directors and Advisory Council.
We Got Work to Do!
As we make progress on these shared goals, it is exhilarating to reflect upon how much MTC has accomplished in a short period of time. And yet, even as we take a moment to appreciate our growth, the wise words of MTC Advisory Council member and High Tech High Director Kaleb Rashad still hold true: "We got work to do!" At the center of MTC is our network and the educators and students who will animate the Mastery Transcript. To learn more, check out "Carla's Curriculum," a film created by the Kauffman Foundation that gets to the heart of the change our members schools want to bring to their students. Below is a glimpse of an early concept model of the Mastery Transcript.
Learn
Mor
e
If you are planning to attend the upcoming iNACOL Symposium, we invite you to learn more about MTC during our session "Moving Beyond GPA: Using the Mastery Transcript to Drive Equity and Engagement," led by MTC's Chief Product Officer, Mike Flanagan, and Chief Education and Operations Officer, Patricia Russell, on Tuesday, October 23, from 10 to 11 a.m. in Room 105B.
Also feel free to contact us with your ideas and questions and stay connected with our work through our regular newsletter:http://mastery.org/stay-connected/newsletter
Join In
If you aren't already a member of MTC and are interested in joining, we'd love to hear from you! Contact us with your ideas and questions, and also stay connected through our regular newsletter: http://mastery.org/stay-connected/newsletter.
---
Stacy Caldwell is the CEO of the Mastery Transcript Consortium.