Threshold Concept: Certifying Learning
CompetencyWorks Blog
---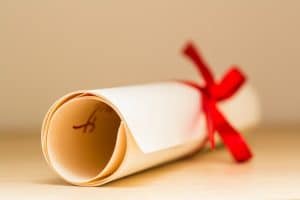 This is the eighteenth article in a series leading up to the National Summit on K-12 Competency-Based Education. We are focusing on four key areas: equity, quality, meeting students where they are, and policy. (Learn more about the Summit here.) We released a series of draft papers in early June to begin addressing these issues. This article is adapted from Fit for Purpose: Taking the Long View on Systems Change and Policy to Support Competency Education. It is important to remember that all of these ideas can be further developed, revised, or combined – the papers are only a starting point for introducing these key issues and driving discussions at the Summit. We would love to hear your comments on which ideas are strong, which are wrong, and what might be missing.
How is it possible that our education system still graduates many students who lack basic reading and math skills when they hold a high school diploma? Unpacking what a diploma means and how we might re-envision this qualification is crucial to inform short-term policy conversations. The United States has made significant progress in improving high school graduation rates over the past decade. However, far less attention has been given to what the diploma signifies. Today, the only thing we can know for sure about a high school graduate in most U.S. school districts is that they have put in the required seat time in the requisite courses. When schools are passing students along and graduating them with major gaps in skills and knowledge, they are doing them a disservice. Sadly, we are not being honest with our high school graduates when we tell them that their diploma means they are ready for the next step. Students who require remediation in college courses are less likely to persist and graduate. Those who directly enter the workforce and lack the basic communication, problem solving, collaboration skills, and habits of learning, may face unemployment.  
How can the high school diploma align to a more comprehensive definition of success?
For the purpose of this series, let's consider core concepts that may need to be unearthed as design flaws in our current system which may be missing from current debates. The term "curriculum redesign" is a common concept emerging in global education systems which is fundamentally asking the question, "what do our students need to know and be able to do" — especially with respect to a more holistic notion of student success for the future. Whether a community conversation or a state conversation, the idea of engaging communities and families in conversations around what is different, and around what students need to know and be able to do is increasingly important.
What do we need to think differently about a broader set of outcomes? These would include considerations for academic knowledge and skills, and competencies such as learning how to learn, lifelong learning which includes how to set goals personally, academically, professionally and attain them, learning important social emotional skills, empathy, compassion, cultural responsiveness and understanding. Lastly, it includes navigating an increasingly complex world with problem-solving, communication, and self efficacy skills to actively engage in civil society and democracy.
The fundamental question curriculum redesign attempts to answer "What should students learn to succeed in the 21st century?" From Asia to Europe, from Australia and New Zealand, to Africa and India, and across the provinces of Canada – there is a deep and complex debate taking hold in each community around what students need to know and be able to do. Conversations in policy in the United States around what students need to be prepared are happening around standards and graduation requirements; however, they are based on limited definitions of success centered around content proficiency. States can begin to engage districts and communities around what students need to master for true preparedness, and the implications for rethinking outdated accountability models. We need to think about redesigning education with new models of active, inquiry-based pedagogy to move forward with more holistic, learner-centered, competency-based learning models that help students gain the knowledge and skills they need to thrive after high school graduation. Once local communities have a shared understanding of what student success looks like, they can drive state-level understanding of curriculum redesign and the implications for new accountability models, new designs for assessments, new school models and building systems capacity (and better coherence).
Issue to Tackle: Redefining Success
A core concept in need of further development is examining the current limited definitions of student success. We must put greater emphasis on engaging our communities in the conversations around new definitions of success and what is necessary for redefining student success to include academic competencies, social emotional competencies, skills and dispositions with a holistic focus for the whole child, a well-rounded education, and the future of our communities.
An important concept for policymakers to consider, as they identify their theory of action for driving changes to the systems surrounding curriculum, instruction and assessment, is how to redefine success and how it could be used to drive system coherence. In countries with high-performing education systems, "curriculum" is a broader concept that encompasses much more than academic content standards,1 reflecting knowledge and skills in higher order thinking, academics, and lifelong learning. It may also be linked to qualifications frameworks, which define the competencies necessary for success in career pathways.
States are beginning to embrace this concept. For example, in Virginia, a series of community, local and state conversations around whether students are adequately prepared with transferable skills, employability skills and college readiness with value to the learner, workplace and community, led to a new initiative to examine future directions in the high school diploma is known as the "Profile of a Graduate."
Virginia's new initiative on the Profile of a Graduate "describes the knowledge, skills, experiences and attributes that students must attain to be successful in college and/or the workforce and to be 'life ready' in an economy and a world characterized by rapid change."
The Profile of a Virginia Graduate provides a north star to educators and leaders in the state to ensure a coherent approach to systems change, including redesign of the Virginia Standards of Learning, school accreditation requirements, accountability, systems of assessments, and high school graduation requirements. In the Profile of a Graduate, a "life ready" Virginia graduate must:
These requirements were established by the State Board of Education based on a new law passed by the state legislature. The law was passed by the legislature in response to calls from local stakeholders to redefine student success more holistically for students' needs in the new economy. Local leaders and educators are actively engaging in systems redesign around the Profile of a Virginia Graduate. This is an example of policymakers engaging with and listening to stakeholders to define what graduates should know and be able to do, and working together to begin to build system coherence.
Issue to Tackle: Meaningful Qualifications
Qualifications Frameworks  
There are alternatives to the American system of time-based credits and transcripts. Internationally, at least 47 countries (not including the U.S.)2 have developed a national qualifications framework,3 or a system of competency-based qualifications that form linkages between K-12, higher education, and the needs of the future workforce.4 Qualifications systems provide flexible pathways for learning and offer accountability with evidence. 5
International Example: The New Zealand Qualifications Framework
The New Zealand Qualifications Framework is aligned across K-12 education, higher education and the workforce certifications. While a Level One qualification is based on attaining demonstrated mastery on literacy and numeracy, it is only attained when a student actually achieves the proficiency and mastery of the reading, writing and mathematics levels (not age dependent) with the evidence in support of the learning. It might happen at age 12 or age 14. A Level Two qualification involves a broader set of academic competencies and skills within the national curriculum framework and this is aligned across K-12 education into attainment of the diploma equivalents that extend into tertiary education and the workforce competencies (again, each of the qualifications are earned within an aligned system of K-12, higher education, and the workforce organizations/professional competencies identified as students earn level 2-8 and so on into their higher education degrees and professional certifications).
Tackling Meaningful Qualifications in Policy: Examining the High School Diploma
State policymakers might consider how the high school diploma could become a meaningful representation of students' readiness for the future; it should reflect success in rigorous academics, and signify that its holder has mastered the knowledge, skills, and habits of success needed in the new economy. It is exciting to think about how many more students would be ready for success if the high school diploma were aligned with a comprehensive Profile of a Graduate, and students advanced upon demonstrated mastery, not seat time. This could open up new ways of thinking about multiple pathways with formal and informal learning, targeted supports to ensure each student's future goals and successes, and rich learning experiences that spark creativity and a passion for lifelong learning.
High school graduation requirements in the U.S. are generally determined by states, with varying degrees of local authority to interpret the requirements and award a diploma. Diplomas are typically based on high school transcripts which record how many academic seat-time units students have earned in the required subjects.
Proficiency-Based Diplomas
In the United States, this idea of addressing what a high school graduate should know and be able to do based on demonstrated mastery, is starting to take hold in a few states, which are considering and adopting policies around the proficiency-based diploma. This is beginning to happen in state level policy conversations and holds potential to support a competency-based approach to earning a high school qualification.
High school diploma requirements are within state policymakers' domain (such as a governor, legislative body, state board of education or state department of education). Across the country, state leaders are asking how they can help to develop a framework for rethinking public education systems to ensure the qualifications for high school are meaningful for each student. Because education in many states is locally controlled, communities may be engaging in deep conversations around what a student should know and be able to do. In competency-based systems, the concept of each student having a personalized learning plan (and student profile) lends itself to providing the evidence of a student's demonstrated mastery toward a proficiency-based diploma. This concept is central and very important.  
A focus on proficiency-based diplomas has the potential to change the way we think about what the high school diploma represents. However, when it comes to using records of proficiency for college admissions, proficiency-based diplomas and transcripts alone won't meet their promise without other requisite shifts in systems. An increasing number of higher education institutions have developed the capacity to translate standards-based, course-based, and competency-based transcripts. Therefore, the proficiency-based diploma as a transfer document may not be necessary. Policymakers could focus on the potential of proficiency-based diplomas to credential proficiency, change learning pedagogy, and determine what students should know and be able to do when they graduate.
There is another a risk with proficiency-based diplomas being layered onto the traditional model, where content is king. In states getting started with a shift toward proficiency-based diplomas, the policy often emphasizes credit by examination. As policymakers think about how a proficiency-based diploma could align with a comprehensive profile of a graduate, the limitations of credit-by-end-of-course-exam are laid bare (so long as end of course exams continue to measure only content mastery). Policymakers might consider how a proficiency-based diploma could better align to a culture of active pedagogy and improved pedagogical practices focused on using learning evidence, providing immediate supports and expanding learning opportunities with multiple pathways.
Follow this blog series:
Equity
Quality
Meeting Students Where They Are
Policy
Learn more:
Endnotes
1Internationally, the term curriculum redesign refers to the education system's core values for what a student needs to know and be able to do and involves rethinking approaches to curriculum outcomes, standards, competencies, objectives, and content. In the United States, the term curriculum typically refers to the scope and sequence of learning objectives and learning materials related to a particular class or subject, and generally in relation to a specific grade level. It is locally controlled and due to the strong state role in education and prohibitions on the Federal Government weighing in on curriculum, tends to be a "third rail" in education policy conversations.
2National Qualifications Framework wikipedia entry, 2017. https://en.wikipedia.org/wiki/National_Qualifications_Framework#cite_note-1.
3According to UNESCO-UNEVOC International Centre for Technical and Vocational Education and Training (2010), a Qualifications Framework is "the structure into which accredited qualifications are placed. This allows learners, training providers and employers to gain information about the broad equivalence of qualifications." http://www.unevoc.unesco.org/go.php?q=Qualifications%20Framework.
4For example, Lumina Foundation created the "Degree Qualifications Profile" that defines what students should know and be able to do to receive an associate, bachelor, and master degree. Lumina also aligned K-12 learning outcomes from Common Core State Standards to its Degree Qualifications Profile by proposing a set of reference points that benchmark what it should take for students to graduate, earn a degree at each of the three levels addressed, and transfer those skills to a future career.
5David T. Conley, & Paul L. Gaston. A Path to Alignment: Connecting K-12 and Higher Education via the Common Core and the Degree Qualifications Profile. Lumina Foundation of Education, 2013. http://degreeprofile.org/wp-content/uploads/2015/04/A_path_to_alignment.pdf)