Transparency and Trust
CompetencyWorks Blog
---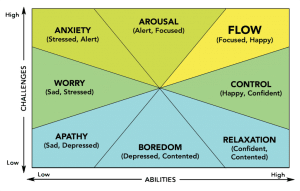 This article is the tenth in the Designing Performance-Based Learning at D51 series. A reminder: D51 uses the phrase performance-based learning or P-BL.
Opportunity to Learn
Like most districts, transparency hasn't been a strong point at D51 in the past. Thus, with transparency being a core value of performance-based education, there are trust issues that will have to be worked through. D51 knows it is important to provide teachers with the chance to understand and learn how to use the T&L Framework and effective practices. Any tools being developed are being designed to support growth – not evaluation. Rebecca Midles, Director of Performance-Based Learning (P-BL), noted that, "We are moving step by step and need to constantly communicate about our timelines and sequencing. Understandably, educators are wondering how the performance-based system will impact them. We are trying to be very clear about whether something is going to be evaluative or not. Eventually the T&L Framework will help us create the foundation for strengthening our human resource processes. But only when we are ready and only after teachers have had the opportunity to learn." Opportunity to learn standards: an important piece of competency-based education for students and adults.
Preparing for Angst
Bil Pfaffendorf, a professional learning facilitator, mentioned the double edges of transparency. "The sense of trust is changing in D51," he said. "There is more dialogue, people are sharing their opinions, and they are starting to feel confident that those at the district level are listening. We are all trying to be transparent, which is difficult in the midst of so much change. Transparency is important in building trust. It can also lead to anxiety. If teachers understand the expectations but don't have the skills yet to do it, anxiety and angst are totally understandable feelings. So we are thinking about the the social and emotional learning of our teachers as we design the labs."
Angst and anxiety came up several times during my visit. In a discussion, one teacher emphasized, "The level of professional engagement of our teachers is very high. Some are anxious because they recognize they have a lot to learn. Some may even be in cognitive overload as they wrap their heads around what it means to personalize their classrooms. Their can-do attitude is a beacon. It's inspirational."
Midles explained to me later that when educators start to feel anxious, it is often for one of two reasons. First, they may feel the expectations of their job are changing or they may not have the skills to excel. Thus, the trust-building response needs to be an assurance that there will be supports provided and that adults will not be evaluated until expectations are clear and they have had an opportunity to learn. Please note, this is the same principle used for students.
Second, anxiety and angst may build up when teachers feel out of control or that new expectations of compliance and control are being layered on top of their jobs. Midles referred to the Csikszentmihalyi model of flow in thinking about the mix of challenge and ability to strengthen educators' and students' relationships to learning. A middle school teacher, Darren Cook, explained to me that teachers have endured at least a decade of sweeping new reforms only to be replaced by the newest sweeping reform. With the introduction of the state-teacher evaluation policies that are not rooted in the culture or strategies of the district or their schools, teachers have become even more suspicious of changes. The trust-building response here is to make sure that teachers understand that as the district creates a more intentional common Teaching and Learning Framework, teachers will actually have more autonomy and opportunity for creativity in the strategies and learning experiences they use to help students learn. The other response is to offer opportunity to learn about performance-based learning – not through memo or lecture, but through engaged reflective learning as well as opportunity to participate in creating the new system.
D51 is also trying to stay focused on the purpose (the why). Teachers, like any of us, often shift to the how as they try to understand how the shift is going to impact them and their daily lives. It's likely going to be impossible to keep people from sliding into the how, as it is a natural way to try to understand a new idea. Thus, districts need to be ready to address the angst and anxiety that might develop.
Midles shared her insights about how teachers are managing the anxiety of knowing that education is changing but not knowing exactly how. "The most important thing is to always remind people to be kind to themselves," she said. "This feels like a lot of pressure, and teachers care deeply about doing a good job for their students. They can be be very hard on themselves. Some teachers respond by waiting to be handed something. They want to be told what to do next and they want to do it. However, this really is a change in values and in thinking about what the learning sciences tell us about how students learn. We are creating a new system and updating our pedagogy based on research. Thus, we all need to be engaged in productive struggle. This isn't about learning new curriculum; it's about learning new skills."
Designing for Scale
Bil Pfaffendorf explained, "Culture is the driver. What is central to the culture will have value. We want to make sure that the growth mindset is in everything we do, that how students respond to learning or social and emotional learning is always part of the learning process, and that students are building the Habits of Mind to be independent learners. If we are going to reach 1,325 teachers, our strategy has to be aligned with the culture."
Amy Shepherd-Fowler, a professional learning facilitator,  also explained that they are trying to shape the professional learning with "the yin and yang of extrinsic and intrinsic motivation." Before D51 had launched the transformation to P-BL, the district had forged a new strategic compensation policy aimed at creating incentives for all teachers to keep learning. As much as the district knows that creating intrinsic motivation is important, with Daniel Pink's name being dropped almost daily, they also knew it was important to align the formal policies and incentive structures.
Midles commented, "We are designing for a growth mindset for our teachers as well as our students. Our evaluations need to be processes that identify where teachers are and help them to the next step in their own growth. Our systems of supports need to recognize that teachers are all in different places of understanding and skills. Our compensation policy rewards learning."
Read the Entire Series:
Post #1 – Designing Performance-Based Learning at D51
Post #2 – Building Consensus for Change at D51
Post #3 – The Vision of Performance-Based Education at D51
Post #4 – Holacracy: Organizing for Change at D51
Post #5 – Growing into the Framework: D51's Implementation Strategy
Post #6 – Laying the Foundation with Culture and Climate
Post #7 – Supporting Teachers at D51: A Conversation with the Professional Learning Facilitators
Post #8 – Creating a Transparent Performance-Based System at D51
Post # 9 – New Emerson: Learning the Effective Practices of the Learner-Centered Classroom