Turning Mistakes Into Learning: The Power of High Reliability Schools
CompetencyWorks Blog
---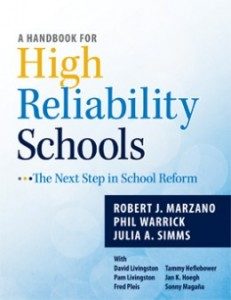 "In industries where mistakes and errors lead to significant and far-reaching consequences – such as power plants, air traffic control towers, and electrical power grids – organizations must adjust their operations to proactively prevent failure. . . .  [W]hat distinguishes high reliability organizations is not the absence of errors but the ability to contain their effects so they do not escalate into significant failures."
I'm just diving into A Handbook for High Reliability Schools . . . The Next Step in School Reform by Marzano, Warrick and Simms. It's a brilliant idea to think about what it would take for schools to become a high reliability organization. Certainly a student failing to receive an adequate education, failing to be prepared to pursue post-secondary education and training, has far-reaching consequences. It's a pathway to poverty and fragile families.
What makes education a bit different from business is that mistakes and failures are part of the learning process. So we have to be able to distinguish from the customer making mistakes as part of the learning process, yet have the educators "contain the effect" so that the outcome is success.
The authors describe how schools can become so powerful and so timely in responding to children that the natural errors in learning will produce learning gains. Essentially, schools can become high reliability, taking "proactive steps to prevent failure and ensure success." I already had a vision of how powerful schools can become, and reading this book took it to a whole new level.
The authors propose five levels of operation for a high reliability school:
Level 5               Competency-based education
Level 4               Standards-referenced reporting
Level 3               Guaranteed and viable curriculum
Level 2               Effective teaching in every classroom
Level 1               Safe and collaborative culture
It is helpful to see these as hierarchical levels. For districts and schools that want to get started on converting to competency education, this offers them a way of thinking about their readiness. Based on my site visits across the country, however, there is something democratizing about the commitment to transparency and a culture of learning in competency education. The very process of committing to a culture of learning and supporting each other towards gaining competency can actually create a safe culture.
It's clear this is a book that I'll be returning to over and over. Below are a few thoughts that jumped out as I read it:
1)    Identifying Patterns of Institutional Racism as a Step Towards Creating Safe  and Collaborative Culture
For some schools, changing the culture of a school from unsafe, isolating, blaming, and distrustful to safe and collaborative is going to be the hardest part. In most cases, the leading indicators offered in the book make perfect sense. Investing in professional learning communities is an important one that is a prerequisite for Level 2. Communicating with students and parents is also an example of good practice.
However, the item within the leading indicator survey includes the practice of school leaders coordinating with law enforcement around school safety. Although a seemingly neutral practice, it is in fact one that has been used to reinforce racial inequity. I assume the authors were thinking about the horrors that happen when someone, usually a white male suffering from mental illness, enters a school with a gun with the goal of killing others.  Yet by including that phrase without greater context, the authors are also reinforcing the horrors of a school-to-prison pipeline in which schools facilitate the incarceration of boys of color through the coordination with local law enforcement. The data is horrifying — 70% of in-school arrests are black and Latino students. Thus, that practice has very different meanings based on the color of your skin and where you live. With one lens, it is an effective practice, and with the other, a practice that needs to be dismantled immediately. Thus, the risk is that as schools begin the journey to become a high reliability school they are placing in their core of their culture one of the practices that in concert with implicit bias may produce inequity and actually harm our children of color.
The courageous people of Ferguson are standing up to their police force as well forcing all of us to face the crisis that threatens African-American boys survival, ability to graduate high school, get a job, and be active fathers to their children.  It's up to all of us to eliminate the patterns of structural racism and implicit bias that reinforce inequity.  Educators trust Marzano Research Laboratory (MRL). I know I do.  The authors felt it was important enough to include issues of safety related to random school shooting in the handbook.  It's also important to ensure schools are addressing structural racism, implicit bias and "push-out" policies.
2)    The Difference Between Standards-Referenced and Standards-Based Practices
I worry that across the country, we use the phrase standards-based grading when we really mean standards-referenced. Understanding the difference is really important.
In the hierarchy proposed by the authors, Level 4 is standards-referenced reporting, which means "a student's status is reported (or referenced) relative to the performance standard for each area of knowledge and skill on the report card. However, even if the student does not meet the performance standard for each topic, he or she moves to the next level." I loved the authors' description of this level: "At any point of time, the leaders of a Level 4 school can identify individual students' strengths and weaknesses relative to specific topics in each subject area."  Imagine if every school had the IT systems and powerful dashboards that allowed a principal or superintendent to monitor student pace and progress.
The big step schools have to make in moving to Level 5, becoming competency-based or a high reliability organization, is the commitment to helping every student achieve the standards. When schools are standards-based, it means that the entire school is based on getting students to achieve all the standards. The authors suggest that the flexibility in time comes at Level 5. The three leading indicators are:
5.1 Students move on to the next level of the curriculum for any subject area only after they have demonstrated competence at the previous level.
5.2 The school schedule is designed to accommodate students moving at a pace appropriate to their situation and needs.
5.3 Students who have demonstrated competency levels greater than those articulated in the system are afforded immediate opportunities to begin work on advanced content and/or career paths of interest.
I think the authors underestimate the flexibility that is required by districts and schools to help all students get to college and career readiness. The indicators are important in terms of unlocking us from age-based grades and the agrarian-based schedule. However, all resources – funds, the skills of the teachers in the school, time, the community and igniting student motivation and engagement – should be flexible so that schools can have the autonomy they need to help all students be successful. It's not just time that is the variable, but also all the resources we can tap into.
I imagine as we gain more experience in competency education and move to the next stage of development, we will see a second edition of this book with a much more developed set of leading indicators.
3)    Getting the Algorithm Right
There is an interesting discussion in the book about getting rid of time requirements in which the formula developed by John Carroll is offered:
 Amount of learning = Time actually spent/ Time needed to learn
The discussion goes on to talk about how grade levels and credits inhibit the understanding that students may require different amounts of time to learn something. We know this to be true. Yet, it is this type of thinking that triggers fears that competency education is the same as self-paced and that some students may be left farther and farther behind because they don't have strong study skills or haven't eaten for 24 hours or are worried about how to get home without being shot.
In some ways, this formula is more about student efficacy than it is about the school capacity to personalize learning. If we are going to fully construct a competency-based system, then the underlying theories and new metrics have to include the effectiveness of teaching, including a consideration of the quality of teaching based on the knowledge of the student and adaptive instructional skills (instruction, assessment and constructive feedback) as well as the amount (intensity and duration). Furthermore, designing schools to strengthen motivation, engagement, and the capacity for self-management or self-directed learning has to be considered as part of the equation.
We need a lot more work to develop the algorithm that describes the inputs and outputs in a high reliability school. It's not an easy one and we need to keep pushing ourselves to get it right.
 —
I want to thank the authors for writing such an outstanding book, which puts together so much of what we know about good school practice into one document. More importantly, I am grateful to them for helping me to better understand where we are going – towards schools that can turn mistakes into learning.