Unleashed to Learn: Book Highlights Performance Assessment
CompetencyWorks Blog
---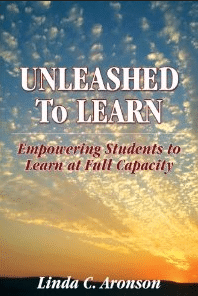 A new book by Linda C. Aronson, Unleashed to Learn: Empowering Students to Learn at Full Capacity, makes a clear and passionate argument about the power of performance assessment in a competency-based/learner-centered system.
Performance assessment – in which students pursue genuine interests, in real world settings, and in ways that suit their learning styles – is one of the keystones of Maine's vision of proficiency-based/learner-centered education.  The Senior Capstone, implemented by Hall-Dale High School (RSU2), is a shining example of performance assessment.  A video featuring the Senior Capstone was included in Maine's Center for Best Practice.  The energy is remarkable.
Aronson spent six years at Hall-Dale High School designing and refining the Senior Capstone. Drawing from the stories of that time – both the shining moments and the hard challenges – she has written a moving case study and passionate jeremiad about why and how students should be allowed to guide their own learning. Performance assessment – and Senior Capstone – can help that happen.
---
Gary Chapin is a Senior Associate at the Center for Collaborative Education.