Vote for Pop Up Problems of Practice in CBE
CompetencyWorks Blog
---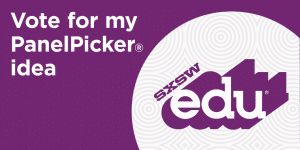 We need your help between now and September 1. Virgel Hammonds, KnowledgeWorks, Susan Patrick, iNACOL and I have submitted a proposal for SxSWedu called Pop Up Problems of Practice in Competency Ed. I've become enamored with Problems of Practice as a way to unpack issues so that we better understand the assumptions we hold about how to solve problems and to push our thinking about how to be student-centered in thinking about solutions. So we are going to use a fun, rapid problem of practice approach where a problem is introduced and two of us give a quick analysis and solution and then we ask all the other participants (not audience) to pop up with their ideas as well.
The reason I think this is important is that competency education has not been a major part of the discussions at SxSWedu yet (it's definitely been on their agenda but could be a lot stronger) and it's time to engage that network as allies.
So when you want to procrastinate about something else….go to Panel Picker and create an account and then go to Pop Up Problems of Practice in Competency Ed to give us a thumbs up.