What Happens When Students Are in the Driver's Seat?
CompetencyWorks Blog
---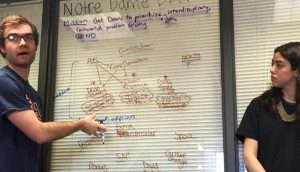 This post originally appeared at LinkedIn Pulse on May 9, 2016.
This is part of the #NDcocreate series where University of Notre Dame students share their experiences of c0-creating a new class with their instructor.
Three years ago, an undergraduate at the University of Notre Dame where I teach told me he wanted to take my "advanced class" on international development.
I appreciated his enthusiasm, but my problem, quite frankly, was that I didn't have an "advanced class."
Going out on a limb, I suggested, "Maybe, with a good group of students, we could work together next semester on a new class – co-create, I guess. Student interest could drive what we study, and students could help with the teaching."
I imagined co-creating would be less work than me creating a new class myself.
He was enthusiastic, and I agreed. The next week, I shot off an email to the political science department proposing a new "advanced" international development class in the spring 2014, syllabus and content forthcoming.
Not long afterwards, I paused thinking, "What the hell am I doing?"
We typically think of university education like a flow chart, a routinized schema of courses. The professor plugs in the content, and the syllabus neatly maps out the objectives and requirements.
But what happens if instead of the professor structuring everything, the learning journey was driven by what students want to learn?
In the fall of 2013, a few weeks before course registration, I emailed the 60 or so students who had taken my International Development class, inviting them to apply to "co-create and help teach a new class" called International Development in Practice II: Advanced Topics and Applications.
Students applied with a short essay addressing: Why would I want to take such a class? What do I want to learn? What would I be interested in teaching?
For such an inchoate idea, the responses were deeply thoughtful, and I ultimately accepted 14 students into the class.
Like your typical Type-A instructor, I'm used to starting the semester with an extremely detailed syllabus.
It's pretty unnerving, beginning a semester with the majority of the syllabus blank, "to be determined."
To make matters worse, a student approached me at the start of term. "I took a class described just like you said – and it was awful! Each student picked a topic they were interested in and did an hour-long presentation. I sweated over my hour-long presentation, and then endured a dozen more. Nothing connected. Even the professor had a hard time staying awake."
So, the challenge was not only to focus on what students wanted to learn but also to help them learn in integrated, engaging, and meaningful ways.
Fortunately for me, the students' interests—based on their initial essays—grouped somewhat naturally into three categories (impact evaluation, effective implementation, and politics and negotiations in development). The categories drove our initial structure.
During the first three weeks, I did a mini-course on effective pedagogy —  course design, learning goals, and engaged teaching.
We read Richard Light's "Making the Most of College," an insightful book on how students can take full advantage of their college experience. I encouraged the students to flip roles and read it not as the student (the intended audience) but as someone creating the learning environment.
Forming three "module teams," the students developed learning goals for their individual teaching sessions and for the modules. Together, we explored how the three modules could relate to one another.
I encouraged students to attend their other classes with their antennas up, paying attention to what worked well. What drew students into learning process? A provocative question? A novel approach to the topic? We explored making every session interactive, and applying insights to real-world development problems.
We frequented our University's teaching center, exploring materials on "what the best teachers do," reinforcing Peter Drucker's insight that,
"No one learns as much about a subject as one who is forced to teach it."
Over the semester, the students became increasingly committed to building an engaged learning environment. They realized the difference when peers came prepared for the classes they taught, so they similarly came well prepared.
My assumption that a co-created, co-taught class would be less work for me was clearly a mistake.
I certainly spent more time outside of class students than I would in a typical class. I also held an individual debriefs, incorporating lots of written feedback from peers, after each teaching session.  It was clearly worth the effort.
 I also found myself forced back into the role of the student, (and just like my students staying up late at night to finish the readings!) I was challenged and engaged, venturing off into new territories in behavioural economics, psychology, sociology, and anthropology, to name a few.
Long story short, that spring 2014 class was my best, most engaged teaching and learning experience, and my students told me it has made a big impact on them as well.
As one student, now in law school, wrote "I've yet to have a similar experience where I was learning not just from a professor but from the experiences of my peers."  Another graduate wrote back that she had gained a valuable skill — "teaching and explaining a concept in a way other people who'd never heard of the concept could understand." Another wrote me in all in caps, "I THINK ABOUT THIS CLASS EVERYDAY."
The experiment clearly demonstrated to me the capacity students have to take charge of their education in significant ways, and how meaningful those engagements can be.
With the right structure and support, students can and should be in the driver's seat in important parts of their education.
This spring 2016, I am enthusiastically co-creating another course with a group of 13 students. This time, we chose a broad topic that I wanted to learn more about – design thinking (an innovative, human-centered methodology for problem solving) and how it might contribute to critical international development challenges.
Together we have co-created a new syllabus and I'm enthusiastic to share what the students – and their professor – have learned over this semester! Please follow our journey using #NDcocreate.
See also:
---
Steve Reifenberg is the Executive Director and Associate Professor of Practice of the Kellogg Institute for International Studies at University of Notre Dame. Each of the 13 students in his "international development and design thinking" class this semester are writing a LinkedIn essay on their experiences of this co-created class.