What I Learned From My Daughter's First "C"
CompetencyWorks Blog
---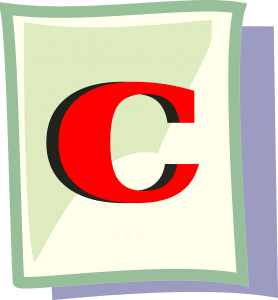 This post originally appeared at Getting Smart on September 15, 2015.
It's no secret that I'm an advocate for competency-based learning models. I've gone on the record lots of times as just that. I shared my thoughts on Montessori education as one of the original competency-based models and until very recently, I had two daughters who were learning in competency-based, Montessori learning environments.
This year our third grade daughter transitioned from the only formal learning environment she's ever known–a no-grades, no-desks, pick-your-own-work Montessori classroom–to a gifted, STEM magnet in a large traditional urban school district.
We really sweated the transition, but it's been mostly a breeze for us and our daughter. She bounces off to school every day, even though she has to get up more than a full hour earlier. She dutifully and cheerfully does her nightly (much more challenging) homework. She tells stories about how funny her teachers are and every day she mentions a new friend. She's learning new things in new ways and even described her new school as "more like a Learning Camp" than a classroom.
In other words, all signs point to "happy, thriving, learning child." So, why on earth did I let one grade, her first "C," totally shift my perception of how she was doing in her new school?
Coming from the world of no grades where we'd been living for the past five years, when I saw that "C," everything ingrained in my head about what learning looks like was telling me that my daughter's first reading comprehension grade of a "C" spelled trouble – even though the "smart parent," education researcher and competency-based learning advocate in me knew that wasn't the case.
The matter was only further complicated by the conversation I had with my daughter as we went through her folder of graded work together. It went something like this:
Well-intentioned Mom: "Oh look, these are your first grades! Let's go through these and see how you're doing." (Read: My first mistake; I already knew she was doing great! Everything else was already signaling that.)
Confused Kiddo: "I'm doing great!"
Well-intentioned Mom: "Yeah, but I mean, we can look at your actual scores and see your actual grades to know if you're really doing well." (Read: My second mistake; I just prioritized the grade over everything else – even her own perceptions about how she was doing in school.)
Confused Kiddo: "Umm… what do you mean?!"
Well-intentioned Mom: "Like this homework, you got 24/25. That means you got an 96% that's an 'A.' That's good!"(Read: My third mistake; "A = good" set up "the grade" as "the goal.")
Confused Kiddo: "Cool. 'A's' are good. Got it."
Well-intentioned Mom: "Uh-oh. Look at this. Your first reading test. Whoa. You got a 24/30. You got six things wrong. That's an 80%. So that's a 'C' for your grade. Not good." (Read: My fourth mistake. Are you sensing a pattern here? No joke; I attached an "Uh-oh," a "Whoa," and a "Not good" to that 'C.' Ugh.)
Confused Kiddo: "Why is a 'C' bad? Is that the same as an 'F?' I know those are bad."
Well-intentioned Mom: "Oh, no, um it's not the same as an 'F.'  That means you totally failed it. A 'C' just means that you could've done better."
Confused Kiddo: "Oh so the 'C' is good. Like it means you can keep practicing and get better until you get the A. That's just like my old school then."
Well-intentioned Mom: "Well, not exactly. You don't get to take this test again until you get an 'A.' I mean you can get higher grades on other things so you could still end up with an 'A' or 'B' on your report card but this grade will always stay a 'C' in the grade book."
Confused Kiddo: "Why?! That's not fair. At all!" (Then her tears came.)
Well-intentioned Mom: "I mean, the grades don't really matter. I mean they do, but they don't. I mean what matters is that you're learning. I mean you don't want to get all 'C's' probably, but it's okay if you get some, but I mean it would be better if you didn't. But I mean we're happy as long as you're trying your best, but you know your teachers might expect better than that, but I mean that's only their perspective…." (And this bumbling went on until Confused Kiddo finally said "I'm cool with the 'C.' What's for snack?")
So where does that leave me as a parent and where does that leave us as advocates for competency-based learning with one foot still firmly in traditional classroom structures – are we cool with the "C?" Yes, we have to be.
This is especially challenging because in my estimation, no one has it perfectly right just yet. At least the purely competency-based, Montessori school she was in didn't. In that environment, it was all individual progress without the broader context of developmental targets or goals. Because all progress (no matter the pace) was treated equally, we never had a clear picture of learning strengths or weaknesses. And that wasn't good either.
So, what did I learn from my daughter's first "C"–besides the fact that she needs a little extra help with reading comprehension?
I learned there's a fair amount of "unlearning" that still has to happen before we will all feel comfortable in completely competency-based learning environments. As more and more schools shift from letter grades to levels of mastery, we would all do well to continue challenging the assumptions we all have about how we define and describe when learning is or isn't happening.
See also:
---
Carri Schneider holds diverse experience across K-12, higher education and education policy. Since leaving her second grade classroom, Carri has been actively involved in supporting education policy efforts to advance innovations in teaching and learning. She served as an online educator from 2005-2013 in a fully online Master's program in Educational Leadership and taught graduate-level courses in School Law and Curriculum. She has authored several pieces on the future of education. Carri manages Getting Smart's publication portfolio and co-authors dozens of pieces with writing partner Tom Vander Ark. Carri has also presented at national conferences including SxSWedu, iNACOL's Blended Learning Symposium and AERA. She holds a M.Ed. in Educational Administration and an Ed.D. in Urban Educational Leadership with emphasis on education policy and social justice.