What's New: Resources
CompetencyWorks Blog
---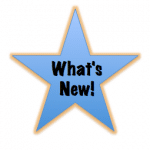 A number of valuable resources have been released recently. You might not have time to read them all, but it may be a good idea to quickly look at them so that you are familiar with them – as they may be helpful to you at some time in the future:
Every Student Succeeds Act: Mapping Emerging Trends for Personalized Learning in State ESSA Plans from KnowledgeWorks includes a dashboard infographic; an analysis of key trends and values that states leveraged to advance personalized learning across five topic areas in state plans (Vision, Accountability Systems, School Support and Improvement, Supporting Excellent Educators, and Supporting all Students); and a state-by-state data set.
Great Schools Partnership has revised their resources for Proficiency-Based Learning:
10 Principles for Building a High-Quality System Of Assessments was developed by Jobs for the Future and their partners. These ten principles provide guidance on how to create high-quality systems that advance college and career readiness, equity, and student-centered learning.
The Practice Base for How We Learn: Supporting Students' Social, Emotional, and Academic Development, prepared by the National Commission on Social, Emotional, and Academic Development at The Aspen Institute, outlines promising practices that show how students, teachers, parents, and administrators can integrate social, emotional, and academic learning in preK-12 education.
Innovative Staffing to Personalize Learning and four case studies from Public Impact and Clayton Christensen Institute highlight ways that schools are changing their organizational structures and staffing roles.
University of Chicago Consortium on School Research released a new study on the Role of Teacher Leadership in How Principals Influence Classroom Instruction and Student Learning. See article by Elaine Allensworth, and Holly Hart.
Learning Commons allows educators to search across curated professional learning resources to solve challenges and begin to transform teaching and learning in their classrooms. (See The Learning Accelerator and Yet Analytics.)
High Quality Project-Based Learning from the Buck Institute offers a framework and case studies on how to ensure project-based learning
Redefining Student Success: Profile of a Graduate from iNACOL provides recommendations for state policymakers to generate a shared vision for student success that prepares all students for college, career, and civic life.
Learning from Great Practice was developed by Springpoint Schools and offers a quick summary of practices in innovative high schools across the country.