Yes, This Is Definitely Evidence
CompetencyWorks Blog
---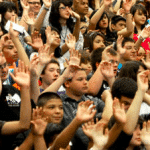 In a previous post I summarized the evidence of competency education making a difference in student achievement and school performance.
Sometimes a picture says a thousand words.  Below is a snapshot of Adams 50 transformation from having seven schools identified as lowest-performing to having zero. ZERO.  Notice the schools in green – those are the highest performing schools that expanded from two to seven schools in three years.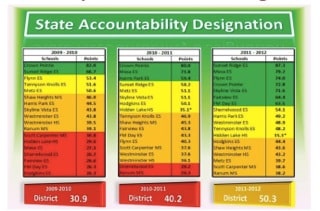 You can see the image more clearly here.
Adams 50 embraced competency education because they knew the traditional time-based system was simply not working.  Their leadership is rooted in their community. It's so strong that it has sustained a change in superintendents. They've worked with the Reinventing Schools Coalition, adapting their model as needed to create a system that works for them. They are expanding their efforts to create information systems that are able to track student progress based upon in classroom, game-based, online, and community-based learning with the support of the Bill and Melinda Gates Foundation's investments in Project Mastery.
You can read more here.
You can learn more about Adams 50 competency-based system here.