Issue Brief, CompetencyWorks
A Mastery-Based Math Teacher's Journey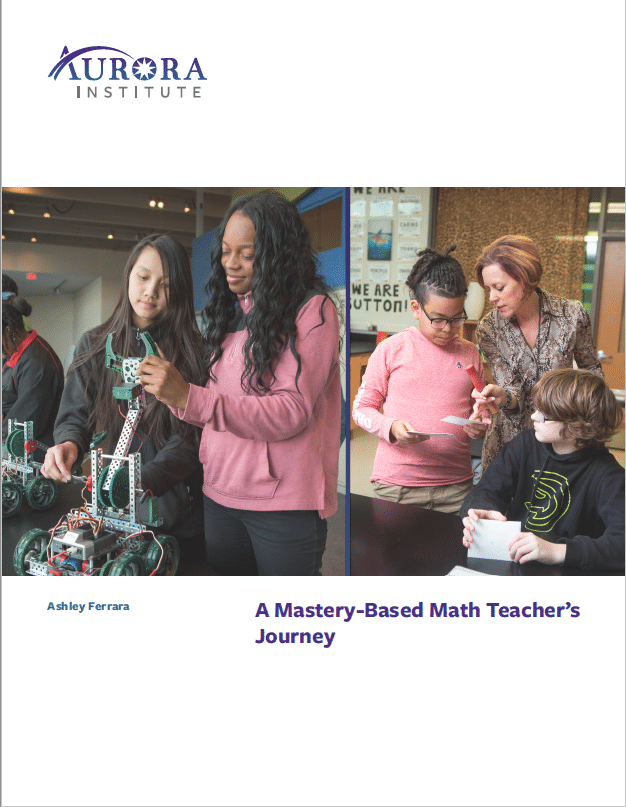 ---
This case study highlights a high school math teacher's successful journey of taking the steps needed to move away from traditional teaching methods to innovative pedagogies supporting mastery-based teaching and learning.
Mastery-based learning (also called competency-based learning) is a shift away from traditional, one-size-fits-all teaching. Teachers ensure each student masters academic knowledge and builds core skills as they progress through K-12 education. It also increases student engagement and agency, or ownership of their learning. In competency-based learning environments, all students are held to the same high standards and assessed based on showing what they know through a performance, with flexibility in pacing and assurances for equity. 
Mastery-based learning poses unique opportunities for creating new personalized learning designs and transforming the traditional education system. Educators are leading new designs from the ground up to spearhead innovative learning that increases equity, agency, and meaningful learning and assessment for every student. 
When author Ashley Ferrara, a founding faculty member and math instructor at the Academy for Software Engineering (AFSE), a public high school in New York City, heard her school was transitioning from traditional practices to mastery-based learning, she was skeptical. Today, after a multi-year transition, she is an enthusiastic and devoted practitioner of mastery-based learning. 
In A Mastery-Based Math Teacher's Journey, Ferrara shares a refreshing and candid account of her own transition to mastery-based learning with her students. Lessons learned from Ferrara's transition can be applied beyond mathematics to inform mastery-based learning in all academic disciplines. 
Ferrara's journey of deep devotion, reinvention, improvement, and a commitment to all learners achieving success serves as a guiding resource for applying competency-based learning principles in the field.