Report
Aurora Institute's Federal Policy Priorities: Charting a New Path for America's Learners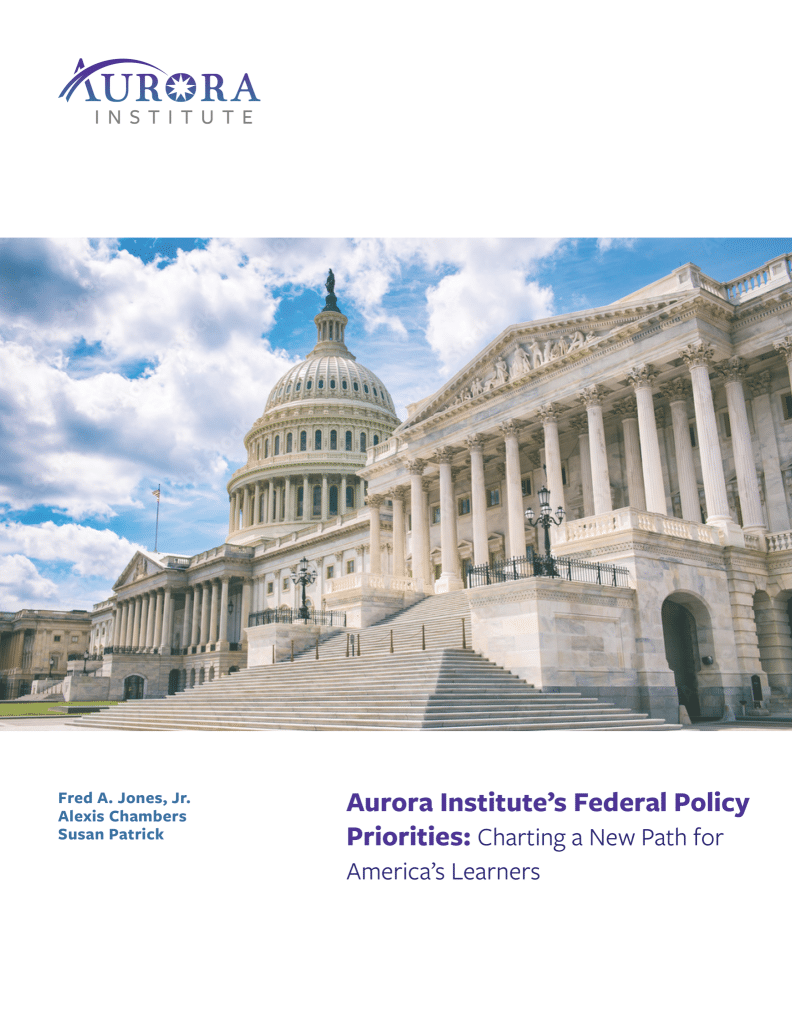 ---
The Aurora Institute's Federal Policy Priorities: Charting a New Path for America's Learners new report issues a call-to-action for federal education policy makers and provides eight recommendations. These future-focused, student-centered learning policy recommendations are informed by the input of hundreds of nationally recognized educators, leading personalized learning and competency-based education scholars, community advocates, and a diverse set of students who support uplifting education innovations while also prioritizing educational equity.  
Federal policymakers who want to drive transformation to support the future learner can use these recommendations to learn about key issues to address, entry points, policy levers, and a vetted path forward to revolutionize student-centered learning. This document provides deep contextual knowledge and actionable recommendations to advance future-focused, student-centered learning policies and transform education, including: 
Create Learning Ecosystems Across K-12, Higher Education, CTE, and the Workforce

Modernize the Educator Workforce

Diversify the Educator Workforce

Bridge the Digital Divide

Support COVID-19 Learning Recovery

Advance Educational Equity

Redesign Assessments

Rethink Accountability
Calls for a redesigned education system are growing in number and volume, in part due to the impact of COVID-19, but also because our current antiquated education system has not shifted to appropriately serve each learner. Now, more than ever, is the time to rethink the purpose of education and redesign learning ecosystems so that each child has robust opportunities and pathways for a thriving future. 
To view the report, please click here.