Issue Brief
Promising State Policies to Advance Personalized Learning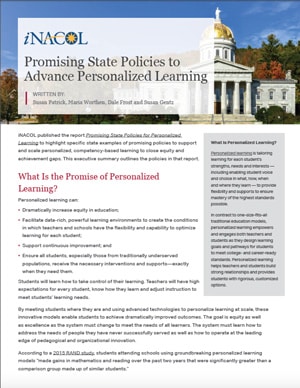 ---
iNACOL published the report Promising State Policies for Personalized Learning to highlight specific state examples of promising policies to support and scale personalized, competency-based learning to close equity and achievement gaps. This executive summary outlines the policies in that report.
What Is the Promise of Personalized Learning?
Personalized learning can:
Dramatically increase equity in education;
Facilitate data-rich, powerful learning environments to create the conditions in which teachers and schools have the flexibility and capability to optimize learning for each student;
Support continuous improvement; and
Ensure all students, especially those from traditionally underserved populations, receive the necessary interventions and supports—exactly when they need them.
Students will learn how to take control of their learning. Teachers will have high expectations for every student, know how they learn and adjust instruction to meet students' learning needs.
By meeting students where they are and using advanced technologies to personalize learning at scale, these innovative models enable students to achieve dramatically improved outcomes. The goal is equity as well as excellence as the system must change to meet the needs of all learners. The system must learn how to address the needs of people they have never successfully served as well as how to operate at the leading edge of pedagogical and organizational innovation.
We encourage state policymakers to advance a set of the following promising policies in a way the fits within their state's unique policy landscape and education system.