Announcing the Aurora Institute Symposium 2022 Request for Presentation Proposals
Education Domain Blog
---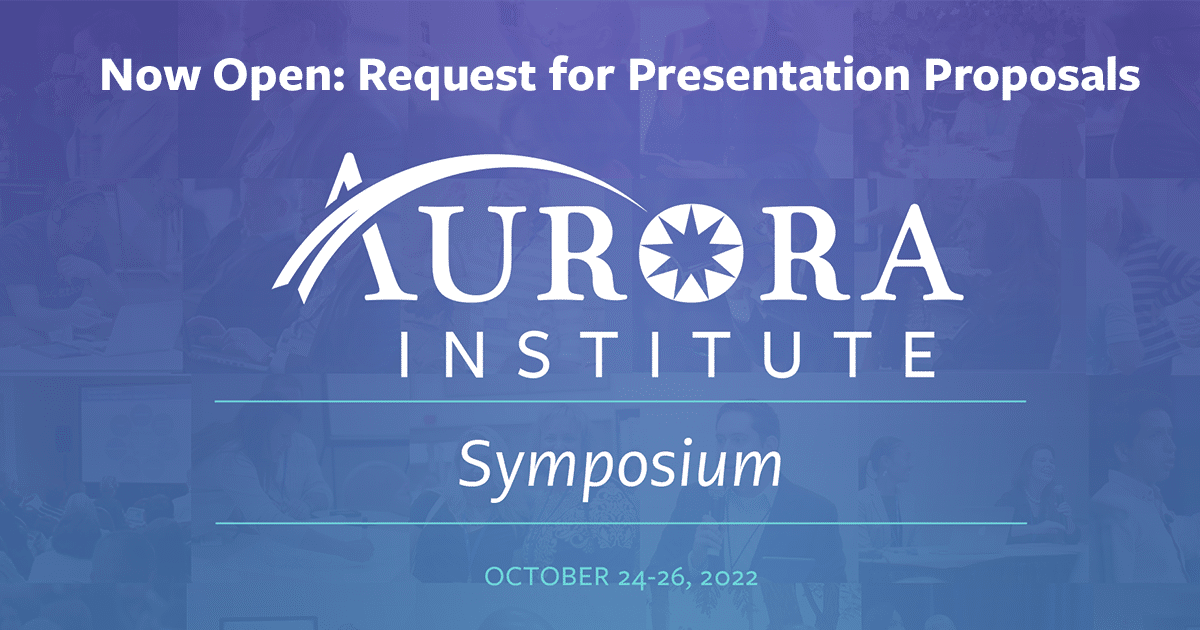 Today, we are pleased to announce the launch of the Request for Presentation Proposals for our annual Symposium, which will remain open until March 17, 2022. This year's Symposium will be a virtual experience, due to ongoing health and safety considerations around travel and large events. 
Previously known as the iNACOL Symposium, the event is the ecosystem's largest convening of education innovators working to transform the future of teaching and learning to create personalized, competency-based pathways and student-centered, next-generation learning. The event will run October 24-26, 2022.
The convening is a chance to draw on the collective wisdom and expertise of leaders from across the globe who are building knowledge and honing practices to usher in the future of learning. 
After nearly three years of pandemic schooling, we know that demand for education systems change is growing, especially amidst the need to shift to anywhere, anytime learning. This year, we seek proposals that will examine the most pressing issues in K-12 education, explore new learning models, lift up youth voice, and investigate how education systems are managing and leading innovation, adopting competency-based education, and implementing personalized, student-centered pedagogy. 
Visit our proposal submission page to learn more. Continue to watch the Aurora Institute Symposium 2022 website for future updates about event details, and reach out to us if you have any specific questions. 
For More Information: 
Share this Announcement on Social Media
Sample Tweets: 
You don't want to miss an opportunity to present at #Aurora22, Oct 24-26. @Aurora_Inst's Request for Presentation proposals is open until 3/17. Submit your proposal today:

https://bit.ly/AuroraSymposium22

#CompetencyEd #EdChat

Until 3/17, submit a proposal for a chance to present at @Aurora_Inst's Symposium 2022

https://bit.ly/AuroraSymposium22

#RFP #Aurora22 #EdChat #EDUTwitter #EDUColor #EdLeaders

Present at the leading conference advancing #personalizedlearning & #CompetencyEd, the Aurora Institute Symposium. Submit your presentation ideas for review by 3/17:

https://bit.ly/AuroraSymposium22

#Aurora22 
Sample Facebook Post:
The Request for Presentation Proposals for our annual Aurora Institute Symposium is now open. We invite proposals focused on transforming K-12 education systems, advancing breakthrough practices and policies, and implementing personalized, competency-based learning https://bit.ly/AuroraSymposium22 
Sample LinkedIn Post:
Do you have expertise to share around advancing personalization, competency-based education, or student agency with the field? The Aurora Institute is now seeking proposals for our annual Symposium on October 24-26, 2022. Proposals are due by 11:59 p.m. ET on March 17, 2022. https://bit.ly/AuroraSymposium22