U.S. Department of Education Invites New Applications for Competitive Grants for State Assessments Program
Education Domain Blog
---
On February 16, 2022, U.S. Department of Education (ED) announced that it is inviting new applications for the Competitive Grants for State Assessments (CGSA) program fiscal year (FY) 2022. The program is authorized by the Elementary and Secondary Education Act (ESEA) as amended by the Every Student Students Succeeds Act (ESSA). The purpose of the program encourages states to enhance their assessment systems to better measure academic achievement for K-12 students. In the announcement, ED offers, "The program will also allow the Department to identify, lift up, and help scale innovative approaches to assessments that advance teaching and learning that can better meet the needs of our evolving education system."
The Aurora Institute strongly supports funding initiatives to advance more innovative assessments, such as the CGSA, and encourages states to apply and pursue assessments that are student-centered, serve the needs of every child and demonstrate mastery of knowledge and skills with timely, and actionable, results. We are happy to be thought partners with states as they pursue redesigning their assessment systems.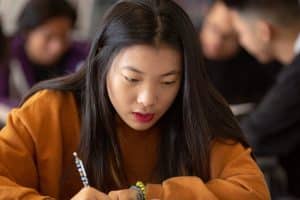 About the CGSA Program Application
In the blog post to announce the program, ED explained the program will allow states to address the impact of the pandemic, identify gaps in student comprehension and seek new ways to direct funding and resources to address these needs. Findings from states may be used to drive future federal policy.
Within the application, there are two absolute priorities for the grants. The requirement of an absolute priority means that applications for funding have to address one or both priorities in order to be considered by ED. It reads:
"State educational agencies (or a consortium of state educational agencies) are invited to submit applications that 1) develop or implement assessment systems that use multiple measures of academic achievement; or 2) develop or implement comprehensive academic assessments that emphasize the mastery of standards and aligned competencies in a competency-based education model. The program also includes a competitive priority that focuses on improving how assessment results are reported to parents and educators, so members of school communities can better support how instruction is designed to meet the academic needs of children."
The first absolute priority relates to measuring achievement using multiple measures of student academic achievement from multiple sources. The second absolute priority relates to competency-based education and requires applicants to address evaluating student academic achievement through the development of comprehensive academic assessment instruments (including performance assessments) that emphasize the mastery of standards and aligned competencies in a competency-based education model. There is also a competitive priority that will award three additional points to applicants that address reporting of assessment results in a manner that improves understanding of student comprehension.
State education agencies (SEAs), or a consortium of SEAs, are the entities that may apply for funds. ED will award up to $17.711 million under this competition with a projection of three to six awards for project periods of up to 4 years.
Key dates:
February 16, 2022: Application became available.
March 18, 2022: ED encourages applicants to submit their notice of intent to apply and which absolute priority the applicant intends to address so ED will be able to develop a more efficient process to review grant applications. The notice should be brief and submitted to

[email protected]

.
May 3rd, 2022: Application deadline.
September 2022: Award selection will be made.
Visit the notice in the federal register.
 Learn More:
For more help, please contact:
Susan Patrick, CEO
[email protected]
Fred Jones, Policy Director
[email protected]
Alexis Chambers, Policy Associate
[email protected]