New CompetencyWorks Book Offers 16 Quality Design Principles for Competency-Based Education
Education Domain Blog
---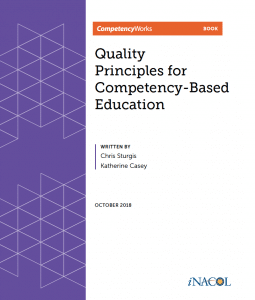 Last year, 100 leading teachers, principals, district and state leaders, researchers and technical assistance providers gathered at the National Summit on K-12 Competency-Based Education to assess competency-based education and move the field forward by generating new ideas and outcomes on these four issues: quality, equity, meeting students where they are, and policy for the long game. One of these outcomes is a new book released today, Quality Principles of Competency-Based Education, which offers 16 Quality Design Principles to guide the development of competency-based learning with the goal of creating a system in which every student succeeds.
To cater to the rapidly evolving field of competency-based education, Quality Principles of Competency-Based Education seeks to provide promising aspects of what schools and districts are putting in place. The use of design-orientation allows for schools and districts to be intentional in their purpose and creating outcomes for their students. Readers of this book will gain a greater understanding of competency-based education, and they will be able to use the principles as an outline to a system specifically designed to foster student success.
The 16 Quality Design Principles are divided into three categories: Purpose and Culture, Teaching and Learning and Structure.
Purpose and Culture
The purpose in a high-quality system should be clearly stated with a shared understanding between everyone involved in the learning environment. Purpose contributes to the culture, which is composed of the values, beliefs, relationships, rituals and routines that create the foundation of daily operations. School culture is reflected through how students, teachers, education leaders and even the surrounding community view themselves and others. The design principles that make up Purpose and Culture include:
Purpose-Driven

, that is, being intentional about creating a shared vision that is meaningfully connected to the lives of students and families;

Commitment to Equity

, holding a conviction that every child can learn at high levels while working to meet all students where they are with timely supports;

Nurture a Culture of Learning and Inclusivity

, meaning all students are respected and empowered to take their place as an active learner within the learning community;

Foster the Development of a Growth Mindset

, or a belief by teachers and students that intelligence is malleable and that failure is a setup for future learning; and  

Cultivate Empowering and Distributed Leadership

, or creating the flexibility to personalize learning, respond to students' changing needs and rapidly respond to emerging issues.
Teaching and Learning
Teaching and learning as presented in this book highlights approaches to practice that are based on the learning sciences. As part of a high-quality system, schools and districts can analyze the alignment of instruction, assessment, professional learning and student support strategies and ensure effectiveness. Additionally, a shared understanding of pedagogical principles helps cultivate relationships with teachers who hold instructional expertise. The design principles of Teaching and Learning include:
Base School Design and Pedagogy on Learning Sciences

. Teachers in competency systems design learning experiences, select instructional strategies and use assessments based on their knowledge of their students' cognitive, psychological and biological development.

Activate Student Agency and Ownership

.

Competency-based schools use strategies to help students build self-determination: the skills and ability to direct one's course in life and become a lifelong learner.

Design for the Development of Rigorous Higher-Level Skills

.

Through application or engagement in deeper learning students develop transferable skills, such as evaluation, synthesis, problem-solving, creativity and communication.

Ensure Responsiveness

. Schools must meet each student where they are and provide the right supports at the right time while maintaining consistent expectations of proficiency.  
Structure

Structure refers to the operations, processes and policies that create the foundation for high-quality learning. Schools and districts can break down the current structure of the traditional system and develop an infrastructure that supports competency-based education. The design principles of Structure include:
Seek Intentionality and Alignment

,

or aligning all of parts of the new structure around a common purpose and vision for student learning;

Establish Mechanisms to Ensure Consistency and Reliability

, that is, using moderation and calibration to create shared understanding around learning objectives, what proficiency means, credentialing learning and assessment;

Maximize Transparency

, which means that students always know where they are on their learner continuum, their progress and growth;

Invest in Educators as Learners

, so that they have regular opportunities to engage with peers and deepen their knowledge and skills;

Increase Organizational Flexibility

, so that they are able to respond in ways that engage, motivate and provided needed instructional support to all students;

Develop Processes for Ongoing Continuous Improvement and Organizational Learning

, so that at the system level and the classroom level, there is enough agility to adjust to changing needs of students and all parts of the system seek to innovate and improve to overcome challenges and optimize systems in service of equitable student outcomes.

Advance Upon Demonstrated Mastery

, or ensuring students progress in education without gaps in knowledge and skills.
The book introduces the Quality Design Principles as a cohesive framework for schools and districts as they transform education systems. These principles are composed to spark discussion that will accelerate the shift from the traditional time-bound, factory model of education, to one that seeks to have every student succeed by personalizing their learning and ensuring mastery.