Request for Proposals – Sponsor and Exhibitor Sales Specialist
Education Domain Blog
---
Are you interested in working with an annual convening that hosts over 1,000 education innovators from across the education transformation space?
The Aurora Institute is seeking a consultant for a Sponsor and Exhibitor Sales Specialist to secure sponsors and exhibitors for our annual Symposium, hosted in Palm Springs, CA on October 15-17, 2023. This contractor will be responsible for business development activities related to securing sponsors and exhibitors for the 2023 Aurora Institute Symposium. This includes identifying, prospecting, and contacting valid and mission-aligned prospects, tracking progress towards sponsorship and exhibiting fundraising goals (as established by Aurora), and securing sponsors and exhibitors through executing contracts.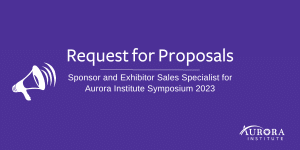 An ideal candidate will be familiar with the field of personalized, competency-based education, including related companies, products, services, tools, platforms, and technologies.
Find the full job description here. Submit your Sponsor and Exhibitor Sales Specialist materials by March 27, 2023.