The Chugach School District Journey: From Traditional to Transformational Education
Education Domain Blog
---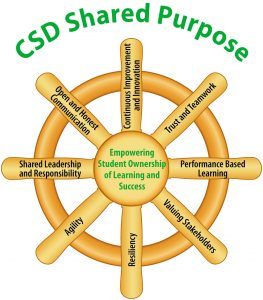 The Chugach School District's journey from traditional education to a transformational, performance-based educational philosophy began in the mid-1990's – and I found myself swept along with this radical change that has become the Chugach educational culture for the past two and a half decades. Here's a brief look into Chugach School District's journey, the challenges, and key lessons learned along the way.
The Roots of the Journey: The Chugach School District story of change is based upon the need to meet the needs of all students, and discover a way to put theory into practice to make a difference in their lives. By the mid-1990's, most of our students were desperately struggling to meet state academic expectations, struggling to read and comprehend at grade level, and encountering barriers to a successful life after high school. The Carnegie Unit system and A-F grades were getting in the way of designing a student empowered, student-centered education for our Chugach students. Thanks to the former Northwest Regional Educational Labs (now known as Education Northwest) and their Alaska Onwards Towards Excellence training, the district's new educational leaders, Chugach School Board, teachers, staff, parents, students, community members and business partners, embarked on a multi-year process to build trust with the community, empower community engagement, and embrace change towards building a performance-based, individualized education for all students. Without this support, Chugach's education system as we know it today would not have happened. Personally, my transformation as an educator probably would not have occurred either. Although my previous ten years had been as a successful traditional elementary school teacher in California, I knew that there was more that needed to happen in my classroom to meet the unique needs of each of my students.
Challenges – and Lessons learned along the way…tackling long-standing traditions, especially in the education world, is full of challenges. Once the performance-based system was drafted through stakeholder representative input from across the district, launching the system proved to not be as easy as we had hoped. In 1996, Chugach educational leaders had to petition the State of Alaska's Department of Education and State Board of Education for a waiver from giving Carnegie Units for classes. After a review of the Chugach School District framework of teacher-created content standards and assessments, minimum graduation requirements, individualization and personalization of learning and demonstration of proficiency, the State Board of Education granted a 5-year waiver. State renewal of the Carnegie Unit waiver would be based upon review of student academic scores, and increased demonstration of educational success. After multiple waivers demonstrating excellent student growth and progress throughout the following decade, the Alaska Department of Education and State Board granted permanent waiver status to Chugach School District to continue the performance-based, competency-based education framework.
Challenges also occurred in helping parents understand a new educational system without traditional grades (Emerging-Developing-Proficient-Advanced replaced A-F letter grades), no grade level classes (students are learning at their current achievement level in multi-age classes – no longer by grade level), and the ability to learn and progress at the student's own individual pace in each of the 10 content standards instead of grade level expectancies. This created plenty of opportunities for group and individual discussions. These conversations continue today as new families (and staff) move into our local schools or FOCUS Homeschool, and learn exactly what a student-centered, performance-based system truly means for Chugach students.
Lack of the ability to capture student progress and achievement was a challenge in the early days as well – when huge Binders were the keepers of the Chugach philosophy, resources, and student documents (all written by hand or typewritten), and the reality of support from computers was a distant dream.  Concern for teacher burnout helped spur the development and refinement of Chugach's Aligned Information Management System (AIMS) – our web-based, real time student database developed by Chugach teachers that provides data dashboards, academic reports, Individual Learning Plans, and student academic progress from a macro to micro level.
Living in a rural-remote area of Alaska has its challenges as well. Some of our school sites across 20,000 square miles on Prince William Sound are only accessible by small charter plane or boat, or via a mountain tunnel that is shared with the Alaska Railroad. Many of our students are enrolled in our FOCUS Homeschool (formerly Chugach Extension School) that grew from a district program to a statewide homeschool program with Chugach teachers facilitating and supporting the families as they meet the educational needs through the Chugach performance-based system.
Chugach School District's FOCUS Homeschool Alaska – More than a Number
Set goals…pursue dreams… meet success
During the process of determining what a graduate from Chugach School District truly needs, the reality of successfully navigating the world with healthy life skills, opportunities to explore career and post-secondary choices, and positive personal and social skill development in addition to strong academic knowledge became a high priority. Figuring out how to provide these growth opportunities to our students, regardless if they lived in the small town of Whittier or the Alaska Native villages of Tatitlek and Chenega, or homeschooled anywhere across Alaska, was the basis for creating the phase-based 24/7 Anchorage House – now known as Voyage School, a statewide variable-term residential school based in Anchorage that meets the needs of middle-school/high school students from across Alaska with district partners. Students apply for intensive Phases offered throughout the entire year that include: First Trek (4 day initial Phase); First Responder/Emergency Trauma Technician Certification; Culinary Arts/Food Handlers Certification; Journey to Flight/Ground School and Private Pilot Phases; It's My Life Phase (preparation for life after high school); Driver's Education; and Outdoor Leadership Phases. The Voyage to Excellence School mission is to teach students from across Alaska the skills necessary to successfully transition from School to Life. Whether that transition starts with college, a trade school, military service, or jumping right into the work force, we strive to give our students the skills they need to reach their dreams.
Chugach School District's Voyage School
The unexpected opportunity for Chugach School District to present at the 2018 iNACOL Symposium in Nashville, Tennessee this past October was life changing for our Chugach team. What we had tried to develop in isolation 25 years ago has exploded in the rest of the United States in a way that we never could have imagined. The joy of connecting with educators across the world that spoke our same language of competency-based, personalized education was overwhelming. Thanks to our dear friend and advocate, Chris Sturgis, many people shared their excitement with us as they learned about Chugach School District through her insightful blogs on CompetencyWorks.
We've learned over the years that there are key elements to moving forward and not letting challenges and difficult times keep us from making this the best educational learning environment for our students.  Being part of the Chugach family since 1996 in the roles as teacher, paraprofessional, coordinator, and currently administrator, I believe the biggest lessons learned include having open and transparent communication, trusting the process of growth and change, and including all stakeholders in the building and refining of this transformational education system. By embracing our core values of agility, resiliency, and shared leadership and responsibility, we will continue on the journey of transforming education for all who call Chugach School District their educational home.