iNACOL Releases Federal Policy Issue Brief to Support 21st Century Professional Development for Educators
Education Domain Blog
---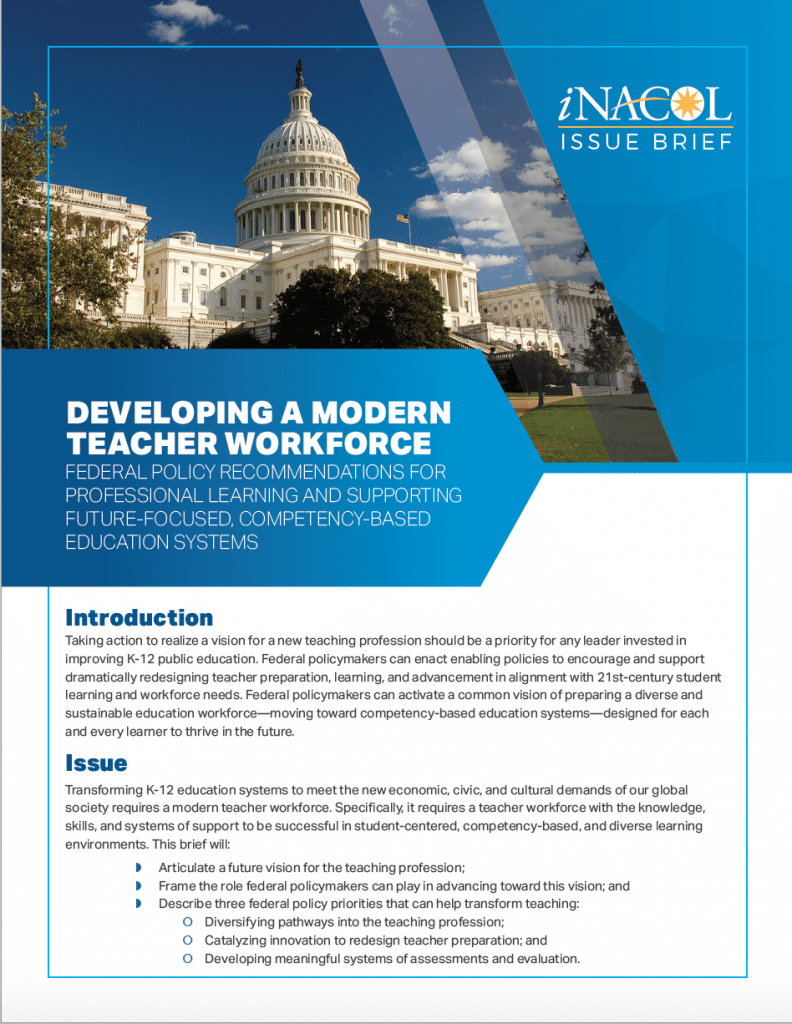 In Fall 2018, iNACOL's initiative CompetencyWorks published a report called Moving Toward Mastery: Growing, Developing, and Sustaining Educators for Competency-Based Education. The report describes what it could look like to align teaching with the opportunities and demands of a 21st-century competency-based education system, reimagining multiple aspects of the teaching profession from pre-service training through retirement. The report's vision centers around three core concepts for the profession: equity-oriented, learning-centered, and lifelong.
Today, iNACOL released Developing a Modern Teacher Workforce: Federal Policy Recommendations for Professional Learning and Supporting Future-Focused, Competency-Based Education Systems, describing action steps for how federal policymakers can advance the vision for teaching that was articulated in Moving Toward Mastery. Specifically, it identifies three policy recommendations and actions:
1. Increase Affordability and Institute Incentives to Expand and Diversify the Teacher Workforce by
Increasing access and affordability to diversify educator talent pools by addressing college affordability, persistence and completion in federal student aid policies; and  

Supporting quality preparation pathways by

supporting strong IHE and program accreditation processes.
2. Support Innovation and Quality in Teacher Education to Enable 21st-Century Learning by
Launching a pilot program in the reauthorization of the

Higher Education Act

to encourage the development of innovative, fully competency-based and personalized teacher and leader preparation programs that can spread effective new approaches to developing teachers with the skills needed to teach and lead in student-centered learning environments.

Building on the lessons learned in the Experimental Sites Initiative to stimulate and study innovation by strategizing ways to give IHEs and programs the leeway to align teacher preparation with personalized and competency-based practice, support continuing professional learning, open pathways for new candidates, and expand upon promising new practices in teacher education.
3. Help States Build Balanced Systems of Assessment to Support 21st-Century Learning by
Removing barriers for states to participate in the Innovative Assessment Demonstration Authority (IADA) by

amending section 1204 of ESSA, with implementation of high-quality performance assessments to support competency-based pathways.
Taking action to realize this vision for a new teaching profession should be a priority for any leader invested in improving K-12 public education. Federal policymakers can enact enabling policies that encourage and support states to dramatically redesign teacher preparation, learning, and advancement in alignment with 21st-century student learning and workforce needs, and drive toward a common vision of preparing a diverse and sustainable education workforce for 21st century learning and teaching.
Download the full issue brief here and learn more from other resources below: